Bringing you top new fiction picks, author interviews, discounts and lots more book chat, the Edition Book Club is a partnership with Cambridge Literary Festival and Heffers
Late in the Day 
by Tessa Hadley
Words by Charlotte Griffiths
Tessa Hadley's new novel is bound to delight long-time fans and new readers alike, with its fresh insight into universal themes
Tessa Hadley and her career are a beacon of hope for those carrying novels around in their minds: the writer was first published later in life, after building both a family and a career, and now enjoys widespread and critical acclaim for her carefully considered prose.
Recently retired from her position as Professor of Creative Writing at Bath Spa University, Tessa began academic life studying at Cambridge's Clare College in the mid-1970s, just a few years after the college started admitting women, and raised her children in the centre of town after graduating. Tessa recalls living in a cottage in the Kite area (now mostly the Grafton Centre), cycling everywhere at breakneck speed, and has fond memories of Arjuna Wholefoods on Mill Road. In conversation, she shares vignettes of her time in our city with the same focus on human experience and domestic, everyday realism that has become a trademark of her work. 
Late in the Day is Tessa's seventh novel. It is short but vividly drawn, and unfolds out well beyond its edges. Her calm, beautifully visual prose paints evocative images that are easy to imagine while following the action, though to call it action is slightly misleading – the novel opens with the news of the sudden death of Zachary, one of the four lead characters, but then the following few pages and remainder of the book precisely chart the sense of bewilderment and utter, almost horrifying stasis that occurs when someone dies.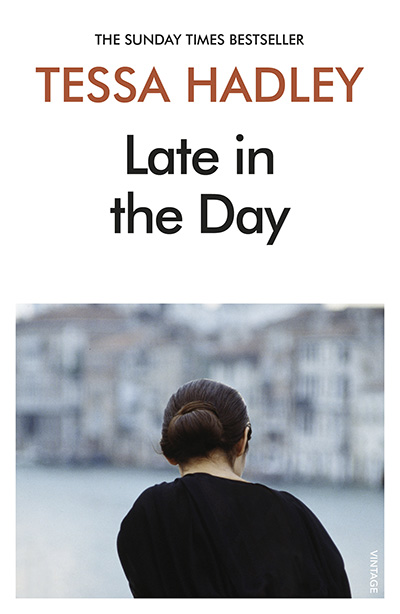 There is admin, of course, and initial melodramatic cross-country dashes as the news is shared – but then there is… nothing. Except long periods of reflection, and grief, and a large absence to bear. Lydia, Zachary's wife, is left bereft, and moves in with her old friends Alex and Christine (physically getting into bed with them for solace on the first night after Zachary's death).
The book continues by tracing the tale of how this band got together, tightly weaving the tangled threads that held this quartet and their offspring together for 30 years. 
As the narrative deftly steps from past to present in detached third-person form, we discover that the lead characters' romantic partnerships – between Zachary and Lydia, and Christine and Alex – are not at all how their journey began.
Throughout the foursome's lives there have been strong, fast-flowing undercurrents of passion that, like water slowly seeping into a house, will not and should not be ignored for long.
Questions bubble to the surface throughout, which readers are left pondering between stretches of the novel: are people (especially women, in this case) too dependent on their other halves for identity? Can we ever change the roles we start out playing? As Tessa writes in her book: since that beginning, they had both changed their skins so often. Marriage simply meant that you hung on to each other through the succession of metamorphoses. Or failed to.
Later in the novel, memories are shared of the quartet's visit to Venice, which functions as the perfect setting – an unchanging city sinking beneath the waves due to the weight of its own history, the passage of time and unrelenting forces of nature – to help bring this questioning to a head.
Late in the Day is a gentle, yet impactful and deeply thought-provoking book
Christine, an artist, ponders in conversation with Zachary while visiting the Scuola dei Carmini: "But I mean it, I'm serious, listen. Sometimes these days I almost think I can do without the present. The past is enough for me, it's enough for my life. Does that sound insane? I could only say it to you… I'm not saying that the past was good… or fair, or better, or anything. But nothing will ever be more beautiful than this, will it? It's surpassingly beautiful. It surpasses anything I could have imagined. It fulfils me, it's enough for me."
There's an emphasis throughout the entire tale on experiencing and enjoying as much as possible while one is able to – or, as Zachary puts it: "I find I'm quite ashamed… of not having sinned, now that we're here in Venice. It seems unworthy… of all the incitements to pleasure." The wrestling match between past and present, change and stasis, following impulse and respecting relationships extends throughout. It shines a light on what happens when we give in to urges, and how ageing and experience – aka late in the day, as the title signposts – can deepen the impact of betrayals that are worn more lightly when they occur at a younger, less responsible age. The novel closes in the same space as it begins, but leaves the characters changed for good.
Late in the Day will delight fans of Tessa's work and is an excellent introduction to her style for those unfamiliar with her novels. It's a gentle yet impactful and deeply thought-provoking book that will leave you reflecting on your own choices and relationships – and makes a perfect beginning to a new year of reading. 
IN ASSOCIATION WITH
Look out for the Cambridge Edition book club stickers in Heffers and get money off our monthly pick. Heffers is at 20 Trinity Street, Cambridge Blackwells.co.uk