Bringing you top new fiction picks, author interviews, discounts and lots more book chat, the Edition Book Club is a partnership with Cambridge Literary Festival and Heffers
Circe

 

by Madeline Miller
This month's book choice serves up a stunningly beautiful retelling of the story of Circe 
Interview by Charlotte Griffiths  
Whether it's Neil Gaiman's gods navigating modern life in America, or Thor and Loki swooping into action alongside their fellow Avengers on the big screen, it sometimes feels like these days you can't turn a corner without bumping into a character from ancient myth, rebooted and retold for contemporary audiences.
Madeline Miller's latest work Circe brings us a revised hero from classical history, the demigod sorceress Circe, best known for her appearance in Homer's Odyssey where she bewitches the travelling Odysseus and turns his sailors into pigs. Following in the footsteps of her debut novel Song of Achilles, which won the Orange prize and saw the American high-school teacher receive well-deserved international acclaim, Miller's tale follows this fascinating woman more closely, filling in the gaps to create a fully-rounded, believable and powerful protagonist who you simply can't look away from – and a stunning book that you never want to finish.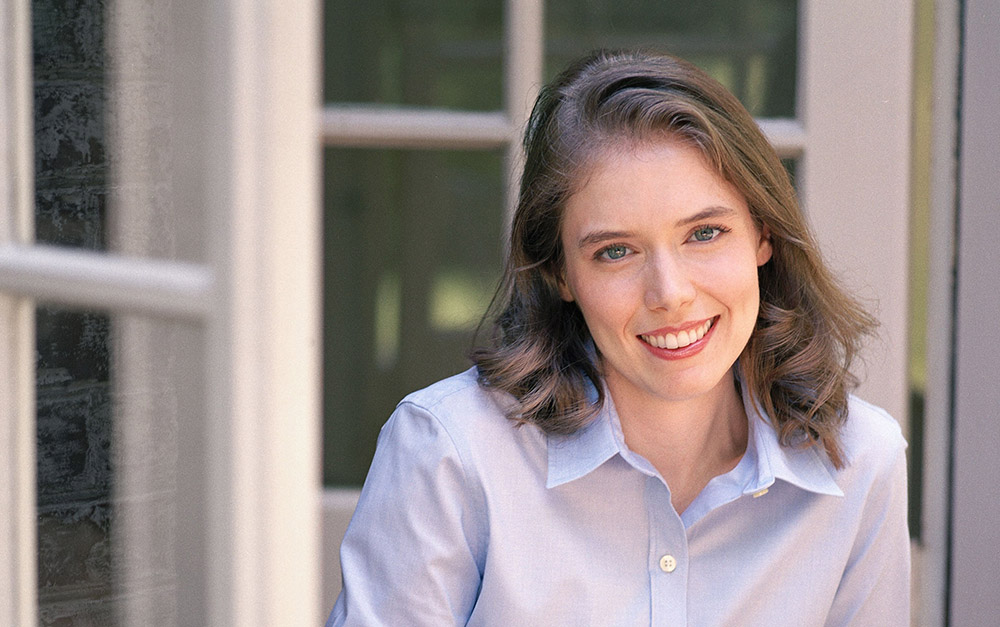 Despite the sorcery, and being set in ancient Greece, in the world of cruel gods playing with the lives of mortals, Circe's hopes, fears and struggles feel deeply familiar and extremely human.
"I think that's part of what makes myths so appealing: they speak to those huge feelings that we have always had, throughout history," Miller says via Skype, from her home in Pennsylvania. "I wonder if in moments where people feel more out of control, and more powerless in their own lives, that they reach for these stories about powerful beings: in the Aeneid, Virgil does this wonderful job of creating all these super-powerful gods who are causing all these problems, but then suggested within that is the idea that for gods we could substitute political leaders: they are making these decisions for us, and our lives are affected by it but we don't have control to change or stop it.
"Myths can capture those feelings: those powerful forces that we can't resist, but also the fantasy that… what if we could? What if we could take on the power and become Wonder Woman, someone who stands up to the gods?"
Miller finished the final edit of Circe in 2017, after an astonishing seven years spent working on this second book. "I started writing in 2010, when I had finished Song of Achilles," she says.
"When writing that book I was teaching in high school full time so I would binge write: huge chunks on the weekends or holidays, or the summer. But teaching is very incompatible with things like a book tour, so I ended up leaving my job to tour Song of Achilles, and after that I wanted to try writing full time. It was wonderful to get to live in Circe's world, but also kind of harrowing – it's a frightening world, it's an exciting world – but I've loved the Greek myths for so long that it felt like a privilege to spend so much time there."
---
"What if we could become someone who stands up to the gods?"
---
Miller had always been fascinated by Circe's power and mystery, by the strong impression she makes in the Odyssey. "She's a witch who turns men into pigs, and then she becomes Odysseus's lover, and he stays on Aiaia [Circe's island] for a year and he doesn't want to leave – and her island is the only place that he doesn't want to leave on his whole trip home. So the mystery around that: Homer doesn't give us any clues about her psychology, or why she's turning men to pigs: why does someone start doing that?"
Circe is a self-made woman: born a lesser goddess with no power, she literally invents witchcraft to give herself tools with which to make sense of her world. "It's a source of a power that has nothing to do with her divinity: it's something she does, rather than something she was born with – I loved that," Miller says. "And usually women who have power in the myths are punished for it at the end of their story, but she is not."

Many authors talk about letting a story unfold while they write, and not knowing how the tale would end when they start: working with a character from myth – and one drawn in so many different ways, by so many different artists – presented challenges for Miller to overcome. "I knew the ending I wanted: my problem was I didn't know where the beginning was," she says. "For the last quarter of the novel I was inspired by a lost epic called the Telegony – but I ended up pushing back against that and changing a key thing that happens in that myth. For me, it isn't a conscious choice: which details do I want to include or not? It's always an emotional, intuitive choice: what am I drawn to, what am I gripped by? Homer describes Circe as 'the dread goddess who speaks like a human'. He doesn't really explain what that means, but it's literally one word in the Greek that ended up animating so much of the book. For me that meant so much: she's a character caught between worlds, with a piece of her in the god world and a piece in the mortal world, but is an outsider in both."
Miller sought out interpretations of Circe from all sorts of creators throughout history, and carried out a vast amount of research on material culture from the time – which is why the book is so deeply textured and grippingly immersive. "I like to have a really full picture, then I choose details that will be evocative without being overwhelming. Research should be like an iceberg: the reader sees just the piece above water, but as the writer, you need that whole underwater part. Any time there's a little piece of jewellery or an ornament in the novel, it is inspired by an actual artifact."
This richly rendered world coupled with the feminist retelling of Circe's legend makes Miller's book a captivating read. There's an entire pantheon of gods, apoplectic sea monsters and intoxicating spells and sorcery: but there are also cruel parents, the difficult choices presented by adulthood and bearing your own children, and what it means to forge your path in the face of adversity – plus breath-catchingly beautiful domestic details of Circe's everyday life on her island. Circe is to be ordered immediately and savoured, then read over and over again: an instant – and yet ancient – modern classic.."
Cathy Moore, director of Cambridge Literary Festival, on Circe 
Circe is Madeline Miller's sparkling feminist take on The Odyssey, in which she joyously, boldly and intimately reimagines Circe, daughter of Helios, for a #MeToo generation. The long-awaited follow up to her debut, the Orange prize-winning Song of Achilles in 2011, Circe is more than worth the wait. It is a gripping read which ravishingly evokes gods, monsters and mortals and dazzles with its brilliance. Madeline Miller's rehabilitation of Circe from a
god to an independent woman who faces life, love, heartbreak, loneliness and motherhood with an immensely relatable humanity is nothing short of genius. 
Edition Bookshelf:
more top reads 
catching
 our eye this month
Nemesis by Rory Clements
Fans of Robert Harris should look out for this, the third book in a Cambridge-set pre-WWII thriller series created by author Rory Clements that sees Tom Wilde, history professor and spy aficionado, unravelling a multi-stranded international conspiracy.
Big Cat by Emma Lazell
Littler readers will enjoy this debut by local author and illustrator Emma, who graduated from the Cambridge School Of Art with distinction in 2018. This surreal romp is reminiscent of children's classics from the 1970s, with splendid humour and beautiful illustrations.
The Familiars by Stacey Hall
A gripping debut from the former books editor at Stylist magazine, which follows the misfortunes of 17-year-old Fleetwood Shuttleworth, who is accused of witchcraft after helping a young midwife deliver a baby, and ends up involved in the infamous Pendle witch trials of 1612.
Up next month: 

The Language of Birds

 

by Jill Dawson

 
Lord Lucan, suspected of the murder of his children's nanny, disappeared in 1974. Jill Dawson, Orange prize-nominated author of Fred & Edie and The Crime Writer, retells the story from the point of view of Mandy River, the 26-year-old nanny. She arrives in London hoping to escape a troubled past, and finds work looking after the children of Lady Katherine Morven, a wealthy society woman in the midst of a separation from her enigmatic husband, 'Dickie'.
Mandy's new surroundings seem grand and glamorous compared to her own working-class background, but as she tries to protect her young charges from their parents' imploding marriage, she soon realises that life in the Morven household isn't as charmed as it first seemed.
The Language of Birds can be purchased for £18.99 in hardback. Read along and tweet us your thoughts @cambsedition, with the hashtag #EditionBookClub for a chance to feature in the next issue. 
IN ASSOCIATION WITH
Look out for the Cambridge Edition book club stickers in Heffers and get money off our monthly pick. Heffers is at 20 Trinity Street, Cambridge Blackwells.co.uk