Crime fiction queen and Cambridge dweller Sophie Hannah discusses her latest thriller 'Haven't They Grown", which unsettles from its impossible premise to its chilling conclusion
Words by Charlotte Griffiths
"Maybe he's a monster already. It's so easy to believe that the label only fits infamous historical figures and mug-shot faces we see on the news. When it's someone in our personal life… it's hard to believe that their true nature might be monstrous."
Haven't They Grown is the latest thriller from prolific Cambridge-based author Sophie Hannah. The new book hinges on a deliciously simple yet also complex mystery: central character Beth spots her old friend Flora, who she hasn't seen for 12 years after a falling-out. But Flora seems to be accompanied by her two children, Thomas and Emily – who, bewilderingly, appear to still be the ages they were when the friends last spoke. It's an immediately disturbing concept: to get a sense of the book's menace, just try saying the title out loud a few times, changing the intonation from the one that you'd comfortably fall into when in conversation with parents about their offspring: it quickly becomes darker, more sinister. Why haven't they grown?
Attempting to answer this question consumes Beth, her husband Dom and her young family, leading the reader down intricately plotted twists and turns towards a gripping finale that's both simultaneously totally unexpected and horrifyingly apparent – the mark of an absolutely first-rate thriller. "It was really good fun to write, partly because I just loved the idea," Sophie says. "As soon as I thought of the children who haven't grown, I just thought – wow, that is such a good hook, and I was really excited about writing it."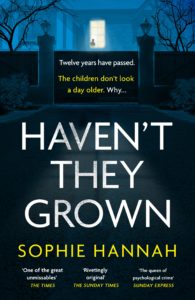 The idea first came about exactly as the book itself opens: Sophie was taking her son to an away football match, and realised the game was located very near to the new house of a friend who she hadn't seen for about ten years. "We hadn't fallen out at all, we just hadn't seen each other – so I thought I'd go and have a look at their new home – I'm obsessed with houses," Sophie says. "While I was there I thought that they might come home, and I might catch a glimpse of them – and I realised that as I was imagining that possibility, I was thinking about the children as they had been when I'd last seen them. I realised that they wouldn't look like that anymore and then thought – but what if they did? That would be sinister… and it all went from there."
This all took place several years before Sophie sat down to begin writing Haven't They Grown – as with all her books, Sophie works with ideas that first occurred to her three or four years earlier. "That's not to say it'll always be the case: I do like to do things differently each time, perhaps using a totally different method – but in the past, the idea has normally been knocking around in my brain for a while before I write it."
I do like to do things differently each time
As you'd expect with a mystery, this book is concerned with hidden truths – but Haven't They Grown takes it one step further by prodding our very human reluctance to disbelieve those we love or know well, as the extract at the start of this piece alludes – we'd almost prefer to believe supernatural explanations than suspect our friends of misdemeanours, which would upset the social norms that keep civilised society ticking along.
"This isn't a spoiler of any kind, but both Beth and Dom are good guys, and the point at which Dom says to Beth: 'Maybe let's withdraw from this, and not get involved any more' – that's not because he doesn't believe her, it's because he does believe her," Sophie explains. "When he realises things are plainly more dysfunctional than he wants to encounter, then he says to Beth, 'You're right, something weird is going on – but let's have nothing to do with it. If we forget about the Braids, we could just get on with our life, which is absolutely fine.' Dom thinks Beth has a duty to protect her kids; whereas Beth thinks she has a moral duty to find out what's wrong."
Every book that Sophie writes has a plot hook that she can get excited about – in this case, Flora's children and the question of why they hadn't grown – and a meatier thematic or psychological obsession that drives the heart of each book. "The obsession in this book is: when is it morally right, and when is it morally wrong, to interfere in another family's business?" Sophie says. "Minding our own business is an important part of civilised British life – we don't go round to our friends' houses and say, 'Now look: you're bringing up your children terribly badly' – even if we do think that. But there are occasions where you notice something that's so dysfunctional that you think, 'Actually, it would be wrong now not to stick my oar in' and that's the dilemma, that's what Beth and Dom ultimately disagree about. Is this a case where there's a duty to intervene, or is it not?"
Sophie creates detailed plots for her books, preferring to know exactly where the book's going before starting out. "I do sometimes have ideas for changes to my plan, and if I prefer the new ideas then I'll change things, but I'm definitely a planner – I feel much happier writing a book if I've got a solid plan," she says. "I don't know how people do it [without a plan] and so many crime writers do: they just have an idea for chapter one, and take it from there – and that would fill me with so much anxiety…"
I feel much happier writing a book if I've got a solid plan
It's fair to say that Sophie is a busy person: as well as her much-loved thriller series, she's also behind the new Poirot novels, with the next due to arrive on shelves in the summer, and has written extensive collections of poetry as well as two non-fiction books, the latest of which will be published in May. Sophie is also running a coaching programme for writers called Dream Author, and is leading a brand new Master of Studies (MSt) course in Crime and Thriller Writing at Cambridge's Institute of Continuing Education, where the writers will be guided through the process of creating a crime or thriller novel from initial beginnings to dramatic conclusions. The first cohort had their first residential module in January this year: due to a scheduling challenge, Sophie found herself having to deliver the fourth Poirot novel at the same time as the residential course was taking place. "Every night when I went back to my room, I was writing thousands of words of Poirot denouements: I decided to think of this as a good thing, because the students were then able to see all that happen – every morning they'd ask 'How many words did you write? Are you going to make the deadline?' – and although I was exhausted by the end of the week, I did manage to get the book in, and it added a certain je ne sais quoi, a little excitement and adrenalin to the first teaching module. Though I wouldn't want to do it every time…" she laughs.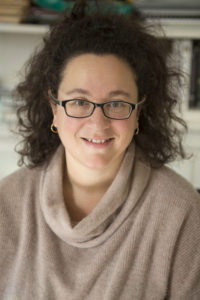 With her next Poirot project moving into editing mode, and her next thriller not due to begin writing until May or June, Sophie has a little time to enjoy the city she calls home – and it's definitely an understatement to say that she loves Cambridge. "We're just coming up to our ten-year anniversary of living here. The only reason we moved here was because it was our favourite place in the world, we had no practical reason for living here," she explains. "I had a fellowship at Trinity College from 1997 to 1999, which was just heaven. Working there was probably my single most life-changing experience – they were so welcoming, they gave me everything they possibly could and created this amazing environment for me to do my writing – I will always adore Trinity College. We fell in love with Cambridge then, and always thought we'd want to move back – but were finally able to in 2010."
Aside from Trinity, there are plenty of places that Sophie adores. When she nears the end of a book, she retreats to Lucy Cavendish College and the Anna Bidder Room that overlooks the college's extensive gardens. "It's a more modern college than Trinity, but so beautiful," Sophie says. "Lucy Cavendish offered me a fellowship, so I go and work there – once I get to a stage of a book where I can't cope with the normal distractions of being at home, I'll hide myself away at Lucy Cavendish. But I also love the Botanic Gardens, and St Botolph's Church, it's such a beautiful building… I love Parker's Piece – I just love Cambridge."
If you're a fan of gripping thrillers and intricately plotted crime fiction, don't miss License to Thrill on 17 April at this year's Spring Cambridge Literary Festival. Sophie Hannah is joining Christobel Kent and Gytha Lodge on stage at St John's College, when the trio will introduce their latest novels and share the secrets of writing suspense and intrigue. Elsewhere on the line-up, catch Marian Keyes, Caroline Lucas, Hadley Freeman, Jacqueline Wilson and lots more. Booking now open. cambridgeliteraryfestival.com
Look out for the Cambridge Edition Book Club stickers in Heffers and get money off our monthly pick. Heffers is located at 20 Trinity Street, Cambridge, blackwells.co.uk