Bringing you top new fiction picks, author interviews, discounts and lots more book chat, the Edition Book Club is a partnership with Cambridge Literary Festival and Heffers
The Mathematical Bridge 
by Jim Kelly
Cambridge finally gets the detective it deserves in the shape of Eden Brooke
Interview by Charlotte Griffiths  
The second book in Jim Kelly's Nighthawks series, The Mathematical Bridge is a pacy detective thriller which – as Val McDermid herself says of Kelly's writing – is intelligent, and leaves you hungry for more. Set in Cambridge in 1940, the book follows detective inspector Eden Brooke in pursuit of a deftly-woven mystery involving a missing evacuee, Irish Republican bombers, a royal visit to the city and international espionage. It also contains the beautifully drawn human moments that define excellent crime writing: a family member presumed lost at sea, the torture of sleeplessness, and the painful agonies of doing all that one could, but still falling short.
One of the particular joys of reading The Mathematical Bridge as a Cambridge resident is picturing Eden's walks around the city and tracing his path through the familiar streets – until he suddenly disappears off into a space of Jim's own creation. "I really like making up places that don't exist," the writer says from his home in Ely. "Cambridge is wonderful, but it doesn't have that maze-like quality: you just run out of city. So it's quite nice to have the ability to add bits on. I'm really proud of the Jewish Ghetto – it's in that tiny little area opposite the front of Trinity, where the craft fair is, but it's a bit like the Tardis: once you walk in, it's limitless, and that gives you something to play with…"
The book is peppered with gems of historical information about our city that add to the richly textured landscape, and Jim's experienced hand at weaving them into the plot is evident in every chapter. "Anything that goes into the story has to fit: you can't let research appear on the page," he says. "You've got to find a way of threading them into the story and then threading them out again. The bits of research that don't get in just sort of pile up," he says. "One day there'll be a whole book of them…"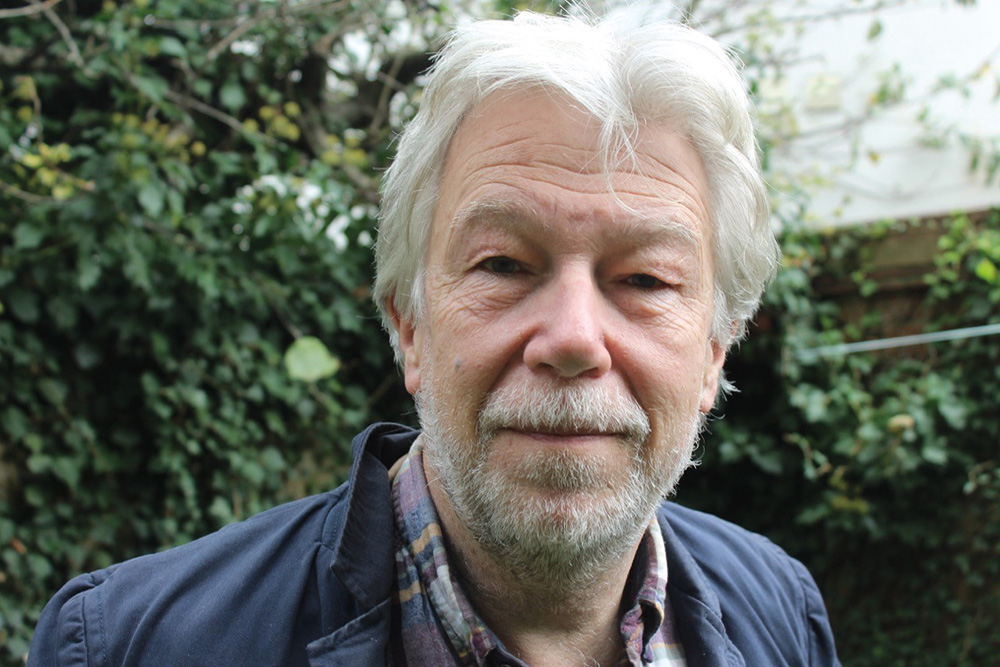 Jim's current regime sees a book delivered every year before an annual holiday in the summer months. "It's a bit of a scrabble sometimes, but that's fine," he says. "That's the thing about crime: if you get one book out, and if they like it, they want another one, and quickly. Having been a journalist I don't think if I was given longer, the books would be greatly better," he laughs, "I quite like having the year."
"I try to collect ideas throughout the year and put them in an ideas book, and then take the book on holiday with me, and sit down to think of a way forward and see if there's anything there, any beginnings of a plot," he says. "So by the time I come back, I'm sort of ready to get started again." Another source of ideas comes from the phone in Jim's pocket, but not quite in the way you'd expect. "Whenever I see anything interesting, I just take a picture and tweet it – and then when I'm looking for ideas, I look back at my Twitter stream," he says. "It reminds me of the landscapes, of what I've seen – those tiny details. I think really good stories come from very small details."
One of the challenges of talking about crime novels is discussing the book without giving away the plot: but it isn't revealing too much to say that the detail which sparked The Mathematical Bridge was archive photos of evacuees. "They all had labels attached to their clothing – and I thought there had to be something in that," Jim says. "For my annual book launch, I collect some pictures and talk about where the book came from. For this one I talked about the IRA campaign; I'm an Irish Catholic so we talked about my own childhood – and my brother was an evacuee…"
---
"The River Cam becomes a character within the tale"
---
The book's echoes of Jim's own experience doesn't end with family history: Jim can often be found wandering our city just like his detective – though by day, rather than at night – following a self-created 'beat' around writing locations that's carefully honed to ensure the prolific writer effectively uses the time he has available. "There's a cafe called Novi, where you can sit right by the window," he says, "and in summer they open the windows up, so people are walking right past you on the pavement. I've never failed to get a decent hour there. Then I'll go to the University Library where I'll get another hour – and then I'd go to the Central Library for another hour – and if I'm really pushing it, I'm a member of the Botanic Gardens, so I'll head to their cafe as well. I'm productive in those places, but they only work if I've thought in advance enough about what I'm going to do."
Impressively, Jim wrote his first two books on the commuter train between London Liverpool Street and Ely, returning from his old day job as a journalist with the Financial Times. "I quite like working on trains: you're surrounded by people but they leave you alone," he laughs. "My wife (author Midge Gillies) was published before I was, and had an agent – I was messing around trying to write a crime novel: she offered to look at it, and she said there has to be something on every page that makes people want to read. So I thought I'd rewrite it – and each night, on the train, I limited myself to a single page. On the way in I read the newspapers, because I just… needed to. But on the way back, I wrote. It was a way of claiming back time. Psychologically it was very good: even when things went wrong with the train, I just thought 'it's all right – I've got more time to do this'."
Now a full-time writer, freed from the shackles of the daily schlep to London, when not moving around Cambridge Jim works at home in Ely, adopting the dining room table as his desk.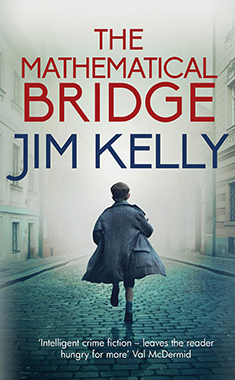 The family dining table also comes in handy when laying out the book for the first time: Jim's 'spatial' mind means he prefers to see a plot physically rather than carrying it around in his brain. "If it's in your head, you're never really sure if it works," he says. "I use report cards, so every chapter is a different card, and then I colour-code for various parts of the plot – for this series, it's very important whether it's night or day, so I mark the cards with a black circle if it's night, and an empty circle if it's day – and then I can lay all the cards out on the dining room table and see the whole book."
"There has to be a plan before I start writing, but almost immediately the plan becomes untenable, so I have to have another one," he says. "I know some writers who say 'I've mapped it all out: all I have to do is write it,' but the result is often not a very good book – it gets trapped by its plan. Some things work and some things don't, and you only really find out in the middle – and then you've got to make really horrible decisions. Originally there were two big threads to the story, and I threaded them together so they both started almost immediately – and I finished the first draft, seven or eight months in, and I just knew, as soon as I started reading, that it'd be a much better book if one thread started and another came in later."
The resulting woven plots ebb and flow throughout the book much like the River Cam itself, a crucial part of the narrative that almost becomes a background character within the tale, or one of the nighthawks, who Eden visits on his nocturnal wanderings around the city. "Rivers are great," Jim enthuses. "I did a book group reading: there was a woman at the event who was visiting Cambridge, and had just read the book, who said that I was clearly completely obsessed with rivers – and I thought 'oh – you're right'. And [the detective's] name is Brooke, which I hadn't really thought of… it was one of those moments where somebody reveals much more about what you're doing than you know.
"One of the brave things about writing fiction is that you don't know what you're revealing about the way you think: you just do it. And then someone stands up at an event and says: 'Have you noticed…?'" he chuckles. "Someone pointed out that my books are always about a body that's been hidden in the past, or lost, and that comes to light – which is a broad description of what a murder mystery is – but it's interesting… I always do my psychoanalysis backwards, once the book's finished, which I think is the best way."
The Mathematical Bridge is a hugely enjoyable book that will be extra-warmly received by readers familiar with Cambridge – and thanks to Jim's abundant output, once you've finished this novel, there's another in the series to dive straight into, and a whole host of other titles to paddle your way through in the future. Not to be missed: a perfectly gripping summer read. 
Cathy Moore, director of Cambridge Literary Festival, on The Language of Birds 
The Mathematical Bridge is the second in the new series by acclaimed and much-loved local crime writer, Jim Kelly. Set in Cambridge in 1940 it is atmospheric, haunting and deftly plotted.
Charismatic Detective Inspector Eden Brooke attempts to save an evacuee boy from drowning in the River Cam and the following night an explosion damages a factory which seems to involve the IRA, fighting for freedom in Ulster as Britain is at war.  Is there a connection? Lovers of Cambridge, its history, and first-class crime novels will delight in this intelligent and gripping thriller.
New on the bookshelf:

Fiction prize
At the end of May we'll find out which book has scooped the Lucy Cavendish Fiction Prize 2019: over 600 authors entered this year's competition, making it the biggest in the award's history. Awarded by the Cambridge college of the same name, the prize is designed to reflect the "variety and wealth of literary talent" amongst unpublished female writers over 21.
University intrigue
Local author Mark Wells has just published his debut novel College of Shadows, the first in his new YA fantasy series based in Cambridge. This instalment follows freshers Annabel and Nick who "discover there are
not just secretive professors stalking their college's ancient courts, but a deadly threat from beyond." 
Mini book fest
A date for your diary: 8 June will see 15 crime, thriller and mystery authors descend upon Heffers for "Murder Will Out!", a day-long festival including panel discussions, book signings and author Q&As. Authors appearing include Fiona Barton, Elly Griffiths and Gytha Lodge – for more information and to snap up a ticket, head to Heffers or visit their website.
Up next month: Spring by Ali Smith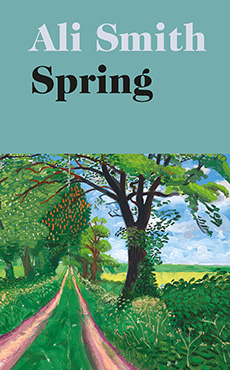 From Ali Smith, author of How to be Both, comes Spring, the third instalment in a 'seasonal quartet'. Described by The Observer as "a dazzling hymn to hope, uniting the past and the present with a chorus of voices", it shows the Baileys Prize-winning Smith in fine form.
What links Katherine Mansfield, Charlie Chaplin, Shakespeare, Beethoven, Brexit, the present, the past, the north, the south, the east and the west? Spring: the great connective. Smith's quartet is set in present-day Britain: an incisive and insightful response to the issues we find ourselves grappling in 2019, the novels contain many truths about the way we live now and how storytelling can connect us to our past and help us move forward into an unknown future.  
Spring can be purchased for £16.99 in hardback. Read along and tweet us your thoughts @cambsedition, with the hashtag #EditionBookClub for a chance to feature in the next issue.
IN ASSOCIATION WITH
Look out for the Cambridge Edition book club stickers in Heffers and get money off our monthly pick. Heffers is at 20 Trinity Street, Cambridge Blackwells.co.uk