Bringing you top new fiction picks, author interviews, discounts and lots more book chat, the Edition Book Club is a partnership with Cambridge Literary Festival and Heffers
Stanley and Elsie 
by Nicola Upson
Words by Charlotte Griffiths
f the name Stanley Spencer doesn't immediately flood your mind with intensely lavish, almost claustrophobically busy people-packed paintings, then a quick internet search is in order or – better yet – a stroll to The Fitzwilliam Museum, where a collection of Spencer's paintings can be seen in Gallery One.
It was one such visit to the Fitzwilliam that first inspired local author Nicola Upson to embark upon writing this month's read, Stanley and Elsie, which tells the tale of the relationship between Stanley Spencer and Elsie Munday, his small family's housekeeper.
"I've always loved Spencer's work. I remember having a postcard of his 'The Resurrection, Cookham' as quite a young girl," Nicola explains, "and although obviously then I didn't understand all the different levels to it, the painting has always fascinated me. Being at college in Cambridge, with that wonderful collection of his paintings at the Fitzwilliam on my doorstep, meant I've kept in touch with his work over the years – but it was particularly an exhibition that they put on about ten years ago called Sargent, Sickert & Spencer." 
The exhibition included a small pencil sketch by Spencer of a young woman in a maid's uniform who "seemed to be flirting, at the front door, with either a postman or a delivery man," Nicola recalls. "As well as being a prolific painter, Spencer wrote thousands and thousands and thousands of words – all now all in the Tate's archives – but what was selected to go with that picture was the fact that the woman was called Elsie Munday, and that she was a maid who Spencer hired when they moved to Burghclere with his family."
Spencer relocated to the quiet Hampshire village in 1926 to continue his work on what would become the Sandham Memorial Chapel – now a National Trust property, which can still be visited – originally built to commemorate Lieutenant Henry Willoughby Sandham, who died at the end of the first world war. Henry was the brother of Mary Behrend, one half of the couple who commissioned the creation of the chapel. The book begins as Elsie joins the household – Stanley, his artist wife Hilda and Shirin, their very young daughter – and documents the shifting relationships and hidden motivations of the trio of adults.
For me, the most important research – whether it's crime or not – is the sense of place
"Stanley wrote that when [he and Elsie] were living together at Burghclere, their life was 'as light as the air' – and that they 'blew about like two rooks' in the cottage… he spoke of her with such fondness and affection that it seemed to show a completely different side to Stanley Spencer – who obviously is not known for his sensitive relationships with women," Nicola adds. "The friendship between [him and Elsie] and the uniqueness of that relationship – I think there's something fascinating in writing about a friendship because a lot of people, when they hear the book's title, think there's going to be some sort of romantic involvement or affair, and there wasn't – it was a genuine friendship based on a mutual understanding."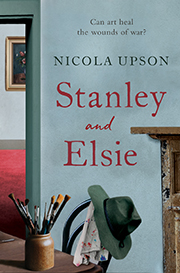 Though the book is clearly meticulously researched, drawing on the vast reams of documents created by Stanley Spencer himself, there was very little to go on when searching out the detail of Elsie's life. "There are a huge number of sketches and drawings of her, as well as the paintings that he and Hilda did – and there's a paragraph in a book published in the 1970s, which contained reminiscences by Spencer's friends and associates – and Elsie contributed a paragraph on how much she enjoyed looking after the family – typical, discreet, servant stuff. 
"But I was also able to track down Elsie's son, Gordon, and we had a very old-fashioned and lovely correspondence – I sent him lots of questions, and he would handwrite the answers and send them back. He told me lots of detail about his mother as a mother and as a person, all of which has gone into the book – but she didn't tell them until after they were grown up that she'd even worked for the Spencers – so there certainly wasn't much in the way of testimony to go on. But in a way, that's what makes the book: she can be a rich, partly fictional character, as well as including the truthful elements that we do know from history." 
Nicola does have a track record of adopting this approach – she is also the author of a very successful series of crime fiction books where real-life Scottish author Josephine Tay appears as the central heroine and detective. "That series started out as a biography but eventually the gaps were just as intriguing as the facts," she says. "And her life had a lot of gaps in it. It is that blankness – not to make them completely fictional, obviously – but yes, she can be her own person."
Researching these books is a task Nicola hugely enjoys. "I love it – it's always the best bit. And what was particularly brilliant about this was that I spent a long time looking at Stanley Spencer paintings," she says. "But for me, the most important research – whether it's crime or not – is the sense of place. To go to Burghclere for the first time, to walk into that chapel – I've never quite forgotten that. It's an incredible experience. Even when I went back after the book was published, it was as shocking and moving as it was the first time. Going to the places and immersing yourself in that atmosphere is, for me, the single most important piece of research."
In November Nicola will be appearing at the Fitzwilliam as part of the Cambridge Literary Festival, talking about her work close to the spot where she first encountered the pencil drawing that inspired the book. "The relationship between Stanley and Patricia [his second wife] and Patricia and Dorothy is central to the second half of the book, and I did a lot of making notes, standing in front of that particular double nude that they have in the Fitzwilliam – so to go back and talk about it in front of those paintings will be very special indeed." 
Nicola's Cambridge
I would start at the Cambridge Arts Theatre: I worked there for ten years and it's close to my heart. There's something special in its beginnings in the 1930s – the period that most of my books are set in – and the fact that Keynes built it as a stage for Lydia Lopokova, his wife, to dance and act on is a wonderfully romantic story, and you can still feel that in the fabric of the building. My partner Mandy and I love the Orchard Tearooms in Grantchester and I've also drunk an awful lot of coffee in the University Library's tea room.
What We're Reading
Elisha Young, junior sub-editor, reviews The Testaments by Margaret Atwood
This sequel to The Handmaid's Tale was one of the most hotly anticipated literary releases of 2019, and was joint winner of this year's Booker Prize (alongside Bernardine Evaristo's Girl, Woman, Other). While the first book is an introspective novel, told from the first-person point of view of Offred, I feel this follow-up has breadth rather than depth. Fans of Aunt Lydia will enjoy finding out more about her back story, while the book's other two protagonists offer intriguing insights into details of the Gilead regime.
On the bookshelf
Also recently published is A Museum Miscellany, written by Harston-based author Claire Cock-Starkey to celebrate the intriguing and fascinating world of museums (the Fitzwilliam is one of the many museums featured) by collecting together a "cornucopia of museum-related facts, statistics and lists – covering everything from museum ghosts, minerals that can only be found in museum drawers, dangerous museum objects, the most popular exhibitions, and cabinets of curiosity to the Museum of London's fatberg."
One for museum lovers, and perfectly sized for stockings…
IN ASSOCIATION WITH
Look out for the Cambridge Edition book club stickers in Heffers and get money off our monthly pick. Heffers is at 20 Trinity Street, Cambridge Blackwells.co.uk