Bringing you top new fiction picks, author interviews, discounts and lots more book chat, the Edition Book Club is a partnership with Cambridge Literary Festival and Heffers
Sweet Sorrow 
by David Nicholls
Funny, moving and nostalgic, this coming-of-age novel perfectly captures the agony and exhilaration of first love and the confusion of the teen years
Words by Charlotte Griffiths
"A new David Nicholls book," says the press release, "is a major publishing event" – and they don't just mean logistics. The internationally bestselling author's books are adored by readers and critics alike: his third novel, One Day, was published ten years ago and won the 2010 Galaxy Book Of The Year Award: Us, his fourth book, was longlisted for the Booker. David's very human and very humorous style both breaks your heart and gives you hope, and his experience and talent for screenwriting means it's all too easy to visualise the events of his stories as the narratives unfold. In short, they're unmissable – and Sweet Sorrow, his newest creation, is no exception.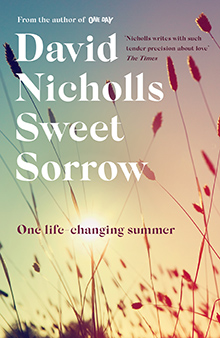 Though part of the appeal of David Nicholls' books is that certain emotions, feelings and challenges are universal experiences – such as first love, and growing up – for anyone who came of age in the 90s, Sweet Sorrow is a double dose of soft, sun-soaked nostalgia. Set in June 1997, the summer after the main character Charlie Lewis has taken his GCSEs, this poignant book charts that uncertain time when there's no more revision to do and everything is changing – and not necessarily for the better.
At home Charlie is effectively caring for his father, who is battling his own demons around his broken marriage and loss of purpose, and the future holds a great deal of uncertainty. But then one day Charlie meets a young woman called Fran Fisher, and his world shifts on its axis. Fran's insight, new way of looking at the world and generosity of spirit changes everything for Charlie.
"This summer's a bastard, isn't it?" Fran says at one point. "Sun comes out, sky's blue if you're lucky and suddenly there are all these preconceived ideas about what you should be doing, lying on a beach or jumping off a rope swing into the river or having a picnic with all your amazing mates, sitting on a blanket in a meadow and eating strawberries and laughing in that mad way, like in the adverts. It's never like that, it's just six weeks of feeling like you're in the wrong place with the wrong people and you're missing out. That's why summer's so sad – because you're meant to be so happy…. And it just goes on and on and on, doesn't it? Infinite, and never how you want it to be."
Summer's so sad, because you're meant to be so happy
Named from a line from Shakespeare's Romeo & Juliet, and with mood and tone summed up perfectly by the 1994 Pulp song David's Last Summer (a song that's specifically named in the acknowledgements as a source of inspiration), Sweet Sorrow is an utter treat of a book. Some paragraphs will make you burst out in uncontrollable laughter: some will make you catch your breath at the pain and hurt so perfectly expressed.
It feels far too flimsy to simply recommend Sweet Sorrow as a summer read – though it is, of course, the perfect book to be devoured on sunny afternoons or while lounging by a pool – but it would also make a superb diversion from the chill of winter, as it's so beautifully evocative of those long, balmy halcyon summers that everyone remembers from their youth. Get hold of a copy however you can and join the multi-millions of readers who have a special place in their hearts – and on their shelves – for David Nicholls' novels.
Lucy Cavendish Fiction Prize open for entries
September isn't just about new pencil cases: it also marks the start of Cambridge's unique literary prize's annual call for entries. Run by the college of the same name and open to women over 21 years of age, the Lucy Cavendish Fiction Prize seeks unpublished novels that marry "literary merit with unputdownability" and asks for the first 40 to 50 pages of the tale, plus a synopsis of the remainder. Past success stories include Gail Honeyman's Eleanor Oliphant is Completely Fine, which first appeared on the Fiction Prize shortlist back in 2014.
Other shortlisted authors have enjoyed similar glories: Frances Maynard's The Seven Imperfect Rules of Elvira Carr and Laura Marshall's Friend Request to name two – and a splendid way to spend an evening is by nosing through past entries to the longlist. Grab a cup of tea and head to the Lucy Cavendish website to get started.
With the prize gaining interest and prestige with every year, it's worth keeping an eye on their longlisted and shortlisted writers, whether you're an aspiring author or simply a keen reader – if only to get ahead on the next crop of talented female writers. If you're considering making a submission, you've got until January 2020 to enter your work – best get that room of one's own sorted sooner rather than later.