Now's the time to get your team together and enter this year's Cambridge Dragon Boat Festival. Cyrus Pundole discovers what's in store
Surrounded by a blaze of colour and cacophony of sound, let your competitive spirit take hold at the annual fundraising Cambridge Dragon Boat Festival. 
There are many great ways to get fit, such as Couch to 5K and Parkrun, but the festival offers something a bit different – and a fab team option full of camaraderie that is a grand day out for all the family. Held on a stretch of the Cam every September, each boat has an on-board drummer pounding out a rhythm (that may or may not be perfect to row along to!) as crews jockey for position on the river at Fen Ditton. 
This year's big day takes place on 7 September, and there's still time to book a place for teams .The Dragon Boat Festival raises money for Addenbrooke's Charitable Trust (ACT) and is one of the biggest fundraising events in the county.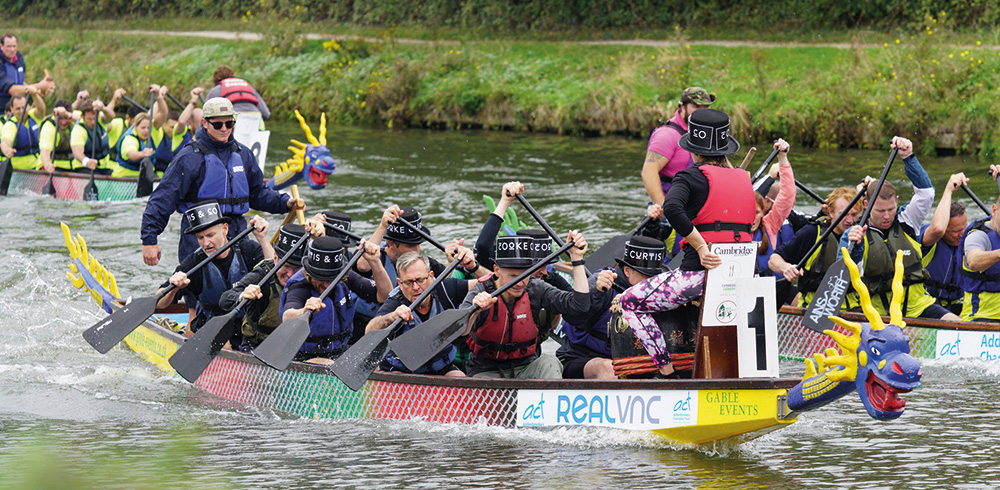 Up to 40 teams will battle it out, cheered on by hundreds of spectators. Businesses, groups and friends across the region can test their skills against new and returning crews who have already booked their places, all while raising money for a good cause. Last year's Dragon Boat Challenge was won by Row-Bots from CMR Surgical, with Puff, representing Team Consulting, taking the mixed prize.
Cambridge Commodities was crowned charity champion, with last year's festival raising an incredible £30,000 for ACT, which is the only charity dedicated to making a difference for patients at both Addenbrooke's and the Rosie hospitals.
The 30-foot long dragon boats, qualified helms (who ensure each boat is steered straight) and racing equipment are all provided by the organisers, Gable Events, while each crew is guaranteed a minimum of three races over the 200 metres course. Most importantly, no previous experience is required to take part, just oodles of team spirit and enthusiasm to have a go.
We can provide funds so our local hospitals can offer the very best care
Up to ten people can be in a crew, plus a drummer (though squads for a team can be larger) and trophies are awarded to the top three, the best-placed mixed crew (with a minimum of five women), the team that raises the most money, plus those perhaps who generate the most fun by being the best-dressed crew. This year there's a special, entertaining incentive to finish top of the pile when it comes to fundraising. The team raising the most money for Addenbrooke's will be rewarded with a group experience at Cambridge Escape Rooms. Getting lost there is clearly a popular activity, as the rooms have been voted the number one fun thing to do in the city on TripAdvisor.
And the day is not all about the action on the water. Those taking part and spectators can enjoy Chinese-themed entertainment, including dancing, plus children's rides, fun with inflatables and a selection of food and drink to satisfy
all tastes.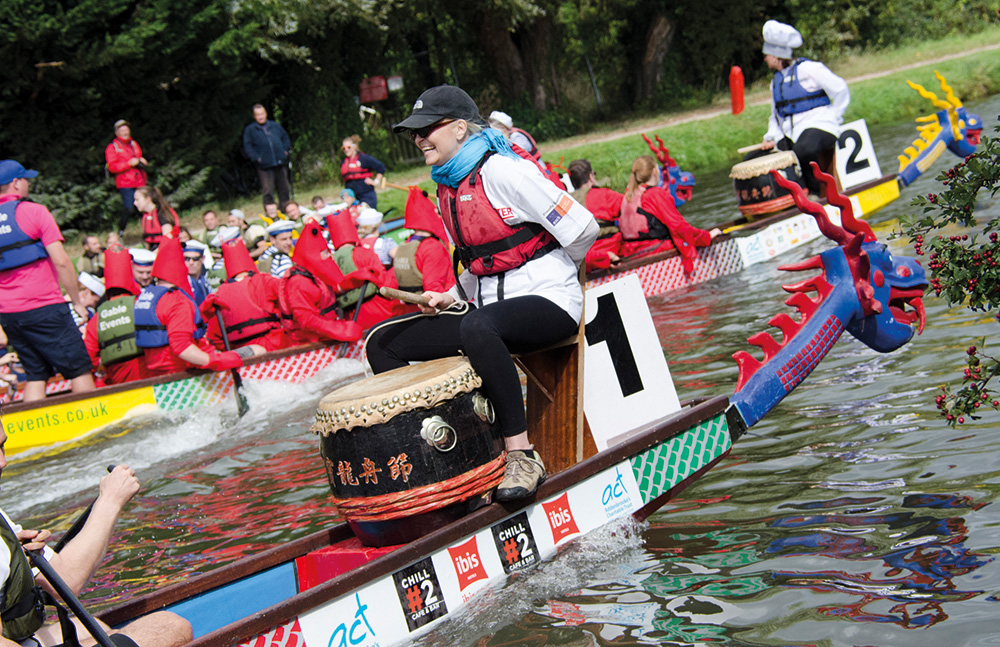 Emily Willdigg, ACT's mass events leader, is looking forward to building on the success of last year's festival. "We hope businesses will support our much-loved hospitals by getting a team together," she says, explaining the importance of the money raised. "With the help of many generous supporters, we can provide funds so our local hospitals can offer the very best care, day after day, year after year." 
Whether its treatment for an emergency, an acute condition, pregnancy or a long-term illness, the charity believes every patient deserves the highest quality of care available. ACT will put funds towards cutting-edge technology, additional specialist services, vital research and extra comforts for patients.
Gold and silver sponsorship options are available, plus standard team entries. 
For further information, and to book your place, visit dragonboatfestivals.co.uk/cambridge, or call 01780 470718.
For more details about ACT, visit act4addenbrookes.org.uk 
What is dragon boat racing?
Dragon boat racing has its origins in ancient China, where the sport began more than 2,000 years ago. Traditionally, these paddled long boats were raced by contending villagers, and it remains a popular Chinese pastime to this day, celebrated each year with a huge festival in June.
The sport is becoming increasingly popular in the UK – in fact, it's Britain's fastest-growing corporate team-building activity. It requires no previous experience and doesn't rely on brute strength – it's something everyone can take part in. The key to success is teamwork, timing and listening to your helm's instructions – failure to do so could result in an early bath!
What:
Colourful river race where teams battle it out in traditional Chinese-style dragon boats, featuring bankside entertainment 
When:
Saturday 7 September
Where:
Ditton Meadows, Fen Ditton 
How Much?
Entrance to the event is free to spectators and parking is available at the nearby Fen Ditton Recreation Ground. Standard entry for a team is £650 + VAT