Siobhan Godwood reviews the opening night of Willy Russell's play
The best theatre draws you in, making you feel as if you're right there with the characters on stage, experiencing everything that they're going through and feeling their emotions directly. And this is exactly what Educating Rita at Cambridge Arts Theatre achieves; it's completely immersive, so much so that when it ends, and the two actors take their bows, it's almost a shock to the system to realise that our window into their world has closed.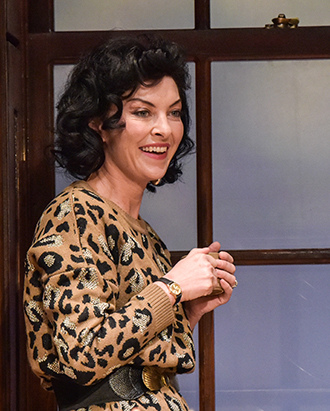 With a play that's been adapted into such a well-known film, there's always a worry that you won't be able to get the film's stars out of your mind, and will be comparing them to the actors in front of you. But from the moment the lights came up on Frank's tutorial room – a compelling set that made you want to jump on-stage and have a browse through his book collection! – Stephen Tompkinson and Jessica Johnson fully embodied the characters.
Johnson, as Rita, was captivating, never still, full of life, energy and enthusiasm, while Tompkinson captured the simultaneous arrogance and vulnerability of the disillusioned, ageing professor with quiet conviction.
Willy Russell's play has very much stood the test of time. While this production is set firmly in the early eighties of its origin, the gap between the working-class Rita's yearning for better and Frank's middle-class, educated complacency is as relevant today as it was when the play was first staged.
This production is both hilarious and heartbreaking, leaving the audience wanting more from the characters and, on the opening night, earning the actors a much-deserved standing ovation.