Literary indulgences with a local twist, Ruthie Collins shares her top holiday must-reads
The Versions of Us

by Laura Barnett
A perfect summer read, this novel offers vintage Cambridge-set fiction with a narrative twist. A literary take on Sliding Doors, three versions of the same love story, this is intelligent fiction that anyone who has fallen in love in the city will adore. Cambridge springs to life throughout the decades, with timeless, understated glamour.
Read it: listening to jazz

The Cambridge Curry Club
by Saumya Balsari
Drawing inspiration from Cambridge's colourful Mill Road, The Cambridge Curry Club is set in the fictional IndiaNeed charity shop, with three hilarious heroines of Indian origin, plus an Irishwoman, at its heart. Crisp, funny reading. But no curry – the title is a tongue-in-cheek nod to post-colonialism! Winner of Cambridgeshire Book of the Decade in 2012.
Read it: in a cafe on Mill Road
Dear Amy
by Helen Callaghan
This Sunday Times bestselling psychological thriller from Cambridge-based Callaghan is gripping. When agony aunt Margaret receives letters from Bethan Avery, who's been missing for 20 years, asking for help, she's convinced they are linked to the disappearance of a local schoolgirl. Can she solve the puzzle; will it cost her her life?
Read it: sipping a cocktail on Varsity's rooftop (this happens in the novel!)

Cambridge Black
by Alison Bruce
Bruce is one of Cambridge's most popular crime writers, and her hero DC Gary Goodhew is also a favourite. In Cambridge Black, Goodhew faces his grandfather's murder, while Amy, whose father was imprisoned when she was seven, sets about clearing her father's name 22 years later. The past is disturbed, in more ways than one…
Read it: sipping ice-cold White Russians
The Dress Shop of Dreams
by Menna Van Praag
A magical writer, Menna's novels are inspirational. Each book is set in Cambridge, and she has a compelling style that is perfect for summer. The Dress Shop of Dreams has everything you might wish for while on that sun-lounger, beach or riverbank: gorgeous dresses, blissful transformation and true love.
Read it: eating chocolate brownies

Nobody Told Me
by Hollie McNish
Just. Wonderful. Kate Tempest has it right when she says this collection of poems and stories on parenthood is 'welcoming, galvanising and beautiful'. This should be on the counter at Mothercare, alongside the Peppa Pig chocolates and copies of Gurgle magazine. Empowering, reassuring and stirring stuff.
Read it: if you want to know what having a baby is really like
Ghostwalk
by Rebecca Stott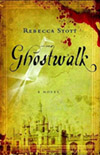 This is a novel that gets under your skin. Layers of tension between old and new crackle in pretty, sometimes claustrophobic Cambridge. Stott has ground up the city's skeletons to produce a literary thriller drenched in science and alchemy. Featuring one of the city's most famous scientists, Isaac Newton.
Read it: with the doors locked

Swing Time
by Zadie Smith
From the author of White Teeth, Cambridge University alumnus Zadie Smith, comes Swing Time (just out in paperback) – a story of music and friendship. The novel is a roaring love song about the ways that music and dance shape us. With two girls on neighbouring housing estates with dreams of being dancers at its core, it
moves between north-west London and West Africa.
Read it: in between dances.
Frailty
by Betsy Reavley

Frailty, from bestselling author Betsy Reavley, is a nail-biting psychological thriller exploring the devastation that ensues after eight-year-old Hope goes missing from a sleepy Cambridgeshire village. A book that will make you cry, it's published by Bloodhound Fiction. Reavley was nominated for the Crime Writers Association Dagger Award in 2017.
Read it: with a stiff drink of whisky

Sydney Chambers and the Shadow of Death – The Grantchester Mysteries
by James Runcie
The ultimate Cambridge crime story with priest-detective Sydney Chambers, this is the first in the now-famous Grantchester Mysteries series. Set in 1950s Cambridge, complete with college-based crimes, a Labrador dog (Dickens) and a sidekick, Inspector Geordie Keating. The latest release in the series is Sidney Chambers and the Persistence of Love.
Read it: after wild swimming in Grantchester
Missing, Presumed
by Susie Steiner
A Cambridge-set bestselling novel, whose victim, Edith, is a beautiful, EM Forster-loving post-grad student at Clare College, and whose female lead is a detective, DS Bradshaw. Nominated one of the 10 Best Mysteries by Wall Street Journal, this is a book whose details and references to local, real crime add eerie realism. The follow-up, Persons Unknown, has just been released in hardback.
Read it: being punted along The Backs

Possession
by AS Byatt
A tour de force in literary fiction, Booker prize-winning Possession has it all: sex, mystery and poetry. One of the best literary romps set in academia of all time, the story alternates between Victorian England and the present day. It will delight lovers of English literature and those fascinated by historical fiction, or simply the rituals of love.
Read it: by torchlight, camping (you won't want to put it down)