The broadsheets come to life with a series of talks at the Cambridge Wine Merchants Wine Bar

Who doesn't love Sundays? Lazy brunches, newspaper browsing, hearty lunches and relaxation. If that sounds perfect to you, turn your feet to the Cambridge Wine Merchants Wine Bar in the University Centre for Sunday Papers Live on 21 October. Organised by My Little Festival in conjunction with the Festival of Ideas, the event pays homage to the shared joys of Sundays, promising Bloody Marys, roast potatoes and squishy sofas plus speakers, comedy and music.
A series of talks will bring the broadsheets to life section by section, including science with Viren Swami, one of the world's leading experts in the psychology of romantic attraction. He'll be delving into how and why we form relationships, considering factors such as geography, appearance and similarity – as well as debunking commonly held myths. There's politics, too, from Tim Whitmarsh, British classicist and Professor of Greek Culture at the University of Cambridge. In his talk, 'A Tyrant in the White House', he'll consider Trump through the lens of the Ancient Greeks: a people with ample experience dealing with capricious rulers who courted the public to undermine existing elites; strong-man leaders who demanded loyalty, were prone to paranoia and narcissism, and vindictively punished those deemed to have betrayed them.
Artist Anna Brownsted takes care of music and culture with a listening session and discussion on 'The Top 5 Most Significant Songs of the Last 40 Years', while travel author Sarah Woods will give a fascinating talk on her extreme globetrotting experiences. Dr Bianca Jupp, a neuroscientist at Cambridge University, tackles health, considering why we get addicted. Why are some of us able to control our use of substances like alcohol and some are not? Join her for a look at what substances do to our brains, and what aspects of our personality and physiology make us vulnerable to addiction. Tying it all together will be compere Ali Warwood, stand-up comedian and founder of the brilliant Commoners Comedy club.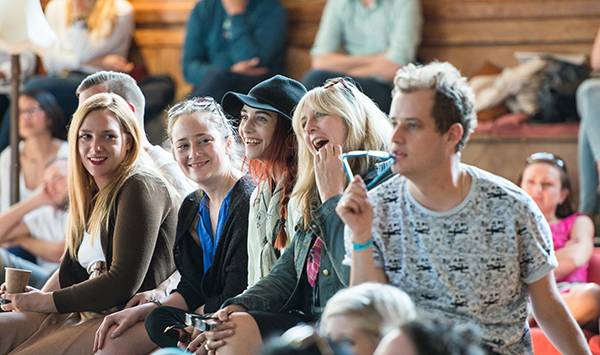 There's also a range of more hands-on activities on offer, including guided walking tours of Cambridge, plus the bar will be well-stocked with Bloody Marys, wines, craft beers and spirits to help you really relax on the Day of Rest. Of course, no great Sunday would be complete without a slap-up feast, which will be laid on in the form of roast beef rolls, crispy Italian-style roast potatoes and other splendidly comforting fare.
"We were delighted to collaborate with the Festival of Ideas after our successful pop-up at Cambridge Science Festival earlier in the year,'' commented Alex Ruczaj, marketing director for My Little Festival. "We once again have access to an amazing array of speakers through the festival and our own network of great artists and performers. The theme of the festival, Extremes, gives us great scope for some fascinating talks and entertainment. What we love about the event is how diverse it is – only at the Sunday Papers Live could you have a professor of classics sharing the bill with a comedian, a travel writer and a leading psychology professor.''
Tickets to the event are £20 per adult, £10 for children 12 to 18.