With Wimpole History Festival poised to return in June with its biggest event yet, we round-up the highlights    
See the past brought to life next month at Wimpole History Festival, a weekend-long feast of talks and activities at the Wimpole Estate.
Taking place from 20 to 23 June, the event is in its third year with its most ambitious outing yet, adding a second marquee and serving up a huge line-up of high-profile historians, authors, journalists, broadcasters and more, as well as interactive fun including sword and archery workshops. 
A fun and enlightening event with something for all ages, speakers include TV historian Lucy Worsley (pictured below with Philip Ardagh), who's guided us through everything from 17th-century childbirth to Tudor wardrobes on our screens, will this time be deep diving into the long reign of Queen Victoria: one of the most exceptional eras in British history. Showing a softer side to the famously fearsome monarch, Lucy will explore how Victoria's profound grief at the loss of her husband Albert shaped her decades in power. 
Also offering an intimate portrait of a towering figure in British history is Andrew Roberts, who's at the festival to discuss his much-praised biography of Winston Churchill. Looking beyond the plume of cigar smoke and stirring speeches, he draws on fresh material to give some surprising insights on Churchill's friendships, and his deeply sentimental streak. 
Joining him in a trip back to wartime London is Edward Stourton, who takes a lively look at BBC radio's role in the second world war. In an age before the internet, the wireless was the lifeline of communication on updates from the frontline – find out how 'Auntie Beeb' shaped this defining moment in history. 
Also making an appearance is the inimitable Melvyn Bragg: straight-talking intellectual, author and erstwhile House of Lords peer. He'll be discussing his latest novel Heloise and Abelard, a captivating retelling of the story of the relationship between Heloise d'Argenteuil and Peter Abelard, an infamous love affair that rocked 12th-century France. Michael Morpurgo, author of well-loved books including War Horse, stops by to provide a slice of music and storytelling in The Mozart Question on the 22nd. Featuring a live string quartet, the performance explores the story of Paolo Levi, a world-famous violinist, and that of his parents; Jewish prisoners surviving by playing music in a concentration camp. Sensitively told and with stunning excerpts of the music of Mozart, Bach and Vivaldi, it's suitable for ages eight years and up.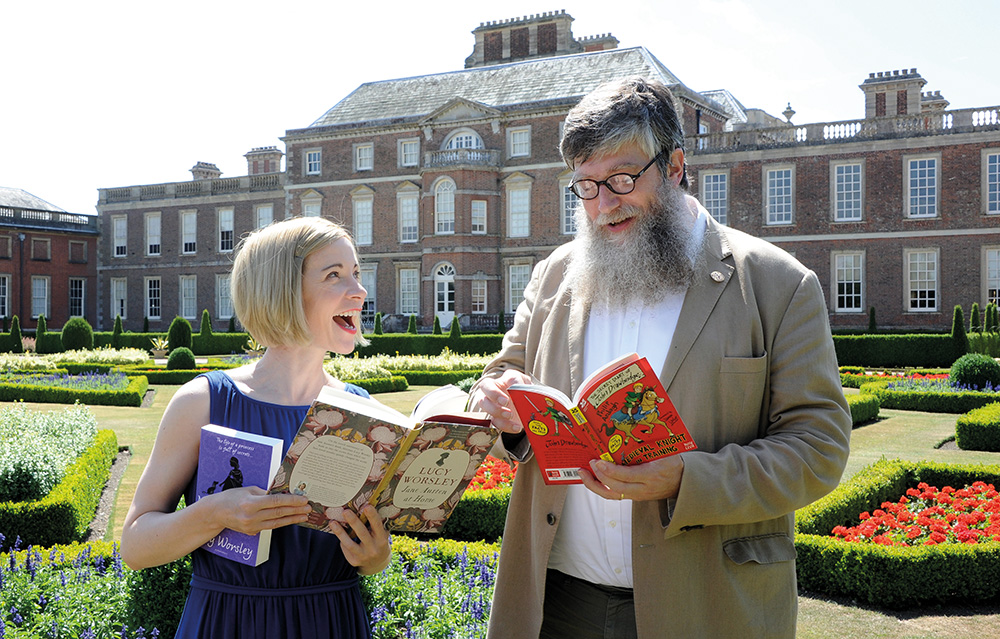 Another highlight is sure to be BAFTA winning television writer, producer and director Sally Wainwright, who's making a rare public appearance in conversation with Anne Choma, author of Gentleman Jack, to discuss bringing this true story to the screen. The sobriquet of 19th-century Yorkshire landowner Anne Lister, Gentleman Jack has been described as the 'first modern lesbian' whose coded diaries reveal numerous erotic encounters with other women. It screens on BBC Two later this year. 
A grisly chapter of British history is under the microscope at Hallie Rubenhold's talk about a group of women: Polly, Annie, Elizabeth, Catherine and Mary-Jane, all of whom were victims of Jack the Ripper. The story of the crimes are famous, but details of the lives of these women less so – Rubenhold gives them voice in what's billed as a "devastating narrative and landmark study of a time and place". 
There's close-to-home history with archaeologist Francis Pryor, whose new book delves into the ancient depths of the Fens, and closer to home still, with Shannon Hogan, who excavates the ancient history of Wimpole Hall itself, which dates back to the Late Iron Age. 
The festival is looking forwards, as well as back, with a keynote speech from broadcaster Jonathan Freedland. The closing event, this speech will call into question our ability to learn from history in our current climate of fake news, denialism and 'post-truth' politics.
Kids are well catered for too, with visits from the likes of award-winning children's authors Julia Golding and Philip Ardagh, writer of The Secret Diary of Kitty Cask. In addition to the bustling programme of talks, you can enjoy all sorts of living history displays, from medieval cooking and duelling demos,
to a falconry display and a scything festival. There will be two chances to marvel at a World War II Spitfire flyover, and eight to 16 year olds can learn how to fight like a medieval knight at Wimpole's own sword school. 
The Wimpole Estate is a gem to explore in its own right as well, with a grand old country mansion, rolling parkland and library of more than 10,000 books, making it the perfect backdrop for the festival. If you get peckish or thirsty, there are two cafes and a restaurant to choose between, or wander over to Church Field, which will be transformed into a street-food market with local traders including Azahar, Jack's Gelato, Brewboard and Rural Coffee Project. 
Booking is open now at the Wimpole History Festival website.
Need-to-Know
What?
A feast of history, heritage and hospitality set against idyllic parkland. 
When?
20-23 June 
Where?
Wimpole Estate 
How Much?
Talks from £7