Image: Image Yoko Ono performing Cut Piece (1964) at Carnegie
Recital Hall, New York, March 25, 1965 Minoru Niizuma © Yoko Ono
An iconic artist's work is to be celebrated across the city in a multi-site exhibition, Yoko Ono: Looking For…
Celebrating the 50th anniversary of Ono's first visit to Cambridge and her debut public concert with John Lennon, at Lady Mitchell Hall on 2 March, 1969, it's a chance to find out more about the artist and a hidden gem of Cambridge's social history. 50 years on to the day, a plaque will be unveiled in the foyer at Lady Mitchell Hall, where a live recording of the concert Cambridge 1969 will be played for visitors and can be heard until the end of the year.
Ono was a leading artist of the Fluxus movement and a pioneer of conceptual art, as part of the New York underground avant-garde scene in the late 50s and early 60s. She still creates thought-provoking art and music that challenges our view of the world. The exhibition will feature more than 90 early, recent and new works. Her wide body of work includes text, painting, sculpture, installation, performance, music, film and video.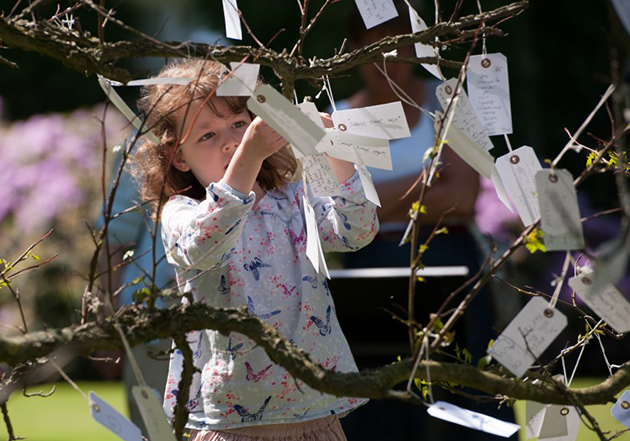 Image: Yoko Ono, Wish Tree (1996/2013), installation at Yoko Ono: Half a Wind Show, Louisiana Museum, Denmark Bjarke Orsted ©Yoko Ono
Posters of Toilet Thoughts Film No. 3, from 1997, will be displayed in toilets within restaurants, pubs and elsewhere, inviting people to write their thoughts on them. A selection of word pieces, also on posters, will be in populated areas of the city, encouraging a contemplation beyond what is immediately seen. The Heong Gallery will host Sky Pieces, an exhibition within an exhibition, from June to October, demonstrating Yoko Ono's fascination with the sky. It's been a feature of her work since the early 60s, used as a metaphor for peace and freedom.
Performances, film screenings and a walking tour also feature within a wide-ranging celebration of the artist, running through to the end of the year. The posters and the concert recording form the main focus for the next few months. Admission to all exhibitions and events is free.