When it comes to your interior essentials, this window-coverings specialist is certainly on the ball
Stamford-based interiors company J & L Ball has just opened a new shop on Cherry Hinton Road. Owned and run by husband and wife Jeremy and Lorraine Ball, the company has specialised in blinds, shutters and curtains – as well as a selection of home furnishings – for over a decade. A family business through and through, J & L Ball offers a distinctly personal service, which it hopes will appeal to customers across Cambridgeshire.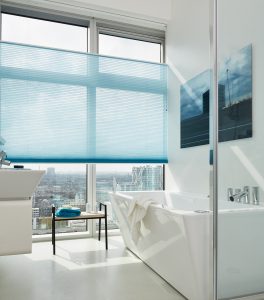 The business had humble beginnings, and according to owner Jeremy, materialised somewhat by accident. Jeremy's wife Lorraine had always made her own curtains, and after receiving several requests from family and friends, J & L Ball began to take shape. "My sister-in-law asked Lorraine if she could make her some curtains, and then I went around and put the pole up for her, and it just escalated from there," explains Jeremy. In the early days, Jeremy was fitting blinds and curtains in his spare time, managing the budding business while juggling variable shifts, and Lorraine was still working full time at John Lewis. "It got to a point where something had to give," says Jeremy. "We started out working from home, then we took a shop, and we've never looked back really."
We took a shop, and we've never looked back really
J & Ball has already established a solid reputation for itself in Stamford, and the idea of opening a second shop in Cambridge had been on the couple's mind for a while. "We'd been thinking about opening a shop in the city for about five years," says Jeremy, "but we couldn't work out how on earth we'd manage a really busy business in Stamford as well as devote time to the new business in Cambridge." Luckily, Lorraine's son Jordan stepped up to look after the new shop, allowing the pair to keep the business in the family. "We like it being a family business. We're here, you can walk into the shop and see us, and if you ring you can always speak to one of us by the end of the day to talk about any of your issues or requirements. Jordan's got exactly the same ethic and ideas," Jeremy continues, "so we knew we would have someone we could depend on."
So, when a shop on Cherry Hinton Road became vacant in early January, the couple saw an opportunity to expand. "We started the planning process to open the new shop at the beginning of this year," says Jeremy. "Everything was just about in place when all of a sudden the country went into lockdown." Although they were forced to put business on hold, the shop was still receiving floods of new enquiries. "We had a lot of people trying to get hold of us, so we thought well, we're halfway down the process of doing it, what have we got to lose?"
Their 'let's go for it' mindset has certainly paid off, and the new shop has already been doing extremely well. "We've had the business for fifteen years, and we're busier now than we've ever been," says Jeremy. "Regardless of the state of the world, it seems people are always going to want blinds, curtains, shutters and home furnishings." The shop happens to be extremely spacious and airy, so social distancing is no problem at all. "We can stand and have a conversation and I can demonstrate all of the blinds while we're still several metres apart," Jeremy adds. Home visits are also an option, with all of the standard health and safety precautions in place to minimise risks.
J & Ball is well-equipped to help you out with any of your interior needs, whether you're looking for a new roller blind for your bathroom, or planning to install a home-controlled electric blind system throughout your house. "There's absolutely no commitment," says Jeremy. "We're happy to give advice and chat about your requirements, and we can help you with your interiors – Lorraine's very good at putting colour schemes and fabrics together." The shop's new Luxaflex showroom is all geared up and ready to go too, showing off the impressive tech that comes with its latest selection of blinds. "We've invested quite heavily in the shop and it looks lovely – now we just want people to be able to come out and see it!"
91 Cherry Hinton Road, Cambridge
jlball.co.uk