Soft, sweet fruit is one of the joys of an English summer. Chef Alex Rushmer shares his favourite ways to prepare them
Perhaps it was the warm sun of early lockdown spring, or the surprising rains of July that swelled the fruits on straining branches into remarkable sweetness, but this has been an incredible year for plums and their assorted brethren. A dozen years ago we planted a small stick in our back garden – a house-warming gift from a colleague, presented to us in a sorry plastic carrier bag – and until this year it had been largely forgotten. It was biding its time… Now three metres tall, the branches are aching under the weight of greengages, clustered like grapes hidden amongst the leaves. We lost a few to moths, a tell-tale brown dimple on the outside of the fruit signifying that it is likely home to a tiny, wriggling larva, but even so there is a sizeable glut. They are delicious whilst still firm, the flesh yielding only slightly and a gentle acidity running through them, but they are even better when the skin begins to blush red and the fruit is warm, candy-sweet and almost luminous in colour. 
Close by, a friend has several plum trees as part of an orchard, at least four different varieties ranging from dark skinned, damson-like fruits to yellow-fleshed, lurid pink victorias. "Please come and pick some – we can't turn them all into chutney," came the plea. And so, we did, collecting six or seven kilos of the ripest, freshest, sun-dappled fruit I could imagine. Days later the boot of our car was still brightly, sweetly perfumed from where we had stacked the crates to transport them to the restaurant.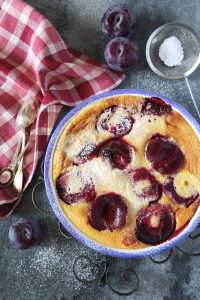 It is easy to be complacent with produce that nudges perfection. But often complacency prevents complication and the fruit was so good we wanted merely to allow it to bask in its own brilliant glow: unfussed, unsullied and untarnished – maybe a couple of supporting actors allowing it to shine. Stewing fruit is one way to amplify the flavours but maybe a little further down the line. Now, whilst there is more balance in the fruit, baking is a far better option, and clafoutis has long been my favourite method of showcasing stone fruits at this time of year. 
Traditionally made with cherries, this Limousin staple – essentially a thick, sweetened batter baked with fruit – is similar to a tart but without the faff of having to make pastry. I first came across it flicking through a cookbook by David Everitt-Matthias, chef/owner at Cheltenham's much-garlanded Le Champignon Sauvage, whilst gaining a couple of weeks work experience at a restaurant in Dorset. I rustled one up and it went straight on the menu that evening. Rather stupidly I then forgot to write the recipe down and never managed to scale the dizzy heights of that perfect clafoutis. 
A few years later I put out a request on Twitter asking if anyone could send me the recipe, but received no response until several months later when the telephone rang at the pub I ran at the time. A kind soul had been informed of my request and recited the recipe over the phone to me and, to this day, I haven't tweaked it a single gram. 
A few varieties of locally grown, hand-picked plums, baked into submission
It is the same recipe that we've been making at the restaurant as part of our Vanderlyle To Go menu the last couple of weeks. A few varieties of locally grown, hand-picked plums, baked into submission in a delicate batter that speaks of lightness, hiding discreetly the quantities of egg yolk, cream and ground almonds inside it. For me, it is the perfect dessert and one that is ideal as summer fades away into the subtle cool of autumn. And just in case you're wondering, the generous voice on the end of the phone, who talked me through the recipe so patiently? None other than David Everitt-Matthias himself.