With three branches across East Anglia, Eric's fish and chip shop is attracting ever more fans with its cheerful seaside charm. Nicola Foley chats to owner Eric Snaith about his winning formula
Regular visitors to the north Norfolk coast will likely be familiar with Eric's: Thornham's much-loved posh fish and chip shop. Set in a chi-chi cluster of shops at Drove Orchards, minutes from the beach, this stylish little restaurant made a mission of elevating the nation's favourite dish, blending nostalgia and modern influences with delicious results. 
As well as the classics, the menu tempts with Japanese-style fish cakes, battered gherkins, black pudding fritters and fried jam sandwiches, all washed down with a glass of excellent prosecco or Eric's own Seaza ale. The meeting of old and new is reflected in the design of the restaurant, too, which combines Formica tables and stripy-deckchair seaside charm with a bright, industrial-style look. Your average ten-a-penny chippie this is not.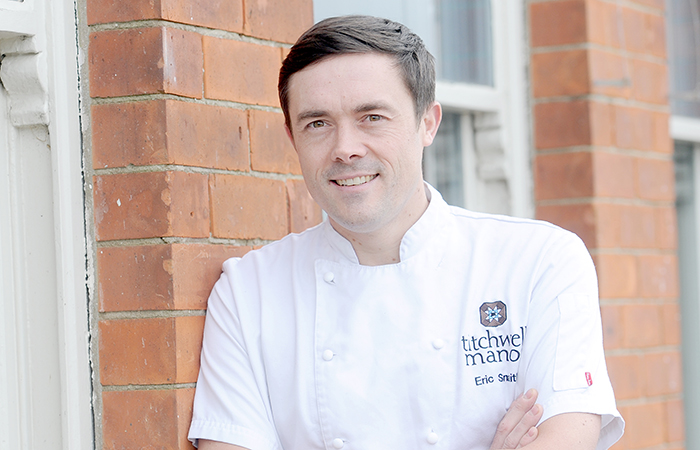 The eatery's many fans will be happy to learn that Eric's is expanding, having opened new restaurants in both Holt, Norfolk, and St Ives, Cambridgeshire, in the past few months. At the helm of this burgeoning collection is Eric Snaith, who cut his teeth in the hospitality industry cheffing at his family's hotel near Brancaster in Norfolk.  
"I grew up in Titchwell Manor, which was my parents' business, and has been in the family for 31 years. I sort of fell into it, started helping out on pot wash and stuff and doing the odd day in the kitchen, and just really enjoyed it," he explains. "I went travelling for a year and then when I came back, worked in a couple of other establishments, and then the opportunity came up at the hotel. They needed me, so I went back there – I was head chef for about 14 years in total." 
Boasting an impressive three AA Rosettes, Titchwell Manor has earned an excellent reputation for its creative fine dining – but Eric had dreams of creating something altogether different to run in tandem with the hotel.  
"I liked the idea of doing something that was a complete contrast to what our core business was, which was at the higher end of the market, and doing something that appealed to everybody," he says. "And approaching the ultimate dish to the nation – fish and chips – but approaching it differently in terms of the quality of the ingredients. I was conscious that people knew me from the hotel, but I didn't want to do a cheffy take on fish and chips, I wanted to do traditional fish and chips, but make it better, doing things like putting real beer in the batter, making sure it's the crispiest batter it can be.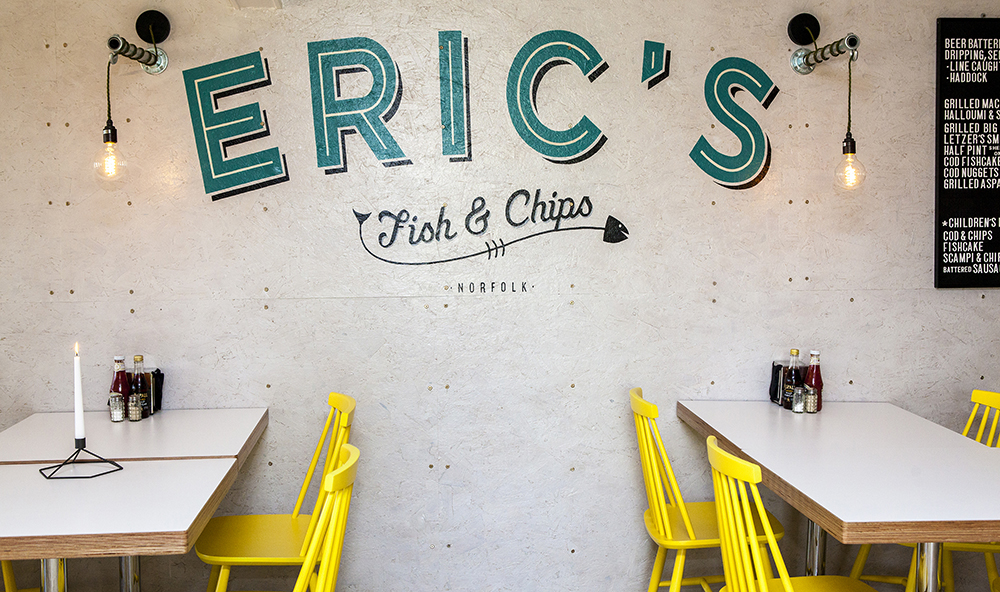 The chips are blanched and cooked to order, the mushy peas are made with great seasoning and butter. When I was researching, it seemed like most places were just trying to work on margin all the time, because it's always been seen as a cheap dish, but the cost of produce is going up, and we just hoped that people would be willing to pay that extra pound or two for much better quality." 
The first Eric's opened in 2015 after a long search for suitable premises, and quickly became a must-visit along its pretty stretch of coastline. A year or so in, the team realised that the concept had the potential to roll out across more locations.    
Kids love our fish and chip restaurants
"Holt was always one of our favourites: it wasn't too far away, it's quite an affluent area and a lot of our customer base was coming out of Norwich anyway, so it sort of bridged that gap. While we were setting that one up, an opportunity came up in St Ives, which hadn't been a location we'd thought of, but the developers of the site knew our restaurant and knew the North Norfolk coast, so we got chatting, and it seemed like a good opportunity. The more I looked into St Ives, the more I liked the area," says Eric. 
Set in a unit on a small retail park, sitting alongside the dayglo frontage of mega brands like Subway, the new premises is a big departure from the quaint buildings that house the other two branches of Eric's – presenting a challenge that has been relished by the team.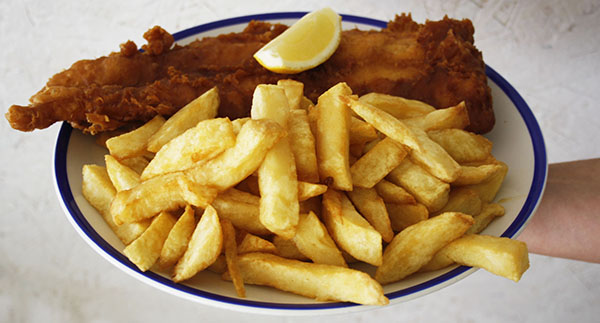 "We looked at the design from a different angle, and tried to make it all fit a little differently," he explains. "There are certain things in the branding that we keep repeating, like the Formica tables and tiled walls – so there are familiar touches, but we want them to feel almost like they're stand-alone restaurants. We didn't just repeat everything like some big chain." 
As well as adapting the look and feel of the restaurant, another challenge has been appealing to a different clientele. In Thornham, the majority of customers are on holiday or popping in for a treat, whereas the St Ives site is serving busy workers on lunch breaks and families from the area nipping in for takeaways. 
"I think the biggest thing is people understanding what we are," Eric muses. "In the first few weeks there were a lot of people just trying us in comparison to their usual fish and chips takeaway, but we're getting to a point now where there are a lot more people coming in and using it as a sit-in dining experience as well. And that's great – what's always worked so well is that the kids love our fish and chip restaurants and all the little touches for them, but also the grandparents love
it, because of the tradition. It's a good place for all generations. Everybody's happy with the offering – and that's actually really unique."  
With the Thornham outlet continuing to flourish and the new branches doing a roaring trade, is the ultimate goal to have an Eric's on every high street? 
"I think we'll sit tight for 18 months," laughs Eric. "We want to concentrate on the operations of the business – to make sure the branches are running as well and as efficiently as they can. I've always thought there's really good potential in it, but we need to see what's right for us. We might just stick with the three. We might  look to expand a lot quicker. But the plan for now is to consolidate for a year, see where we're at. 
"I've always been tempted with Cambridge, Bury St Edmunds and Ely," he adds, grinning. "We've nearly signed on a site in Norwich a couple of times as well, so we've definitely got an eye on the whole of East Anglia…"