Saffron Grange, Saffron Walden's up-and-coming vineyard, is proving that the future is bright for wine production in our region, as Charlotte Griffiths discovers
Tucked away on a hillside just a short cycle ride north of Saffron Walden lies a hidden sparkling wine vineyard that won't be a secret for long. For the past ten years, Saffron Grange has been quietly tending vines and blending wines on the chalky hillsides found to the south of Cambridge, and released its first trio of premium-quality vintage sparkling wines earlier this year, which have already earned a small but fanatical following among our region's food and drink lovers.
Established in 2008 by the Edwards family, headed up by husband and wife Paul and Ross, Saffron Grange is proudly putting down roots to ensure the future of our region's burgeoning wine industry and – in the face of undeniable climate change – perhaps the very countryside itself.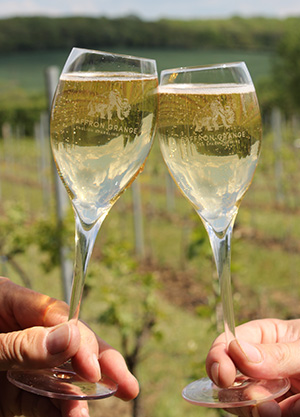 "I don't really regard it as a big vision: it just seems, practically, to be the right thing to do," Paul explains. "When I look around here and see hillsides covered with cereal crops and oilseed rape and all the rest of it, I think: what are you going to do with that land? The alternative is to build houses. But if you can create something that keeps the countryside green, then maybe that's how places like Champagne and Chablis have retained their identity. 
"Everybody said to me: 'You won't get chardonnay to ripen here: you're too far north,' – but we're not, really. Champagne isn't on the coast: it's in the centre, it's up slopes. It gets pretty hot in the summer, and pretty cold in the winter, and they have lots of frost – so I was thinking – 'Well – what's the difference?' There's no doubt in my mind that this will become a wine-growing region."
The cooler months of the year are a quieter time for the team: the 2019 harvest completed in October, so the focus now turns to fermentation, which is a risky but exciting time for the relatively young vineyard. "We're reviewing what we decided to do with the grapes when they were in the field: how many litres of classic cuvée, how many litres of blanc du blancs – and can we deliver what we thought?" says Paul. "To be sustainable, we have to repeat what we created the previous year – but each year, particularly as a developing vineyard, you don't really know what you're going to get. It's all a learning curve: we've never done it before," he smiles.
Paul and his family moved back from the Far East in 2006, after spending many years in the region working for the global food company Mars. "Originally, I was at grammar school in Essex and Ross, my wife, was at the County High School in Chelmsford – we've known each other for ever," he explains. "We first moved to west London, to Henley-on-Thames – and from there, I got a job with Mars and then it was here, there and everywhere: central Europe, the states, the Far East – it was great. Of course, I miss it. But the irony is – this is more difficult," he laughs.
Finding himself able to leave his corporate career and return to the UK with his family, Paul started searching for a plot of land on which to develop his long-held interest in sparkling wines. "I've always been a bit of a foodie, because of our international life," he says, "but the bit I didn't understand in the process was the growing. As part of my work for Mars, I bought coffee and cocoa, and I understood it was grown by teams of people – but I wondered 'How do you do this agri bit, this horticultural bit?'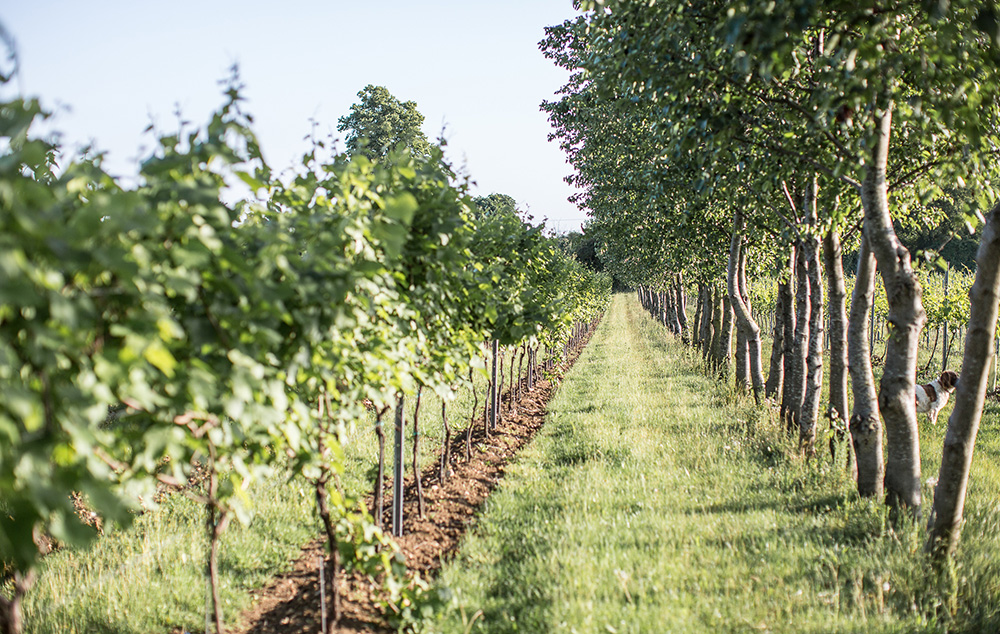 When Paul and his family lived in Henley, he was aware the land was based on chalk – ideal conditions for wine growing – and that others had already cottoned on to this with their own vineyards; but he wanted to do something different. "I didn't want to copy: I wanted to put a different delivery on it," he says. "I was looking at Hampshire, Sussex, but Ross's parents were in this area so we started looking at this land. And that was where the luck came in – we knew there was chalk here, but we hadn't realised that it was so significant."
Most of Essex and south Cambridgeshire sits on the same chalk seam that runs through Sussex and into the heart of France's winemaking regions: this unique, porous, million-year-old material both drains well and retains moisture, making it ideally suited to viticulture. Warming global temperatures have seen the sparkling wine industry creep further north with each passing year: in 2017, French champagne house Taittinger planted its first vineyards in Kent with the aim of producing sparkling wine by 2023, and the rest are making noises about following suit – if they haven't already done so. In an 2017 interview with The Drinks Business, Gilles Descôtes (champagne house Bollinger's chef de cave) said: "Maybe it would be more interesting to find an English way, and an English taste and style for sparkling, rather than only saying that it uses the same grape varieties as champagne."
And this is precisely what Saffron Grange is up to, in its suntrap of a chalk valley: building on traditional techniques and approaches, but also developing its own style of caring for its peculiarly British vines. "We're starting from a green field and doing it our way," Paul says: "and we're changing some of the ways that wine growing is done. We're low intervention – for example: we have a system called gentle pruning that's quite kind to the plant: instead of axing them all back, you leave enough wood so, as the dieback takes place, it doesn't go right the way back into the main system of the trunk.
"It makes sense, but it's a recent approach. In all the established vineyards where the intellectual property isn't necessarily shared, once you gradually get in and talk, to find out what the French do, what the Germans do and so on – you discover there's this whole layer of technique, of 'Oh, didn't you know that?' information – which explains so much…"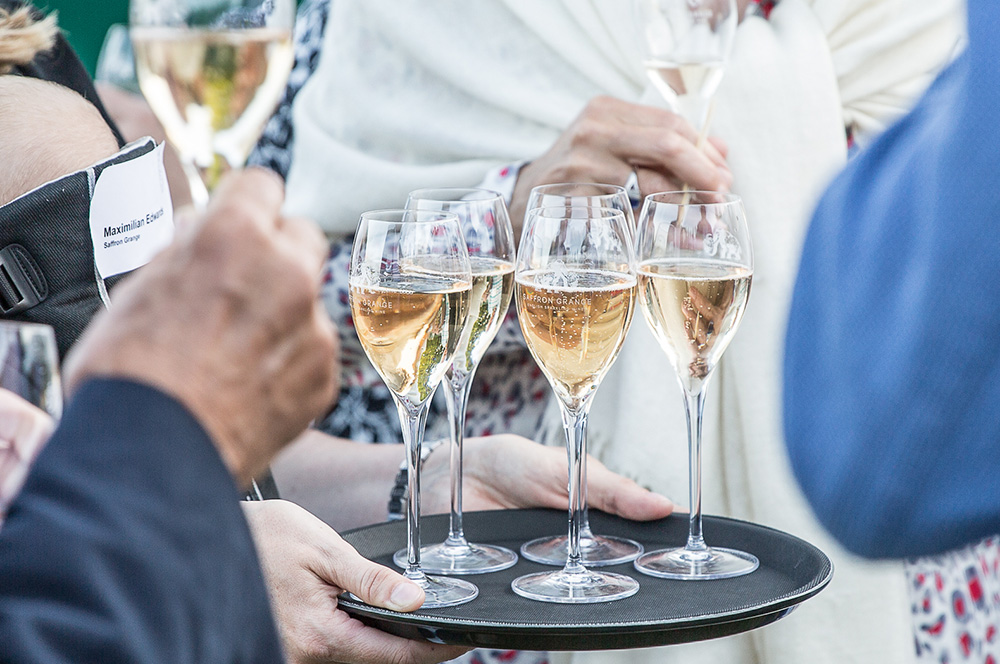 In 2008, the Edwards family planted their first 300 vines: followed by 5,000 vines in 2009, another 7,000 in 2011, and 3,000 more in 2018 – giving them the mix of pinot noir, chardonnay and pinot meunier that's found at the heart of exceptional sparkling wine. "We've got 16,000 vines at the moment," Paul says. "And since 2013, the weather patterns have stabilised… my vineyard has grown to almost self-harden itself against the climate. Most people who start planting vines here see them destroyed by climate – so unless you can mitigate against it, and against frost as we have done, then you won't establish the vineyard."
One of the few interventions the winemakers had to install is the splendidly named 'tow and blow', a gigantic fan that sits at the heart of the vineyard and gently rotates, moving the air over the vines on nights where the temperature dips towards freezing, encouraging frost to move downhill and away from the precious new growth. It's this adoption of modern technology alongside traditional techniques that has led to such an exciting time for Saffron Grange.
We're starting from a green field and doing it our way
"I knew we'd make a good start, but I didn't know if we'd be able to make a commercial vineyard – I thought if I can get 20 tonnes out of the 13,000 vines I've got in the bottom section of the vineyard, I can make it commercially viable – and we hit that total last year," Paul says.
"I thought that was a one-off – but what I hadn't considered is that my vineyard was still maturing. The vines were getting stronger, and the climate wasn't quite as good as last year, but similar – and we got exactly the same volume. And my new vines should give another five tonnes in a short space of time. So we're going to get the site up to 40, 50 tonnes a year – and that would support a winery, which I can bring the local community into and try to change the dimension here. I think it's pretty exciting," he smiles.
Building a community around the vineyard seems to be just as much of a priority as the quality of the wines that Saffron Grange is creating – for Paul, the two are inextricably linked. Paul's corporate background saw him building local teams to support regional businesses for Mars, where discovering hitherto untapped talent was crucial to project success: working closely with local schools and colleges in the Saffron Walden area is something that comes naturally to the winemaker. "Without the locals, you just couldn't do it. All of a sudden you realise there's this amazing hidden talent that you'd never have assumed existed," he says. "By me planting, testing and getting the kids from the County High to come help prune – over the years I built up knowledge, and started to get to know all these families."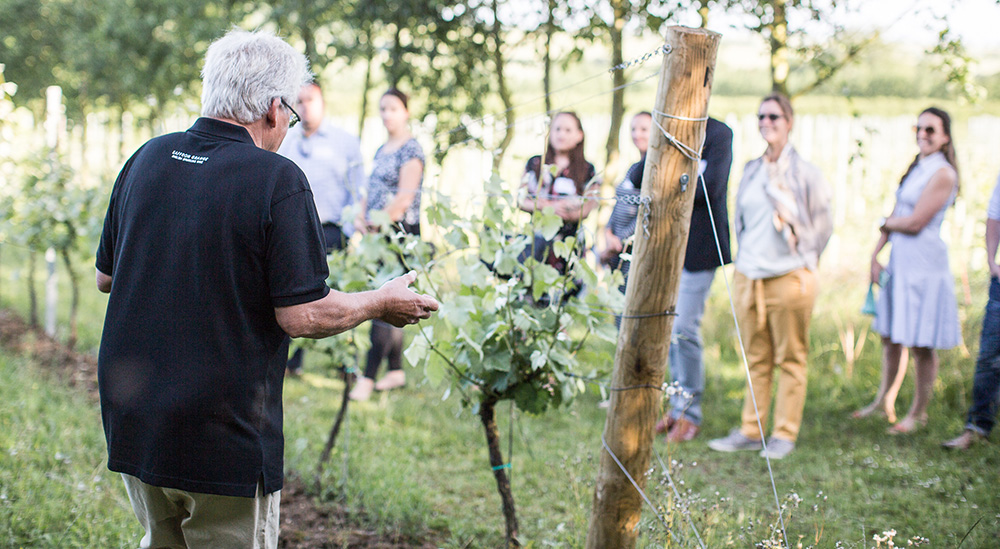 Dan Turner, now Saffron Grange's vineyard manager, was one such local who came along and discovered an aptitude and love for viticulture. "It's remarkable what happens when you take a bunch of 25 year olds and sit them round a table, but don't just talk about football and rugby all the time – you talk with them about sparkling wine, and why it matters," Paul says. "And now Dan is probably going to be one of the few people in this part of the world who is fully qualified in vinology."
The next steps for Saffron Grange are to establish regular opening days, plus a calendar of events where people can come to experience the vineyard and the wines – and hopefully move towards building a permanent structure for viticulture study in East Anglia. "We've got planning permission to build a much more appropriate centre here," Paul explains. "I really do want to tie up with local education centres, to have an area where we can bring people in and train them up as an alternative to pure agriculture. I want our people to be qualified in what they're doing. If there's significant interest in developing this area as a wine region, you've got to have places to train."
Without the locals you just couldn't do it
Having spent his life flying all round the world, Paul's now happy to "not get out much" and spend his days focused on the vines and people at the heart of this project. "I think this is where that concept of terroir comes in: it's not unique to France," he says. "When you plant your fields, and you find your people, and put your effort into a patch of land – you're going to try and make it work as best you can.
"And somehow, all patches of land which, on paper, tick off about 80% of what's required – when you do invest your time, and you find ways of getting around what goes wrong – which is what we've done here – then it succeeds. I do have the luxury that I had a really good career, and could afford to start this – but of course, affording to start it doesn't mean that I can develop it. So now it's really up to the community to accept Saffron Grange as a proposition that they're happy to grow with, and to support."
And of course, the community will also be helping to spread the word about this family-run business that's definitely going places. "I thought everyone knew about my vineyard – I just imagined that they'd spot it – but so many people haven't heard of it," Paul says. "It has been a bit of a secret. But hopefully it won't be for long," he laughs. 
Saffron Grange wines are available to purchase via Thorne Wines or direct from the vineyard at saffrongrange.com
Festive Fizz
James Thorne from Thorne Wines shows you how to perfectly pair Saffron Grange's wines with Christmas foods
Seyval Blanc Reserve 2016
Honeysuckle, grapefruit and melon with lemony acidity: this is pure joy to drink. Crisp and refreshing, it's the ideal party fizz; perfect on its own (while unwrapping presents) or served with nibbles. 
Classic Cuvée 2016
Complex aromas of tarte tatin and bright citrus notes. A pure crystalline palate of greengage and lemon tart with a subtle floral core and brioche finish. Perfect with smoked salmon (and sour cream blinis or scrambled eggs). Even better with cocktail sausages or pigs in blankets. The crisp acidity is great with the richness of bacon and sausages.  
Sparkling Rosé 2016
Fresh redcurrants, cassis and star anise. This is a vivacious wine with a lovely full but soft textured palate. It's like a perfectly glazed strawberry and creme tart; inviting and pleasing with every mouthful. Dreamy with a mince pie, the balance of red fruit and spice works in harmony with the sweet-and-sour minced fruit and buttery pastry. That's if there is enough left by the time the mince pies arrive!