When the Pear Tree Inn closed six years ago, a campaign was launched by Hildersham's residents to save it from the sad fate of so many village pubs around the country. Despite a good deal of local support, the effort to find investors and protect this well-loved local were unsuccessful and to the dismay of the community, the pub was forced to keep its doors firmly closed. All was quiet until late 2018, when new owners arrived in town with a new vision and a (sort of) new name for this popular watering hole – and boy has Hildersham lucked out. 
Not only is the village's only pub back in action, but the buyer was seasoned French chef Gael Lecolley, whose 25-year career in cuisine has seen him go from Michelin stars in LA to private cheffing for A-list celebrities. Pear & Olive is a joint venture between he and his wife Cat, and though the pair had vowed never to open another restaurant, they couldn't resist the charms of this quaint country pub. And despite confessing to missing the Californian sunshine, village life seems to be treating them well so far: there are already plans afoot for various new projects, including a nearby deli, so all signs point to the couple putting down roots in the Cambridgeshire countryside.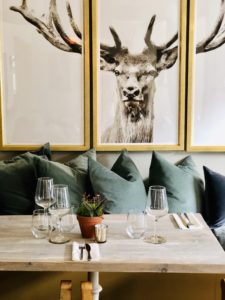 The Setting 
Under the new moniker of the Pear & Olive Scratch Kitchen, the pub has undergone a rustic chic restyling: think mismatched furniture, fur throws and crackling fires, plus a teal-blue cocktail bar and a few quirky paintings to set the tone. This is Cat's domain; her years as a creative design consultant evident in every inch of the well thought-out interiors, which have the overall effect of a dinner party at your most stylish friend's house – sophisticated, but above all, cosy and inviting. Notably, Cat's done remarkably well with such a compact space, which seats just 23 (the spa-like bathroom is a nice touch, too). 
The pub has undergone a rustic chic restyling: think mismatched furniture, fur throws and crackling fires
The Food 
We visited on a Thursday evening, when the restaurant typically offers a seasonal set menu (ours was titled 'Love at First Bite'). Priced at just £35 for nine courses, I'd venture it's the best-value tasting menu in the area, and chef Gael was delighted to talk us through the dishes (and share details about his own colourful life, including tales of a stint as Lionel Richie's personal chef…).
Large glasses of velvety Viognier poured, no time is wasted before an impressive opener lands on our table: slivers of yellowfin tuna carpaccio topped with zingy pickled cucumber and a swoosh of mango sauce. As a counterpoint to the first course's delicate freshness, what comes next is a hearty, creamy potato and leek soup cleverly paired with meaty pheasant salsa and a tart apple mousse, offering a lesson in contrasting textures and flavours.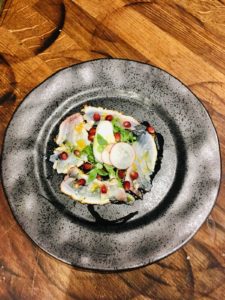 Next up is tender pork belly on a bed of sugar-sweet pear compote, followed by a creamy, coconut monkfish curry and a mound of rice, crowned by two slices of smoky aubergine, before a fragrant duck breast on a pile of black pudding-enriched mash arrives to make us swoon. The fish course is a chunk of seared Scottish salmon drenched in a smooth and buttery white wine sauce, served with morsels of sticky roast beetroot, leading up to the most substantial course of the whole meal: a rib-eye steak. It's testament to the pacing and well-judged portion sizes that a steak works at this stage, six courses into the meal, but it's a definite crowd-pleaser with its juicy meat, creamy dauphinoise and rich peppercorn sauce. Another highlight comes immediately after in the shape of individual fondue dishes, which come with toasted brioche bites for dipping up the melty gruyère goodness. Dessert, a slab of ganache-like chocolate torte topped with a sharp quenelle of vanilla bean ice cream and a dusting of icing sugar, serves as a decadent full stop to the parade of exquisite dishes.
Each bite works in harmony, creating a varied feast any top restaurant would be proud to serve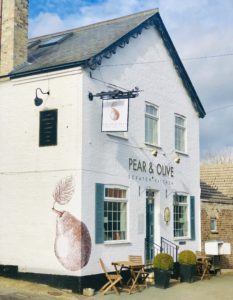 The Verdict
The word that comes to mind most during the meal is eclectic, with the dishes absorbing a multitude of techniques and styles, ocassionally nodding to the chef's travels. Skipping between curry, fondue and steak might seem like madness, but each artfully presented bite works in harmony with those before and after it, creating a varied feast that any top restaurant would be proud to serve. 
Hildersham is lucky indeed to have a gem like this on its doorstep – and if the merry Thursday night buzz we saw in the restaurant is anything to go by, the villagers seem to agree. But for us out of towners, Pear & Olive also has three gorgeous boutique hotel-style bedrooms so you can make a night of it, which we'd thoroughly recommend you do.