At Jack's Gelato, ice cream is more than just a summer treat; it's a year-round way of life
Words and photos by Charlotte Griffiths

 
Ice cream might not be the first treat on your mind in the colder months, but it's time to have a rethink. The perfect moment to visit Jack's Gelato is 11am on a winter's day: soft morning sunlight pouring through the sash window and open door, gentle background beats providing a restful soundtrack and one or two members of Jack's team pottering around the just-opened shop, gearing up for the day ahead. Occasionally the tranquility is broken by a new student or tourist stepping up to the counter, bewildered by options – but they soon wander out again, happily clutching a cone of the newest flavour on the wall, leaving you alone to enjoy this temple of frozen delights.
Though you're guaranteed to encounter an array of extraordinary flavours all year round, one thing you are less likely to see in the winter is Jack van Praag himself, the creator of this ten-year-old Cambridge institution. If Jack's there, he'll be in plain sight serving customers or possibly hidden below stairs, tinkering with a recipe – but if he's not in the building, then your guess is as good as mine. He might be reading in a hammock on a beach in South Africa, recovering from a solo skydiving class, running in the mountains of the Pyrenees, or scoping out the eastern coast of America for iced inspiration. Travelling is one of the activities that Jack saves for the winter months, when owning his own business enables the former chef to take time out and explore the world.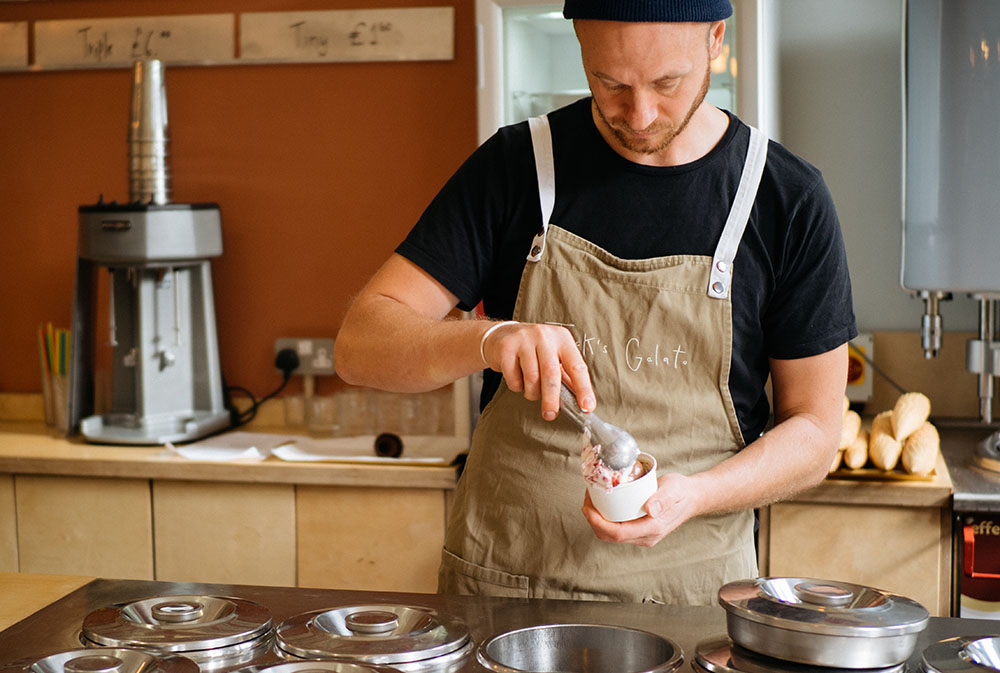 "I don't really like routine. Before I would do two, three years somewhere, then after two years I'd want to move on. It's different when you're in a restaurant: you're in the same place, doing similar things every day, and it's easier to get bored. But here, every day is different. There's not really an average week. This time last week I was cycling from Beirut to Jordan – this time next week I'll be in the south of France – this week I'm having tea with you," he grins, over cups of earl grey in the Senate. "Travel gives me perspective on my life, my business; I always come back with new ideas."
When Jack is in the country, the calmer pace of the cooler months is definitely appreciated. "At the moment the shop's busy, but not crazy, and there's no events on – so I can wake up, go for a run, come back, shower, meditate and head in – I love it," Jack says. "I can open my book, work out what I want to focus on – recipe development in the shop, sorting this or that out – rather than being pulled along."
Summer as a gelatician is a different experience: for the past few years, Jack hasn't taken a day off between April and September. This won't come as a surprise to anyone who's visited the shop in the warmer months, when queues often stretch far down Bene't Street. "I'd say 90% of our business is in the summer, but it's essentially two, three different businesses," he explains: "We have the unit where we do wholesale and events from, and the shop where we do retail – but they're different things. That's the tough bit. There are plenty of weekends in the summer when we'll be scooping at five different locations simultaneously: the shop, a wedding, a festival, something else somewhere else – and each event often has their own flavour… coordinating all of that can be a bit overwhelming – but we have a fantastic team of people to help," he says. "There can be weekends where we have 35 different flavours coming out of the unit."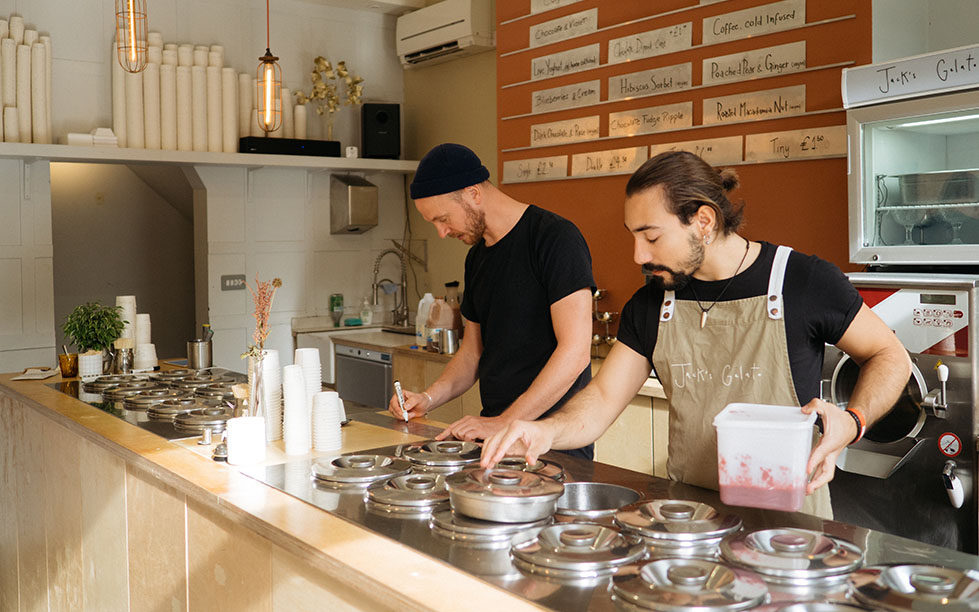 It's the variety and intensity of flavours that keep Jack's Gelato at the forefront of Cambridge's mind: the list genuinely does change every day, with no single variety as a constant ("the tourists ask for the most popular flavour, and you have to say 'ah, but the flavours change every day'"). You might encounter Lebanese sesame – a creation dreamed up on his most recent trip to the Middle East – or mille-feuille; or cinnamon and Bramley apple ripple. When I stop back a week later to take photos, there's a vegan poached pear and ginger, five-day cultured yoghurt, roasted Macadamia nut, and chocolate fudge ripple.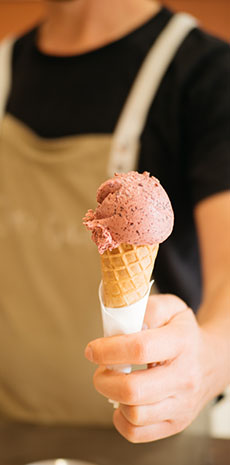 This ever-changing list gives Jack and his team flexibility to experiment with wild combinations of flavours, but there's never been a type that's "tanked", as Jack explains – it just depends on what individuals like or don't like. "The only time it's ever rattled me was at a wedding, where I'd left the stand to fetch something and heard a guest say that the salted licorice was disgusting. I stopped, backtracked and said: 'Care to elaborate on that?' and he said: 'It's just so… licorice-y'. That's actually the perfect example: Scandis or people who've spent a lot of time there love salted licorice, but it's not for everyone. It's the same with the alcoholic flavours: some people find them too much, some people go nuts for them. There's a family who live about 30 miles away – whenever they see a new [alcohol-based] flavour come up, they drive down and get double scoops of each."
Next year will mark ten years of Jack scooping on the streets of Cambridge, and 20 years of working in food. He grew up in Cambridge, starting working life as a cycle courier – the pre-internet, non-digital equivalent of an email. "I loved it," he says. "I was 16, it was the summer between my GCSEs and my A-levels, and I was really into cycling – and we were firing documents all over the city. You'd have your messenger bag and your radio, and you'd hang out on Parker's Piece while waiting for jobs – there were, like, 30 of us… you'd wake up in the morning, radio in – 2-8, ready to work – and then they'd tell you where you're going and you'd sprint across town. I definitely have a long history with bicycles," he laughs.
In the early years I did countless all-nighters. I did a 54-hour shift once
After Jack's A-levels, the impulse to travel kicked in: a gap year and trip to California led him up the West Coast of America to Vancouver, where he decided to stay for a season in Whistler – which is where the chef first entered a kitchen as a professional. "I was just doing it as a means to an end to fund my snowboarding," he says, "but it was better than washing cars and cleaning hotel rooms. Working in a car wash in Canada, in the winter, it's… hard work," he smiles.
"When I did come back [to the UK] I carried on working in kitchens, then decided to take it seriously and started working in better places. Then I opened Cotto with Alison, sold it to Hans and Ruth a few years later and moved to Paris – and then came back two years after that when Mattie, my daughter was born." And it was then, ten years ago, that Jack started wondering if creating and selling gelato might be easier than working in restaurants. "It is now, but it wasn't for the first few years," he says. "In a restaurant you might work 80 hours, but you never work through the night – and in the early years of [Jack's Gelato], I'd do countless all-nighters – even double all-nighters. I did a 54-hour shift once… I had wholesale orders, and it just needed to be done."
For the next few years Jack's custom ice-cycle became a fixture at street food events and weddings, and part of the routine of a sunny weekend in Cambridge was checking Twitter to find out where he'd be scooping. Although the work was back-breaking, it was Jack's continual presence – and, of course, commitment to creating excellent products – that led to him getting the lease on Bene't Street when it came up in 2017. "The estate agents basically wrote us off, but the college that owns it gave us the lease because the bursar knew us from around Cambridge," he says. "The estate agent was like: 'You can't just do ice cream – there's never been a shop in Cambridge that's only done ice cream and survived. Are you sure you don't want to do waffles?'"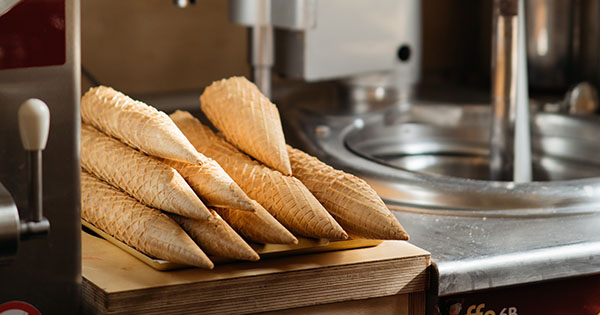 Thanks to the hard work of Jack and his team, the business is thriving, all year round: warmer months see queues of ice-cream lovers stretching down the street or dropping by for a late night scoop to finish off an evening out, while cooler months see fewer, but just-as-dedicated fans of frozen treats dropping in to the shop for a cone or cup of hot chocolate.
The relaxed yet purposeful atmosphere encountered in the shop is mirrored in the business plan: Jack's never taken investors or partners, preferring to grow it himself, quietly, steadfastly, and enjoying the flexibility offered by working on his own. "Any investor is naturally going to be bottom-line driven, and I wanted to be able to close for a few days without running it past anyone," he says. "Plus if I had an investor, they'd be like: 'Right – where are we going to open next? We're going to open one in Oxford, we're going to open one in London, one in Bath – and I don't want that. We will do more stuff, but I'd prefer to open a shop in…" he looks around the room: "Copenhagen, for example – and make a quarter of the amount of money that opening a shop in Oxford would. We're a stable business now: we don't have to worry about where the next months' rent's coming from, so we don't have to juice every pound out of it – let's have some fun."
And it sounds like that fun might not always be of the frozen variety. "While on the bike in Lebanon I had time to think – this is one of the best things about going away, the perspective it gives you: ideas just bubble up," he says. "I've been thinking about a charity project based around falafel. I was blown away by the falafel in Israel; it's just unbelievable – so I want to do something that's completely focused on charity, none of this '5% of our profits' and so on – one where no-one involved has any kind of financial stake or incentive."
His bike-based Lebanese ponderings quickly moved into action when back in Cambridge, with Jack heading to Mill Road to buy chickpeas and fava beans for recipe development in the kitchens. "I popped down and talked to Leo at Steak & Honour, and asked to borrow the restaurant for an evening – he said yes – so that's just how this idea's happening, fast and quick. Turns out it's quite hard to make a good falafel," he laughs, "but we'll get there."
With exciting side projects in the works, a stable and thriving business on one of the busiest streets in Cambridge and a presence at most foodie events throughout the summer months – it sounds like Jack's in a good place.
"My 20s were very much about hardcore being in the kitchen, learning how to cook: my 30s have been about Mattie, and running my business – so my 40s, I do see being more about a larger purpose. I'm going to try putting more energy into that over the coming years." And what would he say to himself at the start of his gelato journey, ten years ago, with all this ahead of him? Jack laughs, quietly: "I'd probably tell myself not to do it – if I'd known what I was in for, I probably wouldn't have done it." He smiles: "But now, I'm glad that I did." 
Jack's scoops
Regular visitors to Jack's Gelato will have spotted that his plastic spoons are a thing of the past: replaced with smooth bamboo sticks for tastes and cup-based ices. "That's taken years," he says. "I hate those normal wooden spoons, made out of birch – they've got a texture on the tongue, they taste of wood – they're just horrible. So that wasn't an option. Bioplastic wasn't an option either: we looked into it and it needs to be processed properly, it's not compostable like a lemon peel is – and Cambridge doesn't have those facilities yet.
"So we got these bamboo ones, which are smooth and tasteless – but we had to get them custom made, and buy half a million of them, which is about 20 years' worth. It took a while, but we did it, and now they're all in my attic," he laughs. "The amount of time, effort and investment in one tiny little aspect of the business – we don't bang the drum about it, but we do it because it's the right thing to do."
Jack's Gelato globe
Jack keeps a list of international gelateries of note on his Google Maps: if you're headed off to foreign climes and ask nicely next time you're in his shop for a scoop, he might just give you some recommendations…
Pica in Rome
Fata Morgana in Rome
San Stefano in Bologna
Gelupo in London: "Their white truffle is insane."
Gelato Messina in Australia: "They've got their own dairy farm, they're going back to basics and doing some seriously amazing stuff."