Hollie Cook (image by Jemma Dodd)

Nicola Foley attended the 2018 edition of Hertfordshire's boutique festival – here's what she learned
1) Arriving at a festival during a storm is not fun
After months of blazing sunshine, Friday evening heralded the arrival of a storm at Standon Calling that was nothing short of biblical. As we made our way into the site, we were greeted with sheets of rain, flashes of lightning and hordes of damp festival-goers trudging back to their tents muttering about the closure of stages. It wasn't an ideal start it didn't dampen spirits for too long and the organisers dealt with it impeccably (kudos to the staff at the Dark Horse Wine tent who were valiantly keeping the party atmosphere alive with free rosé samples and 80s tunes).
2) The food is great!
Standon Calling absolutely nails it with their food offering, with a selection that's light years ahead of your usual festival fare. From the fluffy steamed buns loaded with braised meat at Le Bao to the gooey, chorizo laden mac and cheese at The Mac Factory and the slabs of salted caramel goodness at Bad Brownie, the abundance of top food trucks is a huge pull for the festival. My personal foodie highlight was the Patty & Bun 'Lost Island' pop up: a tropical-themed stage-come-burger joint complete with palm trees, rum cocktails and banging beats. One bite of P&B's perfect patty and I was hooked. For those keen to really level-up their feasting, there was even a sit-down restaurant, Supernova, where diners could enjoy a three-course meal with wine and music, nestled in woodland.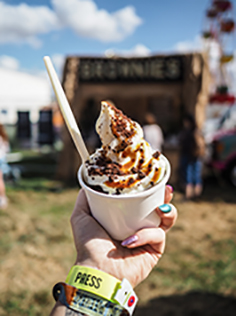 3) The festival is cashless
Your money's no good at Standon Calling. In keeping with the futuristic theme of the festival, the only way you can pay is via the chip on your wristband. In my experience, this was a double-edged sword: it cut down on queues at bars, meant you didn't have to carry around (and potentially lose) cash, kept personal spending in check and made buying things super easy, but it also means you need to be organised and make sure you're topped up in advance or face queues to get cash. It can be a bit of a drag but if you plan ahead it doesn't need to be. My advice to future Standon Callers would be to top up online in advance and get a refund on anything you don't spend.
4) The band line-up is brilliantly eclectic
The festival prides itself on the eclecticism of its line-up and there's loads to tempt, whatever your musical taste. The main stage offers a bit of everything, with Friday night alone veering from energetic art-rockers Django Django to poppy fun with Paloma Faith. A special shout out to the Laundry Meadows stage, which showcased a great crop of emerging talent over the course of the weekend including grunge girls Dream Wife, reggae vibes from Hollie Cook and the slick disco stylings of Park Hotel. The variety on offer meant it was easy to find tunes to suit your mood at any given moment – from the sunshine soaked Latin American funk of the Cuban Brothers offering a perfect soundtrack to an afternoon of beer and sunbathing, to the rabble rousing Black Rebel Motorcycle Club revving us up for Saturday night.
5) The DJs are top, too
Perhaps because of the family-friendly feel to the festival, I wasn't expecting the electronic music offering to be up to much at Standon Calling, but I'm happy to say that I was wrong. Drum and Bass label Hospital Records pitched up in the Cow Shed venue with a Hospitality takeover that lasted much of the weekend and saw genre heavyweights like London Elektricity and Fred V & Grafix take to the decks, while elsewhere there were appearances from festival favourites 2MANYDJS and the inimitable DJ Yoda, plus a nostalgia-inducing set from DJ Luck & MC Neat. Proving that some of the most fun to be had at festivals can often be found in less obvious places, one of my weekend highlights was the exuberant Saturday night get-down in the Beefy Melons tent, which had brilliant tunes all night long and the feel of an excellent house party your mate threw (which is of course how Standon Calling was born in the first place…)
Park Hotel (image by Jemma Dodd)
6) There's loads of opportunities to get stuck in
You could miss every single performance and still have a whale of a time enjoying all of Standon Calling's immersive fun and games. From fulfilling your Rockstar fantasies on stage with a real life band at Rockaoke to getting sweaty at lycra aerobics, relaxing in a hot tub or the on-site swimming pool, zorbing, swing dancing or joining in with a music quiz, there's feel-good fun around every corner.
7) It takes all sorts
At 15,000-strong, the number of attendees at Standon Calling this year was the highest its ever been – comprised of a complete mishmash of ages, tribes and personalities. I can't think of a festival I've attended where the crowd was so varied – testament to the eclectic nature of the entertainment on offer. The family-friendly approach of the festival was nice too, with kids/teenagers integrated into all aspects of the event.
8) The theme is a lot of fun
The theme, or 'story' at this year's Standon Calling was 'The Future', which was embraced with impressive imagination and creativity. I loved the sci-fi inspired Starbase Standon stage but it was the festival-goers themselves who really brought it to life, with fancy-dressed robots, astronauts and dystopian warriors at every turn.
9)  Festival dogs are the best
Enthusiastically dog-friendly, Standon Calling encourages guests to bring along their pooches, which means the site is peppered with handsome hounds (including many in fancy dress!). They even host a Sunday afternoon dog show, with rosettes for categories including 'looks most like owner' and 'waggiest tale'. Adorable.
10) Sunday's worth sticking around for
Sundays at festivals can be a bit of a struggle – a pitfall Standon Calling's programmers rally against with a line-up of music so uplifting that it could turn any frown upside down. The Bootleg Beatles recreate the magic of the fab four, Goldfrapp shimmer through the rain and the legendary Bryan Ferry proves the ultimate crowd-pleaser on the closing day of the festival. The perfect antidote to festival fatigue.
Find out more about Standon Calling here.
Fancy dress parade and ice cream images by Daisy Dickinson.