Anna Taylor, owner of Anna's Flower Farm in Audley End, shares what's going on in the garden this month
So many times, I've read that in January you should hunker down with the seed catalogues and plan the year for gardening, but this isn't a time to turn our backs on the garden until spring. The maintenance and care we do now really sets us up for the year. 
I believe tasks in the garden reflect our own needs in January, just as at any time of the year. It's important to respond to the weather when we need to: if it snows, get out quick and brush off branches, as snow can lie heavily enough to break stems and create huge holes in shrubs and borders. Break ice on ponds, and fleece tender plants. Try to keep off the grass and flowerbeds in frost. On a clear, cold day, I will warm up by turning the compost heap, putting in effort now so that I can spread some of it as mulch in a few weeks' time. 
If it's mild, prune your apple trees gently. Now is not the time for heavy lopping, as the tree will respond by sending out water shoots and vigorously growing at the cost of your fruit harvest. Simply cut back crossing, dead or diseased branches and reduce the year's growth by about a third, cutting to an outward facing bud, while leaving new shoots to grow fruit buds for the next. There is an old adage that the tree should be open enough so that a pigeon can fly through!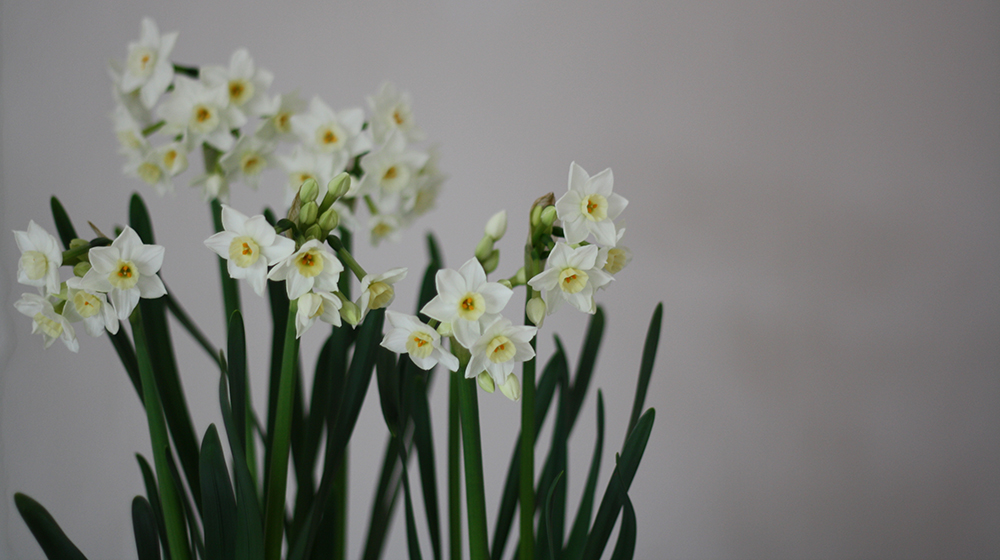 In the winter months, on any mild or clear day, I like to get outside as much as possible. Obvious and easy when it's warm, but even more essential for the mind and soul right now. While sorting out the greenhouse and piling trays up, emptying pots of debris and leaves, I spot all sorts of promise, from swelling buds on the trees to bulb tips poking through frozen soil. I cut pieces of fragrant shrubs and flowering plants to bring the season inside. It is rejuvenating and life affirming to see this growth, reminding us that much is still happening below and above the ground, albeit at a much slower rate.
Some of my favourite plants and shrubs are the stars of the show in January. Sweet Sarcococca (Christmas Box) is a fine replacement for blight-prone Buxus, and planted by your door in a shady spot will delight you with scent on a cold day. Lonicera (Winter Beauty) is a must in any garden.
A small piece on your bedside table is a heavenly scent
Semi-evergreen with mid-green leaves all year, it's a foil for any planting, and for several months, small creamy yellow and white fragrant flowers appear – a small piece of this on your bedside table is a heavenly scent. Further, Viburnum Bodnantense, Witch Hazel and Hellebores form a delicate and intensely beautiful backdrop and highlight of borders right now. Inside, we have bowls of Narcissus Paperwhites, and Amaryllis for drama.  
After a couple of hours in the garden, it's time to rejuvenate in front of the fire with that pile of seed catalogues!