Try out hydrating new LED facials at Bedford Lodge's rejuvenating spa
If you're in the market for a little R&R, and interested in a more vibrant, younger, brighter appearance (who isn't?!) then stepping through the doors to The Spa at The Bedford Lodge Hotel could be just what the doctor ordered. Just a short jaunt out of Cambridge, in the energetic setting of Newmarket, I was surprised to find the Spa nestled so close to all of the shops and restaurants, making it easy to get to. The Spa is well known for luxurious weekend breaks, boasting a hydrotherapy pool, rooftop hot tub and more than ten treatment rooms – but you don't have to book a whole weekend to benefit. The Spa has recently launched a discreet aesthetic clinic offering advanced drop-in cosmetic procedures and treatments including botox, dermal fillers, hair removal, and LightFusion phototherapy.
Promising visible, lasting results, light therapy is being used more and more in facial treatments, and the skin's ability to absorb light means that harmless LED light in specific colour wavelengths can be used to target various complaints; energising cells to produce collagen and improve blood circulation. LightFusion (from £59) is a facial treatment to tackle the signs of aging. Using phototherapy and a hydrogel mask, it can be enjoyed as a relaxing, hydrating and skin-firming experience, or as a combo with Microdermabrasion, peels or facials. I opted for a renewing Microdermabrasion session, followed by LightFusion.
My therapist Emma welcomed me and went through the details of the treatment so I'd know what to expect – giving me the chance to ask plenty of questions, before slipping into a cosy bed and closing my eyes. The Microdermabrasion (from £60) is a popular treatment at the spa, thanks to its near-instant results. Using tiny crystals and a special suction-tool, the top layer of your skin is gently exfoliated away – it didn't hurt at all, but was rather relaxing, with Emma keeping me informed of everything she was up to.
The treatment lasted about 30 minutes, followed straight away by LightFusion, where a delightfully cooling gel mask was applied, instantly calming the effects of the Microdermabrasion, before the light mask went on top to deliver its magic. Amazingly, my eye make-up remained intact, as Emma had applied little eye protectors. So, this is a treatment you could just squeeze into your lunch break.
Afterwards, I noticed my skin looked brighter, and felt more hydrated. I was given a sunscreen (which Emma applied) and some special moisturiser to sleep in, and I carried on my day with glowing skin, make-up free. When I did later apply foundation, I used half the amount, as it glided on so smoothly, covering pores and imperfections more easily than before.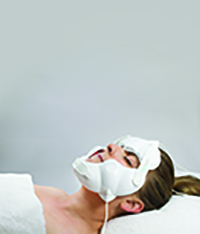 Treatments can be undertaken weekly, or every month or two to keep on top of your skin's new glow.