Spring is here, and there's no better time to give your house a refresh. From borrowing from the latest colour palettes to investing in sustainable homeware, Angelina Villa-Clarke reveals the latest trends to update your home
Thick rugs, soft throws and plump cushions – a cosy home is a welcoming home, and this aesthetic can easily be achieved by mixing up textures, textiles and accessories to add warmth to a living space. In short, it's all about conjuring up the feel-good factor.
"It's easy to do, when you know how," says Brian Waring, founder of Craft Editions, an online hub that brings together a range of handcrafted homewares. "Layer up textured throws, soft cushions and interesting textiles to beds, sofas or even the dining table to create a cosy look. Think about rugs and baskets, too, which will add an organic, rough-hewn feel."
Angela Reed, a family company based in Cambridge and Saffron Waldon, is a good one-stop shop for a range of pieces that tap into this design ethos. You can add character and depth to your home with reclaimed furniture from Vietnam or handmade rugs from Bangladesh.
Channelling the latest colour trends, such as Dulux's Tranquil Dawn – a barely there green – DFS's So Simple Tom furniture collection is perfect for a freshen-up for spring. Its new collaboration with French Connection, meanwhile, gives a nod to Pantone's deep Classic Blue, with the sofas and chairs upholstered in sumptuous ocean, ink and teal shades – ideal for updating your dining area.
"To really dial up the cosiness, it's all about layering – mix chunky throws and cushions in tactile textures, such as knits and suedettes," says a DFS spokeperson.
Mix chunky throws and cushions in tactile textures
Catharine Denham, French Connection's head of home, adds: "The new Studio range at DFS takes its inspiration from the Japanese technique of boro, or reworked textiles – layering these together with different textures and dyed fabrics to create a patchwork effect."
Also borrowing from the ethos of the Far East is Furniture Village, which says that the inspiration for one of its trends for 2020 is Japanese design. "As always, some colours and ideas are consistently carried forward from season to season, with pink hues being a prime example. Inspired by the beauty of the Japanese spring, we've created a soft, feminine take on the pink trend that remains true to the Japanese core principles of form and function," explains a representative for the brand.
Working well with these on-trend shades of dusty pink, dark blue and pale green is the addition of plants and greenery. Mix and match different sizes with pastel blooms and gold metal accessories for an urban-jungle feel. For tired furniture, breathe new life into chests of drawers and cupboards by replacing knobs and handles with new, vibrant pieces, like those at ethical store Ian Snow.
"Plants are akin to a neutral – they work in any style of decor to add texture and interest to the scheme without being overpowering," says Amelia Brooks, co-founder of Audenza. "But of course, real plants are an awful lot of upkeep! So, look to add in a few faux plants to give the same effect, with no hassle or limitations."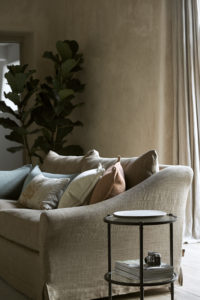 Neptune in Harston offers a range of streamlined yet rustic-style home accessories that bring the finishing touch to a scheme. Start by bringing spring indoors by filling its Littleton basket planters with fresh herbs in the kitchen, decorating surfaces or around your hearth with bunches of lush, faux hydrangeas or enlivening your sofa with a new Cotswold Herringbone throw in old rose – perfectly 'of the moment'.
Meanwhile, for those wanting to update the bedroom, new bed linen in cool cottons and muted shades will give an instant lift. The French Bedroom Company is a good source for glamorous bedspreads in plush velvets, and pretty covers in blossom and bird prints.
Perfect to sink into after a hard day at work, Whisper's soft bed linen comes in a range of pastel shades. "Choose bed linen in gentle hues to help create a peaceful atmosphere and one that is conducive to sleep," say Ari Rubner and Jack Hersh, founders of Whisper. "Considering how much of our time we spend in bed, it's also worth investing in the best quality bedding you can."
Talking of which, Sheridan's luxury, organic cotton sheet sets are breathable and kind to the skin, as well as being kind to the planet, with the company having sustainability at its heart. "Sheridan has been creating soft furnishings with sustainability at its core since 1967, and has noticed a growing global shift towards greater consideration for the quality and provenance of what consumers buy," explains Joanna Ross, general manager of design. "We are taking action to make a difference, challenging ourselves to find better, more sustainable ways of working – because luxury shouldn't cost the world."
Proclaiming eco awareness is an important trend to take note of this year
Proclaiming eco awareness is an important trend to take note of this year. Color & Co suggests adding blinds made from sustainable materials, such as paper, jute and bamboo, in neutral yet classic colours "for that Scandinavian feeling of sophistication".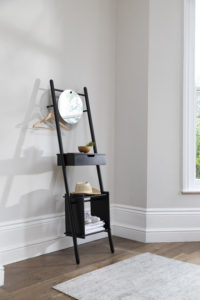 Also channelling a Scandi aesthetic married with an eco feel is Venoor, which has launched its new Cove collection of furniture made from sustainable wood. "Designed in Denmark, each piece has been crafted from either solid oak or beech wood, and offers clever solutions for everyday use," says a spokesperson for the company. "From full-length mirrors to hanging shelves and sturdy storage ladders, each piece is as versatile as it is stylish."
One of the UK's biggest homeware stores, John Lewis is also reflecting consumers' desire to be more environmentally aware. "With our commitment to creating responsible products, we are constantly looking for ways to use sustainable materials within our collection," says Elizabeth Sladen, partner and upholstery buyer.
"Considering provenance, craftsmanship and the ability to reuse is a concern. Last season's launch of the Natural Collection mattresses and fabric covers made from recycled fibres were significant steps, and for spring/summer 2020 we're introducing our first foam-free sofa, the Java II. This, together with providing the not-for-profit service to collect and recycle or reuse old mattresses and sofas, reassures our customers that their old products are being reused or disposed of responsibly – and not simply ending up in landfill."
Finally, Sandrine Zhang Ferron, founder of Vinterior, a specialist marketplace for vintage furniture, says that it is the ultimate place for homeowners to add personality to their homes by finding unique pieces, as well as easing their conscience as consumers.
"As people wake up to the damage caused by our throwaway culture, we are seeing a revival in public appreciation of and interest in antique design," she says. "The handmade artisanal quality of many antiques also contribute to their durability and the fact that this furniture is still going strong after a century – or even centuries – is testament to their quality."