This Image: bench, from £100, Jo Alexander
Angelina Villa-Clarke discovers that gardens are – when the weather permits – becoming another reception room
The UK garden scene has boomed of late with homeowners borrowing style ideas from the Mediterranean, chic boutique hotels and coastal resorts. They have morphed into second living rooms (when the weather is kind, that is), with a wide range of stylish furniture and accessories to transform even the dreariest corners.
Sian Lowri Allpress, director at Jo Alexander, Cambridge's garden emporium, comments: "Invest in something like our teak day bed. It is furnished with a base cushion and scatter cushions and is perfect for unwinding on a hot day. Our concrete and bamboo ranges introduce two interesting materials for garden furniture at the moment. Combine these with woven bamboo lanterns for stylish, summer nights."
From Maze Living's covetable rattan furniture to John Lewis's modern dining sets, garden furniture has raised its game. Nicola Gidlow, John Lewis's buyer for outdoor living, explains why: "The blurring of the boundaries between indoor and outdoor spaces means that entertaining is no longer confined to one area of the home. Investing in weatherproof furniture allows for key pieces to be transferred outside. Furnishing rooms that back on to your garden with accessories and cushions in bright, bold colours and prints will warm up the inside of your home. To link the spaces choose similar patterns and hues for your outdoor accessories, this will help add a sense of unity to your entertaining space."
Extex's award-winning outdoor fabric collections are water repellent and stain resistant. This year's collection of fabrics includes bright oranges, acidic greens and blues and rich, rustic dark tones. For the wow factor, add in statement pieces of sculpture, like the mirrored Flame pieces at In-Spaces. External lighting also adds atmosphere when the sun goes in. Industrial-style wall lights and lanterns at J Adams and Co are among our favourites.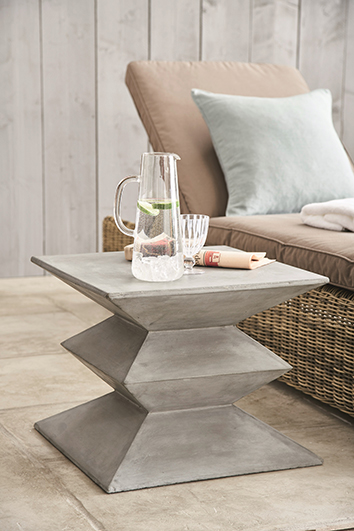 Offering garden sets and swing seats, Sweetpea & Willow's whimsical take on summer is appealing to all. Jacqui Dunton, co-founder of the shop, says: "For those with a large garden, you should consider zoning. Create different spaces with different styles of furniture. You can create a dining area with a beautiful table and chairs set for entertaining or a casual area with deck chairs, throws and cushions to unwind.
"In smaller gardens consider stackable, shape-shifting furniture that can be reconfigured depending on what the space is being used for," she continues. "Our Higold Shenzou lounge seats can be stacked together to create cosy cocoons."
Scatter some of the Hogla Floor Seats, from design store Oggetto, around the Ignis Fire Bowl, from Scandi Living. Add a few of the Shepherd's Crook and Lantern sets, from Pastel Lane, and drape pretty bunting, from Susie Watson Designs, in trees. "There's nothing like dining outside on a summer evening," says Susie Watson. "Add some colour with bunting and a touch of elegance with candlelight in pretty glass domes."
OKA Living's stone garden furniture gives a grandeur to gardens and is just the thing for dinner parties. "Dining al fresco is one of summer's greatest pleasures," says Julie Paul, head of interior design at OKA, "so insist on real plates, glasses and cutlery. The outdoor table is the perfect place to experiment with colour – rich mustard and vibrant amaranth are on trend."
This Image: Petra side table, £195, Oka