Angelina Villa-Clarke discovers the grand designs behind the new Bury St Edmunds showroom
If you are looking for a kitchen that will become the talking point of your home, or a bathroom that will be your ultimate go-to retreat, then look no further than Design Republic's award-winning designs. Since the brand was first launched in 2003, by Max Spenser-Morris, it has become renowned throughout Cambridgeshire and Suffolk for its contemporary kitchen and bathroom designs.
"Italian brands such as Scavolini are showcased within our showroom," says Max Spenser-Morris, Design Republic's managing director. "We look for names that dare to be different with new materials, colours and finishes. This fits perfectly with our own philosophy. Scavolini products are at the cutting edge of kitchen design, in terms of visual appeal as well as quality, and this is where Design Republic always aims to be."
Design Republic also works with a number of other market-leading brands, such as Quooker boiling water taps, Sub-Zero and Wolf professional appliances and the innovative berbel odour extraction units, and many of these can be seen at its new flagship showroom in Bury St Edmunds.
"Our new showroom certainly marks an important moment in time for Design Republic," says Max. "While we have been designing beautiful bathrooms and kitchens for a long time, now we have the ability to physically show people what we can do. Just as you wouldn't buy a new car without seeing it and touching it first, so the same applies to a new kitchen or bathroom."
Buying a new kitchen is one of the biggest investments a homeowner makes and can be a daunting prospect for many. Max's advice is to firstly think about how you want to use your room, giving attention to worktop space (a prime consideration), having enough storage and practical requirements such as sinks and appliances, before you consider visual appeal.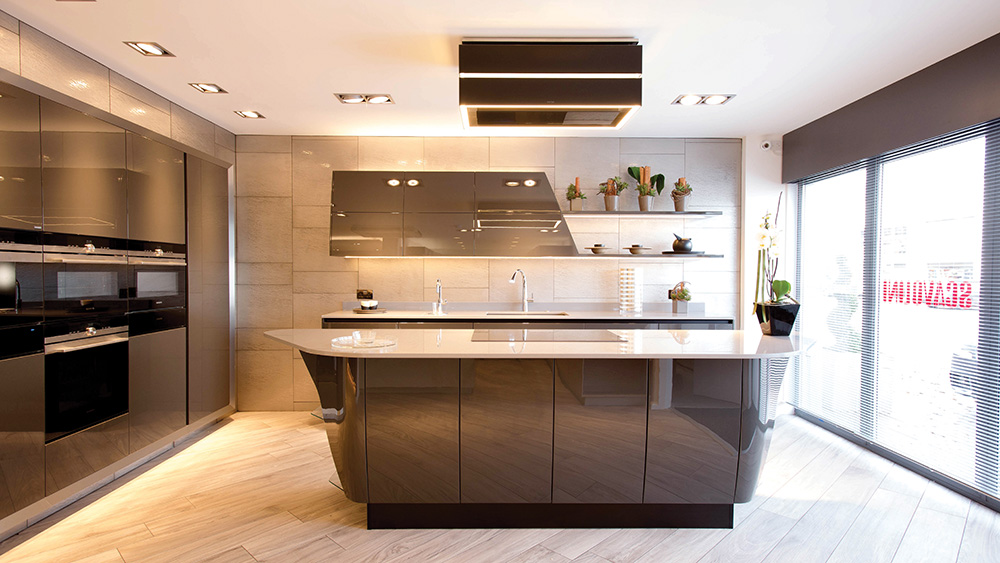 "Do some research to get an idea of the kind of design you might like," he suggests. "Gather together some cuttings to take along to your designer, but go with an open mind, as not all of what you wish for may work in reality. Seek advice from the experts. We are here to help."
Bathrooms, too, have become increasingly important rooms in our homes. They have emerged to become a place of sanctuary, with more people looking to invest in furniture and design.
"The focus on bathroom design has certainly changed over the last decade or so," agrees Max. "Today, the bathroom is second only to the kitchen in terms of selling houses. Consumers are eager to incorporate design ideas that make the most of what is often a compact footprint. Minimal design is on-trend."
Design Republic makes sure that it keeps one step ahead of new developments in design. In terms of surfaces, for instance, it offers a choice of granite, natural stone and composite stone – an extremely durable option available in designs that emulate the look and feel of the real thing.
"Knowing what the next big thing is is key for us. We invest a lot of time in attending the leading trade shows in Europe where we can see first-hand the new products coming to market and decide whether to bring them back to the UK. The future for us is to essentially keep working with market-leading brands and to create beautiful kitchens and bathrooms for our customers."
Design Republic's top three kitchen trends
1 Brushed metal. Combine copper with marble worktops to create an elegant, timeless look.
2 Vinyl wall coverings. With so many colours and designs to choose from, vinyl can be extremely decorative and is incredibly practical and simple to clean.
3 Professional appliances. The domestic kitchen is taking a lead from the professionals, with homeowners keen to invest in appliances that help them cook like chefs.
For more information visit design-republic.net or call Design Republic on 01284 812590.