Advertorial
Local company Britmask answer questions and look at key considerations when choosing your next facemask
Reusable or disposable?
If you wear disposable facemasks, they should be changed following every wear (and disposed of safely), meaning that a throwaway option is not planet-friendly, and we would recommend looking into a sustainable option. We recommend choosing a good quality, reusable mask that has been tested: it works out much better value long-term.
What's the difference between a facemask and face covering?
Unlike a face covering, a facemask has been tested for bacterial filtration efficiency (BFE).
How do I know if my mask has adequate BFE?
A good clue is if it is labelled as a facemask or a face covering. The CE marking is also a very  good indicator of this. Masks that hold a CE mark have been tested to EU standards. Our Britmask plain coloured face masks are CE certified as a medical device and designed for everyday use.  The CE certification guarantees a minimum of 90% bacterial filtration efficiency. Whilst our fashion sparkle masks have not been separately tested (and we therefore refer to them as a face covering), they are made with the same technique and fabric as the plain masks but with added lurex. 
Are the number of layers important?
The latest recommendation from the World Health Organisation is to choose a three-layer mask or face covering.  A great choice is one that has an inside pocket to add an additional filter that has been tested for BFE. All Britmasks have an interior pocket design to add filters for extra protection. Our PM 2.5 filters (sold separately) are fully tested and designed to filter out almost 100% of fine particles. Adding this extra five-layer protection means that your Britmask could have up to seven layers of filtration. Remember to regularly change your filter – we suggest after eight hours of continual wear, but change filters immediately if they get wet.
Does the mask have a water repellent treatment or use quick drying specialist fabrics?
If a mask gets wet, its filtration it is less effective so look for something that has one of both of these benefits. All Britmasks are made with a specialist yarn developed for sportswear that is extremely breathable, quick drying, and boasts antibacterial properties. In addition, the fabric is treated with a water repellent treatment, HeiQ EcoDry.
Does the mask have an Anti-viral or Anti-bacterial fabric treatment?
Any additional fabric treatments are a bonus to ensure absolute maximum protection. Always look for the OEKO-TEX logo which means that the product is certified free of harmful chemicals and are safe for human use. The fabric of all Britmask masks have been treated with HeiQ ViroBlock. HeiQ Viroblock NPJ03 has been tested effective 99.99% in 30 minutes against SARS-CoV-2, the COVID-19 causing virus.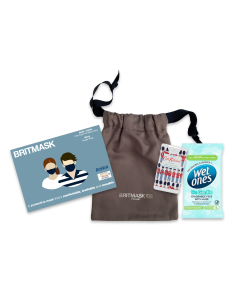 Remember: Always dispose of your mask safely and remember these easy 'wear with care' guidelines
Try to handle your facemask/face covering as little as possible.
Wash your hands with antibacterial soap (or use hand sanitiser) before putting on and taking off your facemask.
Hold the ear loops to put your facemask on and ensure that you cover your nose and mouth.
We recommend washing your facemask after each use: the antibacterial fabric treatments on Britmasks will last for at least 30 washes when washed at 40 degrees.
Ensure your mask is completely dry before re-use.
Children's facemasks should be fitted by an adult, and the child should be able to remove it themselves if they need to. Global recommendations state facemasks aren't suitable for children under two years of age.
Find out more at britmask.co.uk.  Britmask is offering the readers of Cambridge Edition 20% discount site-wide: Use code CB1 at checkout. Corporate discounts and personalisation are available. Contact theteam@britmask.com.