From street food favourites to local craft stalls and fun musical performances, Nicola Foley finds there's something for everyone at this winter event
Each year, on the first Saturday of December, the Romsey and Petersfield neighbourhoods come alive with music, dancing, colourful parades and throngs of food stalls for the Mill Road Winter Fair. Founded in 2005 with the goal of celebrating the local community and attracting visitors to the area, the event has since blossomed into one of the most popular fixtures of the winter calendar in the city.
These days, it attracts more than ten thousand visitors each year, with hundreds of stalls, a packed live music line-up and food on offer from around the world, but it remains an entirely volunteer-run event. "It's built by the community for the community", says Chiara Satta from the Mill Road Winter Fair team.
The Mill Road community is unique, and so is this event
"It's important for the people living on and off Mill Road, because it brings together different communities with their different faiths, beliefs and cultures. It strengthens friendships and relationships among each representative group or individual and their work, and makes cooperation between communities on both sides of the railway bridge possible. The Mill Road community is unique, and so is this event!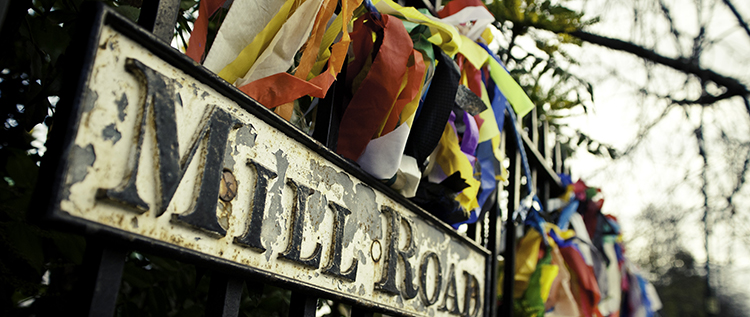 "I'm personally really looking forward to seeing the parade and all the arts and crafts stalls around," she continues. "The parade this year will be bigger, louder and more colourful! This year the theme is nature, so we expect a lot of children and adults dressed up as plants, flowers or trees, which is always very amusing."
With more live music than ever before, scores of Cambridge's best-loved food and drinks companies and some new additions including poets and science demos, 2019 looks set to be a vintage year for the fair – here's a taster of what's in store!
Food & Drink
The amazing range of food on offer at Mill Road Winter Fair is one of the event's biggest draws, and this year the line-up of traders looks extra tasty. For the biggest concentration of eats, turn your feet to Gwydir Street car park, where you can take your taste buds on an international adventure with Venezuelan bites from Arepa's Station, Spanish produce including Iberico ham from Azahar, authentic Italian pizza from Fired Up, Jamaican-South African fusion cuisine from Kerief Catering and Taiwanese treats from Ling Ling Steam Kitchen.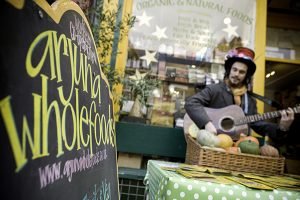 There's also pedal-powered coffee from Tribeca, not to mention prosecco, mulled wine and seasonal cocktails from Gentleman Jim's – a mobile bar in a beautifully restored horsebox.
Mill Road itself will host stalls from Harston-based brewery Brewboard and Cambridge Biltong, while you can also check out the new housing development, Ironworks, where there will be a cluster of foodie traders including Simon's Cider, Wylde Sky Brewing and Verrecchia, which will be serving tasty crepes.
Another foodie hub can be found at St Barnabas Road, which will host street food heroes Guerrilla Kitchen and Steak & Honour, plus sweet treats from Gourmet Brownie and Joi Joi Bakehouse, which sells cupcakes and whoopie pies.
Parade
The parade is a popular part of the day's festivities, beginning its journey at Millcroft Court (opposite Thoday Street) at midday. Schools, families and anybody else who wants to be part of the parade is invited to dress up and show up to join the fun, cheered along by hundreds of spectators: get creative with the nature theme and bring your best dance moves.
Stalls
Need to get moving with your Christmas shopping? The fair is the perfect place! Donkey Green will once again host a huge array of stalls from local craftspeople selling handmade jewellery, cards, artisanal skincare products and more.
Browse Cambridge illustrations by Roxana de Rond, wreaths and table decorations by Nature's Posy and wooden homewares and gifts by Cambridge brand Stott & Shepherd – if you're feeling the chill, head to the firepit to warm up.
Moseying down Mill Road, there's more stalls to be found at Ditchburn Gardens and the Bath House, both of which will be teeming with crafty delights, or keep going to Romsey Parade to see Camcycle's pop-up park. Be sure to visit Hope Street Yard as well, which will have its usual eclectic traders plus buskers and the Thirsty bus for picking up a pint of something tasty.
Performers
Music is a big part of the fair, and as ever, there will be all kinds of bands and performers to seek out. Back by popular demand, the Shake Your Tail Feather stage is pitching up at the corner of Salisbury Street, and there are 14 busking points along the Mill Road mile to check out, plus the Cambridge 105 stage outside Tesco.
Don't miss the uplifting sounds of the Bibleway Gospel Choir, 1980s classics from Alive and Kicking, toe-tapping fun from the Fruity Clave Samba Band, ska'd up versions of classic tunes with Jason and the Skagonauts, or the funk and reggae stylings of the HiFi Dropouts.
As well as musical performances, you can see Morris dancing, swing dancing and Irish dancing displays, among lots more.
Have a 
fair to 

remember
Handy tips for visitors to the Mill Road Winter Fair
Fair day will see Mill Road closed to cars from East Road to Coleridge Road between 9am and 5.30pm, so bear that in mind when making travel plans. The roads nearby might become congested, too, but there should be plenty of parking available at the Queen Anne car park and the Grafton Centre, both of which are very close to the action. Cyclists will be asked to dismount as well.
With more than 10,000 visitors, the fair gets very, very busy, so if you don't like big crowds, you're best to show up earlier in the day (around 10am to 11am), or towards the end of the fair in the afternoon.
Good advice if you come with a group is to establish a meeting point, so you can reunite – we recommend choosing one of the pubs on the side streets! (These are also ideal for escaping the craziness and grabbing a warming glass of mulled wine, too. Top picks include The Cambridge Blue, The Kingston Arms and The Empress.)
If you're in need of assistance, look out for the stewards wearing high-vis jackets – they'll be happy to help.
Read the programme (this will be available at the top of Mill Road on Donkey Green and is also online), to find out where stalls will be located and what time the bands are playing and where.
Wrap up warm, arrive with an empty stomach and enjoy!