Tristan Welch, head chef at Parker's Tavern, shares two of his favourite recipes
Cambridge Burnt Cream
Tristan's luxurious recipe for Cambridge Burnt Cream (or crème brûlée, depending on which side of the Channel you're from!) 
Ingredients
350ml double cream
150ml milk
1 nutmeg, crushed

 

100g caster sugar (plus extra
for the topping)
6 egg yolks
Step-by-step guide
Preheat the oven to 110°C and have ready an ovenproof dish that can hold roughly 600ml.
Pour the milk and cream into a large pan and add the nutmeg. Bring to a simmer gently on a low heat then place to one side to infuse.

 

Mix together the egg yolks and caster sugar, then gently pour the milk infusion over this mix and stir well.
Pass through a sieve into the ovenproof dish as far up to the top as it can go.
Bake in the oven for 30 to 45 minutes. You can check if it's done by giving the dish a little nudge and looking for slight wobble in the middle.

 

Once cooked, allow to cool. At this stage it can be kept in the fridge for up to two days before serving, but it is at its best a few hours after being cooked.
Sprinkle over a layer of caster sugar and caramelise with a blow torch or under the grill. Serve immediately.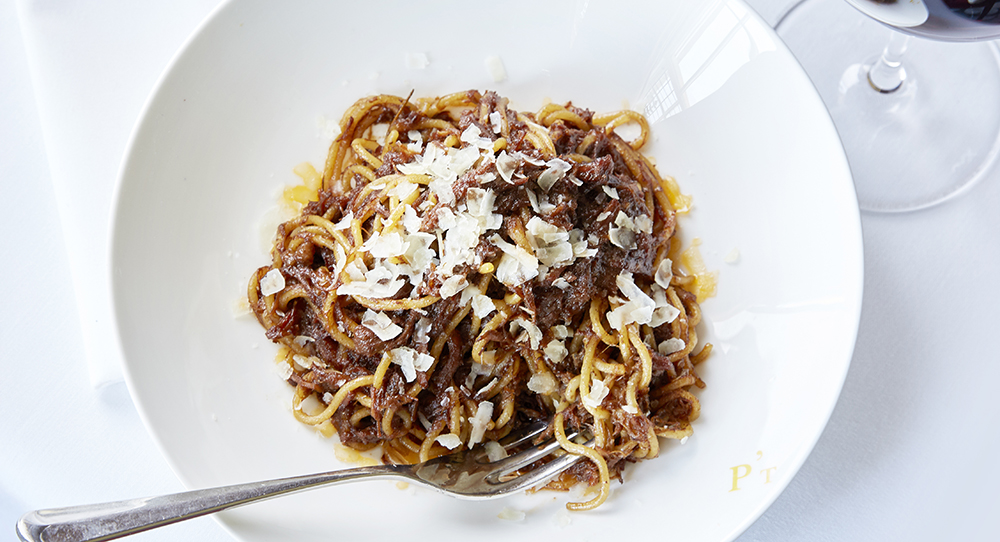 PT's
 s

paghetti bolognese

 

The perfect comfort food, Tristan's spin on this classic dish is a long-standing Parker's Tavern favourite   
Ingredients
600g braising steak

 

6 rashers of smoked streaky bacon

 

4 cloves of garlic
2 tins of chopped tomatoes

 

1 generous tbsp tomato paste
4 sprigs of thyme

 

1 bay leaf

 

1 medium onion
1 stick celery
½ bottle red wine

 

2 litres beef stock

 

1 tbsp butter

 
Step-by-step guide
Preheat your oven to 140°C.
Heat the butter in a large ovenproof saucepan, season the steak with salt and pepper and brown with the bacon for about 20 minutes.

 

Finely chop the celery, garlic and onion, add to the pan and continue to cook until softened.
Stir in the tomato paste, bay leaf and thyme, fry gently for minute, add the wine and let bubble a little, allowing the alcohol to evaporate.
Dilute with stock, cover with greaseproof paper and place in the oven for three hours checking every 30 minutes or so. Add a little more stock if it starts to dry out.

   

Once cooked, allow to rest and stir with a wooden spoon to break the tender meat into smaller chunks.
To serve, cook your spaghetti for two minutes less than it says on the packet, reserving some of the cooking water. Warm up the bolognese sauce and add a little of the pasta cooking water. Stir in the pasta and boil for a minute, allowing the pasta to soak up the sauce.
Serve hot. For an extra British touch I like to serve it with freshly grated Berkswell cheese; it's slightly similar to parmesan, which naturally works well too.