Nestled in the Essex countryside you'll find Anna's Flower Farm, a hand-grown business that's blossoming
Building a garden is one of those tasks that gets more complicated the closer you look at it. You can, of course, take the well-travelled route and head to a nursery, grab the first flowers that look nice, pop them in a hole and wonder why they don't make it past a single season – but a well-planned, thriving patch requires research, a lot of groundwork and thoughtful, considered planting before you'll start to see the first blooms. And it's much the same with a business – especially for Anna Taylor, whose deep love of plants and talent for styling flowers has blossomed into a thriving 'cottage garden' industry.
Nestled deep in the heart of Audley End's village is the red-brick-walled garden that's home to Anna's Flower Farm: it's tucked away, just about visible on Google Earth as ten-ish tidy rows of green amongst the mature trees and sprawling buildings that make up the historic neighbourhood. Approaching the farm leads you past neat, white-walled workers' cottages and through a grassy paddock, before a small sign reassures that you are in the right place and haven't just driven across one of English Heritage's lawns.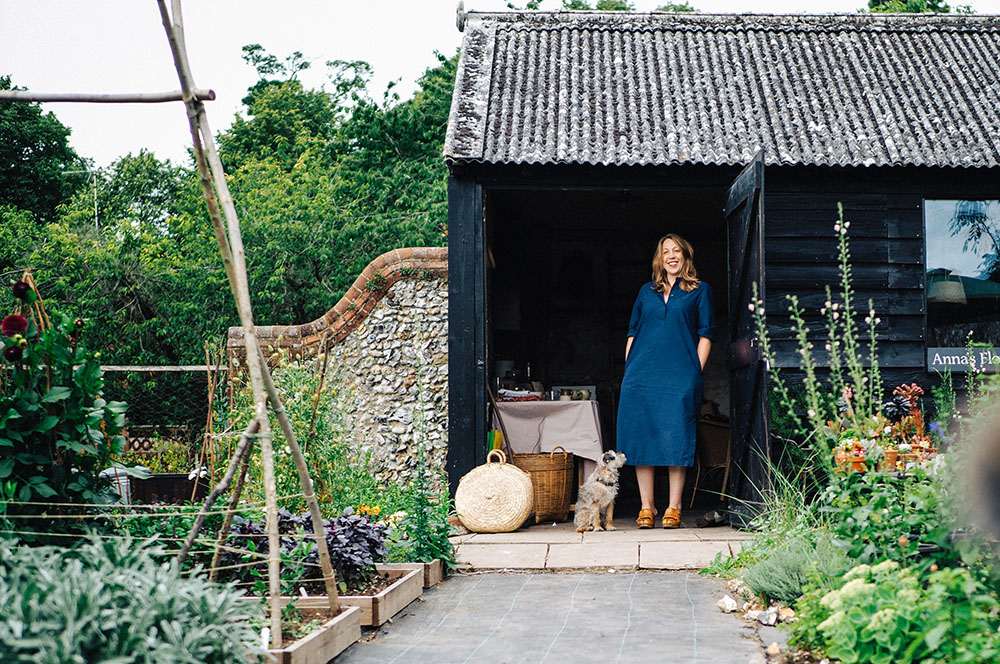 Anna's Farm is normally a hive of activity (quite literally: two bee colonies are a recent addition to help boost pollination). There might be a flower-arranging workshop taking place around a table in the recently cleared studio, or you could stumble across a children's class deep in the leafy beds – or perhaps just Anna and her team, picking and cutting blooms for an upcoming event. Much like the flowers that blossom and fade almost hourly, every day at the farm is different, but embracing that ephemerality is at the heart of Anna's ethos. One of her many clients is Kettle's Yard, where Anna supplies event decoration and her trademark posies of seasonal flowers for small spaces within the exhibition rooms.
When the internationally acclaimed artist Ai Weiwei recently visited the gallery, he took a single photo of Anna's flowers and uploaded it to his Instagram account, attracting nearly 2,500 likes. Anna was overwhelmed by the artist's interest, writing in a thoughtful blog post that the enormity of the event was that the pictured posy could "never be replicated: it is a snapshot of that day. The day after, the blooms will have opened and developed a little further… a little posy of cut flowers in your home, on the kitchen table, in the hallway welcoming you and your guests home are simple luxuries that we can all have in our daily lives. It can be just a few branches or a single flower enjoyed for its exquisite, natural and ephemeral beauty: pure luxury for all".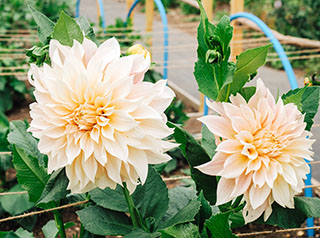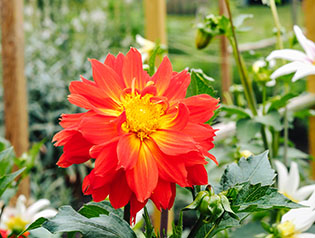 Anna reiterates the significance of the small posy of flowers when we meet in her farm on an afternoon in late summer, drinking tea in dappled sunlight as butterflies flit around the peonies. "My mum used to put little posies around the house: one on the sideboard, one on the bureau and one on the mantlepiece," she says. "She's never liked a big vase of flowers because it doesn't fit the proportions of their sixties house – and everyone always goes on about how lovely they are, but she just has a little snip round her garden. I think that's what I've been inspired by – and I want other people to be able to make them, too."
As well as supplying flowers for events, businesses and some of the most prestigious places in our city – if you've eaten at Parker's Tavern, you've dined beneath Anna's astonishing dried-flower displays or sipped a cocktail alongside her botanicals – she also offers a growing set of workshops, either based at her farm or out on location at special places around our region.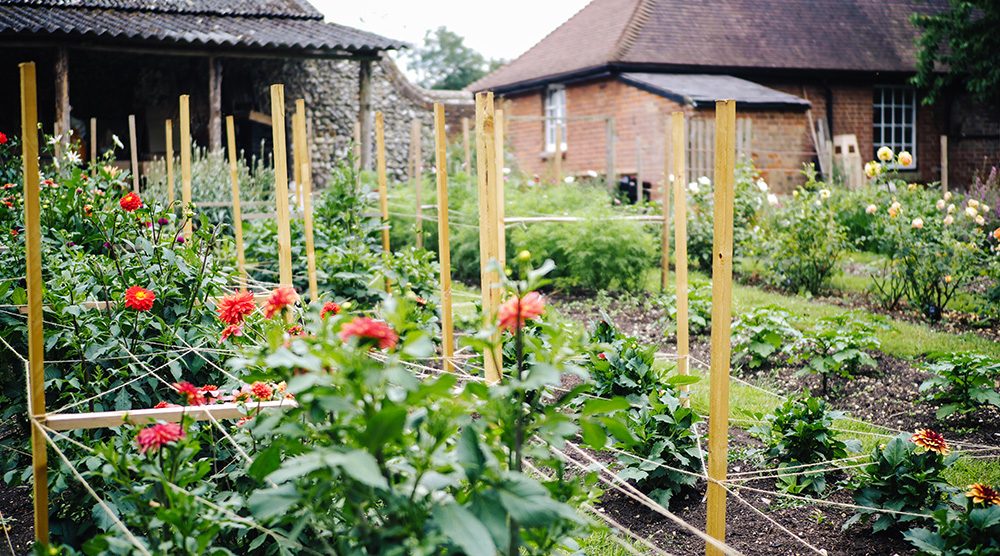 "We do lots of classes: arranging classes and the year-long 'Grow Your Own Cut Flower' classes. I think our growing class is absolutely amazing – it's expensive," Anna acknowledges, "but we do so much on the class, and attendees take home every element – loads of ranunculus, daisy plants etc. However, we've also started breaking it down into individual sessions so people can just attend one section. For instance, in early autumn, they'll see dahlias growing and arranged, in winter they learn how to lift and store the tubers – we show how every plant is treated throughout the seasons."
Though Anna's been designing gardens and working in horticulture since she was 21, having a fixed space to farm flowers has been a long-held dream. "Originally I was self-employed, and then I worked for two years for a local company: we'd do natural swimming pools, huge projects where we completely changed the nature of a garden – really amazing – but I stopped working for them when I had my children." As Anna already lived in a cottage in Audley End, she knew the land agents and was able to move quickly when offered the opportunity of taking on this unique space.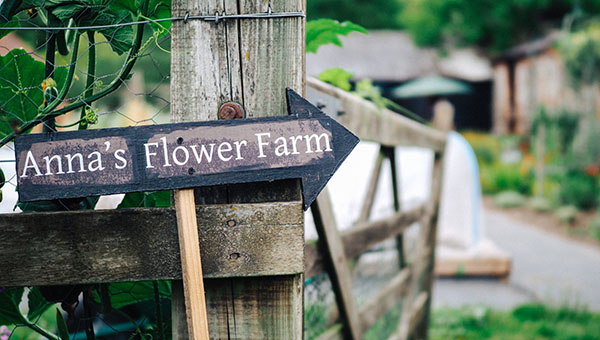 "We had our own cottage's garden already, and didn't know we'd get the walled garden: this was Lord Braybooke's garden, but he died the summer before last. Then in February last year we were offered the adjoining space and what was their mower shed as well," Anna says. "We're still doing all the propagation in our cottage garden, but we're really just getting to grips with what the space can do. We've hired out the studio a few times for hen parties or private classes; a children's clothing designer is booked in to use the walled garden for a photoshoot… We'd love to do more of that: there are so many little vignettes and corners that would work…"
Although everything found on the farm is as beautiful as claimed, it's also there to work – the bees are there as pollinators rather than honey providers, and the chickens tucked into a shady corner are grateful recipients of the slugs and snails found elsewhere in the beds; the eggs are a bonus. And those beds work hard, producing crop after crop of organic and seasonal blooms throughout the year.
"The thing about growing flowers is that you can't just shove them in and expect them to grow – they're very demanding. But with gardening, the more you learn, the more you realise there is to learn," Anna says. "When we first came into this space, nobody had worked the ground. We came in with a turf lifter and excavated all the beds, and then double-dug them – that's traditional, that's what you're told to do – but then I went to this lecture by a man called Charles Dowding, talking about 'no-dig'. He said: 'Just lay down cardboard and put organic matter on top: it doesn't even need to be that well rotted'. You put the cardboard on top of bindweed, on top of grass, anything, and then you want five, six inches of organic matter on top, and the idea is that by the time any roots get down to the cardboard, it'll have been taken down by worms, which do the work for you. It's total win-win: you're not disturbing the soil's microorganisms, it's far quicker and it suppresses all the weeds – within six months you could be planting it. It's funny, when you do things sustainably it tends to be better for the plants anyway…"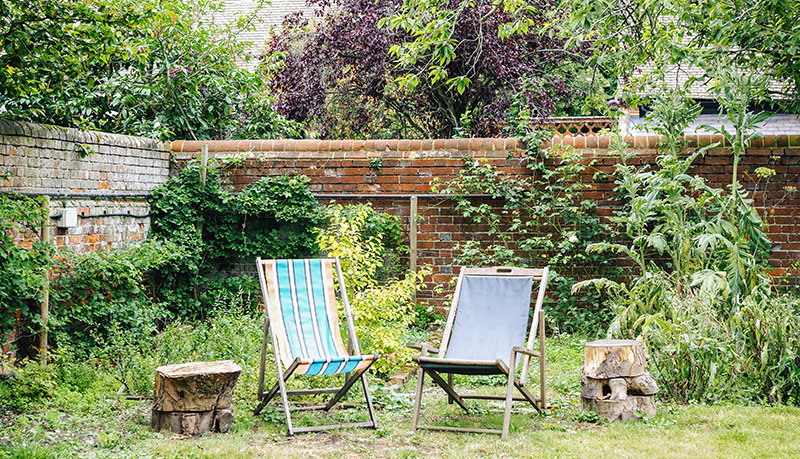 Right now, Anna is in the process of building the business back up after baby Margot's recent arrival, which understandably slowed the plantswoman's pace. Several of her trademark creative, collaborative events are already planned for later in the year, extending her focus on ephemerality to one-night-only experiences, such as August's 'Dine Among The Flowers' dinners in the walled garden. This saw her team up with local chefs, chocolatiers and ceramicists, and couldn't be replicated if they wanted to. "We made special vessels, plates and bowls just for the night, which people could then buy at the event, so rather than us wash them up you could just take them away with you," Anna explains.
Anna is also planning to trial a membership offering in the autumn, where fans of the farm can attend exclusive events, get first dibs on booking workshops and choose to receive regular posies – or the necessary blooms to enable people to make their own posies. "I just want more people to know about us: to come here, see the farm and hang out," Anna says. "We're also going to trial opening up one day a week while we're working, so people can just sit and have a cup of tea, maybe make our shop more formal… we've also got a few people who are going to start volunteering with us – it's exciting!"
The more you learn, the more you really there is to learn
In the end, it all comes back to that eye-catching little posy. "It's just so simple," Anna says. "I really think there's a tide turning: the interest in cut flowers is a bit of a revolution that I think aligns with the growing interest in craft, and being sustainable. 
Getting a factory to grow a flower, fly it in and then for us to put it on our table – the whole thing just feels wrong, in the same way that we now think about food. If you grow something really lovely, and cut it and enjoy it in the house, and then get to see another flower come up, it's so rewarding and so simple – and you're going to sit at that table anyway, so you might as well make it beautiful. You're doing a little bit for wildlife, for the environment, and you get that little bit of pleasure – it's win-win. And totally attainable."