From a shed in Newnham to design studios in three cities, this unique kitchen company has had quite a journey, as Siobhan Godwood discovers
In 2009, Tomas Hinton and his wife, Mette, had the idea of setting up a bathroom and kitchen business. "We were working in property development, which is quite up and down as a business, so we thought doing kitchens and bathrooms would be a good, steady, bread-and-butter thing we could do on the side," explains Tomas.
"We went round looking at suppliers for kitchen cabinets, which took us out to Italy, but at some point on that trip we started to think we might be able to do something better ourselves, something more suitable for our market. The idea – which still lies behind everything we do – was the concept of Classic Modern design. All the kitchens in Europe at the time were very contemporary and shiny, which we felt dated quickly and wouldn't suit every English home. We wanted to do something different."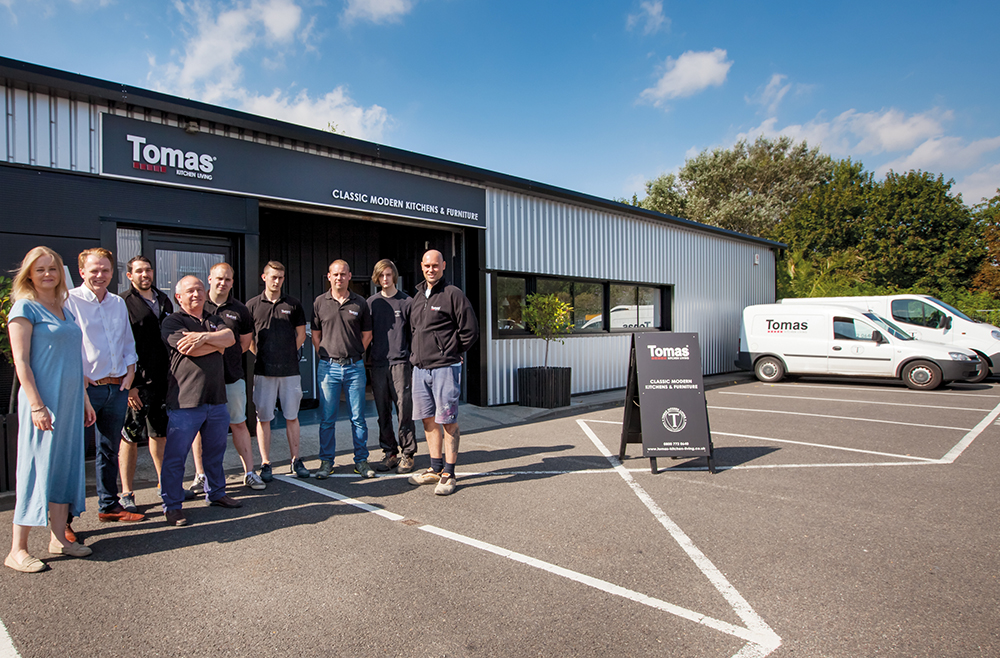 To begin with, Tomas and Mette set up as CROFTHOUSE, on Cherry Hinton Road. "Initially, we weren't sure if there was a market for our Tomas kitchens, so we did bathrooms as well, and carried on with the property services business, too. We started doing trade shows, and we quickly realised people really liked the concept and the design we were doing. So we changed the name to Tomas Kitchen Living and started to really focus on the kitchen side of things. 
"After a while, we started to feel that we needed full control of the manufacturing of our own brand, so we took another huge leap and started our own production and manufacturing in Mercers Row, which is where we are now."
The look is best described as modern, but not too modern
The design of their kitchens combines beautifully functional design details with solid oak drawers, plywood cabinets and earthy colours, inspired by the paintings of Tomas's father and grandfather. Tomas says the look is best described as "modern, but not too modern". "We make kitchens that are functional, with clean lines, but not clinical like that standard contemporary look you see everywhere. It has a sense of tradition about it – it's timeless and tactile," he explains.
The most popular range of cabinets that Tomas Kitchen Living produces is SHEER – a handle-free cabinet featuring a continuous rail, which can be customised with either natural, minimalist or deco design elements. There's the quirky, stylish SCOOP range for those who prefer cabinets with handles, and the SKATE kitchen for a more industrial vibe. All the kitchens are designed from scratch for each customer; Tomas Kitchen Living provides a complete kitchen service all under one roof, from detailed kitchen design and appliance specification, right through to manufacturing and installation.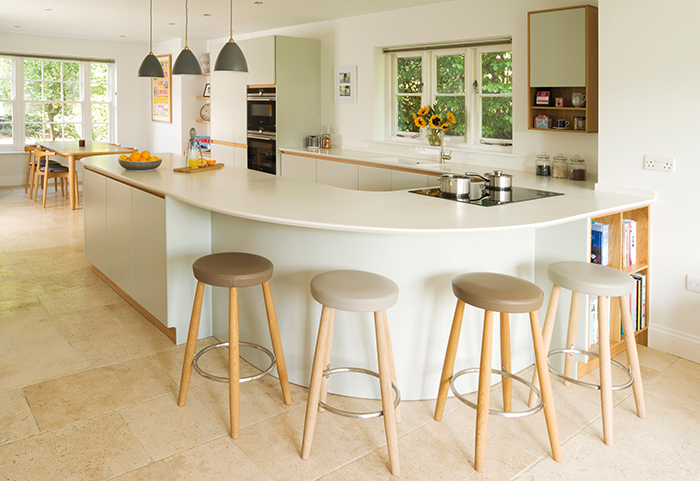 "I love getting really hands-on with the front-end design side, so I don't have sales people," says Tomas. "Customers are often quite surprised when they make an appointment for a design consultation and they get me. It's a process I call 'liveDESIGN', and it's very collaborative. I sit down with clients and there's a lot of back and forth on all the design options. It's a lot of fun, and that's the part I like best – and people like that they're sitting down with the company's founder and not simply a commission-based sales person." 
As well as the kitchens, Tomas and Mette produce beautiful furniture, including Turner tables and sideboards, and their CASE range of free-standing cabinets. They are also dealers for some of the high-end Danish furniture and lighting brands,
such as Carl Hansen and Louis Poulsen, that go along with their design ethos, so customers get a complete service. 
Tomas and Mette have also opened up a London showroom in Hampstead Garden, and another one in St Albans, and continue to sell the kitchens at shows and exhibitions all around the country. But the Tomas Living Kitchens 'southern invasion', as Tomas describes it, is on hold at the moment, with plans to expand into Guilford and Tunbridge Wells temporarily on ice while Brexit grinds its way to some sort of conclusion.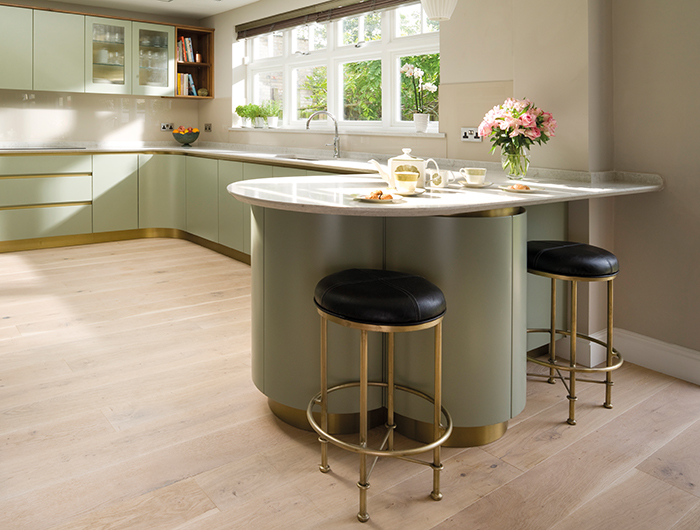 "You can date the pause of our geographical expansion pretty much to the day of the referendum," says Tomas. "But in many ways this is a positive thing; we're still growing in terms of our turnover and we've had the chance to consolidate the business we already have and get stronger. We're not dependent on European imports or exports, but we are aware that if there's any kind of economic downturn, the first thing that happens is people stop doing up their kitchens." 
For now, Tomas is happy with the success the company is enjoying at its existing sites, and is particularly proud of being a Cambridge-based company. "We sell more kitchens here in Cambridge than we do anywhere else," he explains, "and there's something about Tomas Kitchen Living that really strikes a chord with Cambridge customers. They like the fact the kitchens are completely made to order and that they get a very personal service. Local customers also love that it's a Cambridge brand, and everything is made literally down the road."
Tomas Kitchen Living , 20a Mercers Row, Cambridge CB5 8HY, 01223 778330, tomas-kitchen-living.co.uk