The creative studio spaces of Cambridge throw open their doors throughout July, inviting you to explore the art created within
Showcasing the city's vibrant creative community, Cambridge Open Studios returns this month, offering a chance to explore the workspaces of hundreds of local artists and craftspeople. Running since 1974, the event takes place across the first four weekends of July, bringing together both professional and amateur artists who are keen to share their work.
From textiles, digital art and printmaking to photography, watercolour and sculpture, there's an enormous diversity of disciplines and media to discover, with visitors invited to learn about the creative processes behind the finished product and given the opportunity to purchase pieces directly from makers themselves.
We hear from some of the local artists involved to find out more.
Kiln Cambridge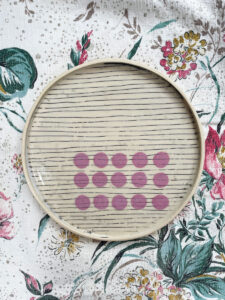 Kiln, an open-access pottery studio on Ditton Walk, will be open to the public over the weekends of 1-2 and 8-9 July. More than 30 potters will be showcasing their work, with the chance to browse and buy unique pieces ranging from rustic tableware to sculptural art. Local talent Zoe Hardinge (@pottering_a_round on Instagram), creates one-of-a-kind plates and has been a member of Kiln since it opened in 2018. She finds inspiration everywhere – from traditional Japanese stitching to London Underground seats. Designed to be used and enjoyed, Zoe's beautiful plates are on sale at the David Parr House shop. 
meliprints
There will be a variety of artists setting up shop at The Pitt Building in the city centre this July, including printmaker Melissa Lhoirit, aka Meliprints. Creating limited-edition runs of lino-cut prints using traditional linoleum and a relief printing process, Melissa's artwork begins with a sketch of a scene or movement that inspires her.
"I draw scenes of daily life," she explains. "People play a significant role in my compositions, as I aim to tell stories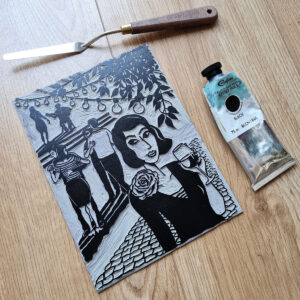 and capture the atmosphere of the moment. Cambridge is a great source of inspiration to me, and so is dance – which holds a special place in my life. My lino-cut prints aim to convey the joy and enchantment of music and dance."
With vibrant colours and strong contrasts, Melissa's striking depictions are sure to captivate at this year's Open Studios, plus there will be a chance to discover the intricate process that goes into making them. From carving her illustrations onto the lino block to transferring ink to paper using a hand-operated printing press, Melissa will demonstrate creating a lino-cut print from scratch – perhaps even inspiring guests to give it a go themselves.  "As I experienced last year, the most enjoyable aspect of Open Studios is the chance to engage with wonderful visitors," she comments. "I look forward to chatting with them, answering all their questions and sharing my passion for printmaking!" 
Sarah Allbrook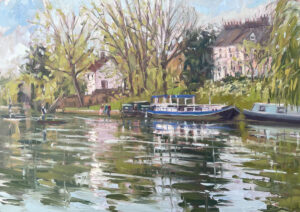 Exhibiting at St Barnabas Press on Coldham's Road (first and second weekends of July), Sarah Allbrook creates beautiful, impressionist-style oil paintings, often of our local landscape. She mostly paints outdoors, directly in front of her subject, and can be found with her easel and paintbrush year round, come rain, shine or snow. 
"I am really inspired by the landscape around me – particularly along the river in Cambridge and the Fens – and I love painting at the coast in Norfolk and Suffolk when I can," she explains. "I try to capture Cambridge during different times of the year to reflect the changing seasons, and throughout the day, as the light changes from morning sunshine to sunset and into the night." 
Pay a visit to Sarah's workspace and get a glimpse into a working studio packed not just with her art, but also the materials and equipment she uses. St Barnabas Press is a space shared by multiple artists, so alongside Sarah's artwork, visitors will be able to explore paintings, prints, ceramics and cards by a variety of creators all under one roof. 
"I'm excited to be taking part in Open Studios because it's a great opportunity to give people an insight into my creative world and see all the paintings I've been producing throughout the year," she comments. "Being there in person to talk about the work is an experience the viewers wouldn't get in a gallery, and I love to meet people who are interested in looking at art." 
Cambridge Makers
Run by sisters Rosemary and Susie, Cambridge Makers is a creative hub in Linton offering tuition in a range of crafts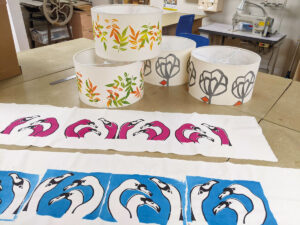 and creative pursuits. Very much a family affair, the studio is run in conjunction with the siblings' dad, Daniel, who specialises in making woodwind instruments from his space in the same building. With over 100 craft enthusiasts using the centre each week to take part in everything from stained glass making to woodwork, painting, drawing and sewing, it's a thriving operation – and this month is your chance to see it in action as Cambridge Makers opens its doors on the weekend of 23 and 24 July to showcase the work and techniques of some of its collective. "So many of our students and participants really wanted to do Open Studios, but didn't necessarily want to open up their own homes – so we invite them to do it through us and give them an opportunity to be part of the event by exhibiting at our space," explains Rosemary. One of the artists showing their work will be Cläre Basel, an innovative painter working with oil paint, cold wax, acrylic and watercolour. Creating richly textured, evocative pieces, her work has appeared at a number of prestigious galleries. 
Also exhibiting will be Fay Jones, specialising in natural dye and harvesting wild materials to turn them into something beautiful, while Matty Smith will offer tapestry weaving demonstrations for visitors and Sarah Ruff will show off her vibrant screen prints. 
"Instead of the tutors just showing their work, we've decided this year we'll give visitors a chance to take part in making something with each tutor – so you can help make a rag rug or screen-printed bunting, try tapestry weaving and various other things."
If you don't manage to make the Open Studios event, there's lots coming up, such as courses in spoon carving, felted soap making and more. Go to cambridgemakers.org for all the info. 
Need-to-Know Info
What?
City-wide art exhibition offering the chance to see inside artists' studios, ask questions, purchase original pieces and commission artworks
When?
1-2, 8-9, 15-16, 22-23 July
How much?
All studios are free to look around