Campkins Cameras are hosting the region's largest photography event at The Hilton, Downing Street on Saturday 7 October.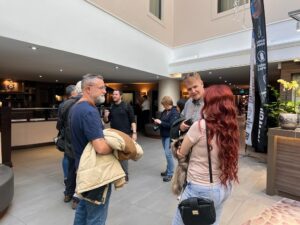 Are you an aspiring photographer looking to take your skills to the next level? Or perhaps you're a seasoned professional eager to explore the latest in the photography world? Well, Campkins Cameras have something special for you!
The Cambridge & Autumn Photography Show 2023 is taking place on the Saturday 7 October. This is a day dedicated to photographers at The Hilton on Downing Street in central Cambridge – and general admission tickets are free! There are a whole host of things to do for photographers of all abilities, plus it's all driven by local photographers and big brands.
Workshops
Street, portrait, wildlife photography and photo editing are just some of the sessions you can attend.
Talks
There are plenty of talks from local photographers and brands on topics such as sports, pets, portrait, travel, analogue, hybrid video, social projects… and all available as part of our free general admission ticket.
Meet big brands and see the latest gear
Get hands-on experience with the latest cameras, lenses and accessories from top brands. Brands will be on hand to guide you through the features and help you make informed choices.
Networking Opportunities
Meet like-minded individuals, share experiences and even collaborate on future projects. This is a fantastic opportunity to expand your network in the photography community.
The best deals you'll find this year!
You'll have access to exclusive discounts on photography gear and accessories. Come to the show and you'll get the best deals you'll find this year.
Find out more and get your free ticket here