With a cast of real and fictional characters, a new novel shines light on the local women leading the home front in World War II
When Zoë Jasko's grandmother passed away, she inherited a box labelled with the words 'Soldiers' letters from the second world war – some historically interesting'. The box and its contents gathered dust at the back of a wardrobe for decades, until Zoë's mother began reminiscing about her wartime childhood, prompted by coverage of the 80th anniversary of the Battle of Britain. The box was pulled out for inspection, revealing a treasure trove of characters, memories and missives that would go on to inspire Zoë's new book, Hope is Daffodil Bright.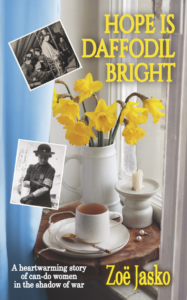 An historical novel set in Grantchester, the book blends a fictional narrative with a biography of the real-life Lady Alice Bragg – one of the most intriguing characters to emerge from the box of letters.
"She came to Cambridge as an undergraduate and had 13 offers of marriage before she left!" laughs Zoë. "Her tutors told her she wasn't going to amount to anything; it was the roaring 20s and she had pretty much gone to Cambridge to find a husband." She did – a Nobel Prize-winning husband, at that – but she went on to achieve much more, becoming the leader of the Women's Voluntary Service and serving as mayor of Cambridge in the 40s. "I was just so intrigued by her, by the women of that generation, how they hit the ground running and really delivered," comments Zoë.
In the book, Alice's story entwines with a fictional plot inspired by the life and experiences of Zoë's grandmother, a vicar's wife who ran Grantchester's canteen for soldiers, and her contemporaries. Through letters and other accounts, Zoë discovered how important the care received in Grantchester had been to the hundreds of soldiers that stayed there, discovering "again and again, the soldiers write after they left that it was the best place in their army career and all the years of being at war," says Zoë. "Being looked after by the women of Grantchester made them happy when life was really difficult. It made all the difference to them and that comes through loud and clear."
The book gives voice to these women who kept the home fires burning, exploring their hopes, heartaches and memories of war as the years passed. "The service these women gave to our country, in my view, should not be forgotten," urges Zoë.
Pick up your copy from bookstores including Waterstones, or visit the website to learn more: zoejasko.com