With darker nights on the horizon for a few more months, getting lost in a brilliant book is a sure-fire way to pass an enjoyable evening, says Charlotte Griffiths. Here's a round-up of some recent releases to add to your list
Memorial, by Bryan Washington
On paper, this book's set-up feels like the most unlikely situation – yet as Terry Pratchett wrote, "million-to-one chances crop up nine times out of ten." In this case Benson, a black nursery teacher, and his boyfriend Mike, a Japanese-American chef, are avoiding discussing their dwindling relationship when Mike decides to travel to Japan to say goodbye to his estranged, dying father. Unfortunately for Benson, Mike's mother, Mitsuko, has arrived in Texas for a visit a few hours before Mike decides to leave for the other side of the world. After days of silence, Benson and Mitsuko slowly become unlikely room-mates: connecting in ways they could not have foreseen – while in Japan, Mike discovers the truth about his parents and, by extension, himself. Once the anger and hurt subsides, there's a lot of love in these characters' worlds: they just might have been looking in the wrong places.
Victoria Park, by Gemma Reeve
Everyone enjoys people watching: wondering why others are in the same restaurant or sat in an airport terminal is a brilliantly creative way to pass time. Here, Gemma Reeves has spun out this pastime into a beautiful and affecting book that takes the form of a series of vignettes based around the lives of people connected with Victoria Park, and therefore – sometimes unknowingly – connected with each other. The short stories are beautifully rendered, packed with detail, texture and flavour (the food writing is particularly delicious) and immediately transport you into the midst of a deli, a party, a break-in – showing you how others see the same space, and highlighting the differences and similarities between us all. Throughout it all is the park itself, its ancient trees standing by as people's tragedies, romances, heartbreaks and happinesses play out in a flicker against their silent background. A beautiful gift for anyone who's lost their heart to one of London's green spaces: another one to read before it becomes a series.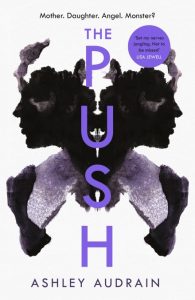 The Push, by Ashley Audrain
I was lucky enough to get an advance copy of The Push last year. I finished it in one sitting, then thought about hiding my Kindle in the freezer, mentally listing the new mothers and pregnant friends who I'll gently usher past this novel – at least until their babies are slightly older. The Push is staggering – it is an intoxicating rush of a book that grips you tight from the first few pages and will not let you go. A creeping sense of dread builds throughout, offset by the smothering, bewildering and conflicting waves of emotion that narrator Blythe feels toward her new baby daughter, Violet. "These are thoughts I never let leave my lips," she says. "These are thoughts most mothers don't have." This searing book explores what happens when your most base instincts clash: would you trust your terrified gut, or your responsibility to nurture your daughter? Blythe's recollections of her own traumatic childhood, and in turn her mother's experiences with her own mother, are interspersed with sinister scenes where the infant Violet seems to (could she?) be deliberately – almost malevolently – driving a wedge between her parents. "We were supposed to want each other," Blythe says early on, but her fear of and obsession with her daughter and her own unmaternal behaviour only grows, with devastating consequences. "I was embarrassed that we'd created a human being who would act this way," Blythe thinks during a meeting with a teacher. Comparisons with the classic We Need to Talk About Kevin are correctly made. Read it before it's inevitably turned into a film or box set: but maybe leave it on the shelf for a few months if you're expecting…