With a special introduction from the one and only Dara Ó Briain, Luke McManus will arrive at the Cambridge Arts Picturehouse for a special screening of his film – Miriam Balanescu sits down with the director
While the Dublin-based director has had a decades-long career, making his debut as producer in The Million Dollar Deal at the turn of the century, this year is still somewhat of a milestone for Luke McManus.
Luke is currently on tour with his latest film, North Circular, a musical saunter around Dublin's so-named North Circular Road, taking in the names, landmarks and characters that make up this deep-rooted community. Though the filmmaker has produced and directed documentaries for the likes of Netflix, BBC, NBC, Channel 4, ITV and RTE, this film is a first, since it will stand as his debut as feature director.
Making his debut as feature producer in 2017 with the poignant documentary The Lonely Battle of Thomas Reid, it's a shift towards more cinematic documentary making that has been a long time in the works. On the 20 November at 3pm, Luke will stop by in Cambridge for a very special Q&A screening of his film, hosted by the much-loved humourist Dara Ó Briain. We spoke to Luke ahead of his tour to find out more.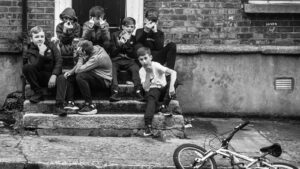 Where did the idea for the film come from?
I have a different answer to this question every time because there's actually a lot of different origin stories. I suppose, fundamentally, I live there and I have done for twenty years, just off the road itself. It occurred to me that it was this really remarkable place that joined together a lot of different, very significant institutions and areas that told stories about art and the city. Everyone in Ireland has been there because Croke Park is there and Dublin Zoo. But it's not a place people know much about and it's got a slightly scary reputation, because over the years, there's been gang warfare and all sorts of stuff going on, so it's definitely a very gritty sort of a place. So that's kind of where the idea came from – just from being around and soaking it all up by osmosis.
And what about the musical aspect, when did you get the idea to include that?
It's funny, I'd done a music video for a band called Lankum. They were quite a well-known folk band from Dublin and one of them lived across the road from me. They're kind of the cool face of folk music and Dublin now, and it's quite a fashionable thing. That film was set in the same kind of black and white, academy ratio, slightly timeless aesthetic, so I kind of smushed the two projects together in my head and said, right, why not make it a musical?  Folk is a very narrative-driven style of music. It's full of stories about history, stories about injustice, stories about all sorts of things. It's kind of a storytelling form of music. So, the idea was, instead of making a film about the music, I'll make the music about the film's stories. I'll choose music that helps with the main narrative thrust of the film. The film isn't about music, the music is about the film – that's what I've been telling people.
Did the film come first before the music?
Kind of, but Lankum I got on board very early on at proposal stage. They're kind of the B axis around which all the other musicians rotate, because they were the first ones out of the scene to break big and they're just really good people. The other person I had was Gemma Dunleavy, who's from a very working class end the road. She had just emerged. She's got an almost garage type sound, which is very different, but she was still using the music to tell narratives about where she was from. She's also an amazing, articulate person. I'd seen on her Twitter feed that she was thinking about making a documentary about our community. So, I said, do you want to be in my one? Some of them I just found – I was walking around and found them playing and I was like, will you be here tomorrow, if I come back with a cameraman? That's the wonderful thing about this neighbourhood; those people, they still play music the way it's designed to be played, sitting around the corner of a table in a pub. Even though the musicians are selling out tours and venues, it doesn't stop them from just playing for the fun of it in the local.
You describe the documentary as a "documentary musical". Is that a genre that you hope is going to take off?
(Laughs) I'm not a huge fan of musicals, per se, and I think it's just the tone of them – that slightly gauche, over-enthusiastic tone never really sits that well. But I do think that the music documentary is a bit familiar. There have been a few films like this in the past. There's a film called Across the Bridge that was made about Istanbul that had a similar kind of travelogue type feel. I just got very lucky, I think, with some of my characters being musicians, but also having compelling backstories and thematic relevance outside of their music.
How important is the Irish TV and film scene to you as a filmmaker?
I guess I never left. I went to London briefly, but I didn't really take to it. This country has always historically been a good place for storytelling, if you look at our theatre tradition, and our tradition of literature generally. If you look at the number of Irish people that are in British and American TV as well, we've got right to the top. I think part of it is that kind of slight classlessness thing that we have compared to the English setup – we can swim in every bit of the water.
How much is this film a landmark in your career? (Despite that you've had quite an extensive career already!)
I was 49 when I was making it, and I just turned 50 over the summer. There was a sort of urgency, a self-imposed pressure. The key difference is it's designed for the cinema. And if it ends up on TV or streaming, then so be it. But the whole experience is conceived and executed to be watched on a big screen with other people in a room, loud. That means it's a slightly different pace, a slightly different style of execution. The other thing is the way the film was financed was by Irish Arts Council. They basically gave me the money and said, don't compromise. Come back in a year. Literally, that was it. There was no editorial meddling. It was absolutely like, express yourself, don't do something predictable, don't do something ordinary, don't do your normal TV stuff. It's an amazing gift, but it's also terrifying, because if you fuck it up, it's your fault. Plus, if I had, I would have had to move house because I live there. I wouldn't have been able to live with that. So, thank God it's not shite so I can stay in the house for a bit.
Every film is a bit of an experiment, in my experience, no matter how you approach it
What do you aim for with your documentary making style?
Working with those guys on The Lonely Battle of Thomas Reid was a huge education for me. They've rubbed off on me in the best way possible. They're incredibly talented filmmakers, very rigorous and demanding in terms of production value and pushing it. Being on that project and seeing the success of it made me up my game a bit and go, maybe I can pursue a more creative approach to documentary making. There's an appetite for it. We're all a bit jaded; the documentaries that we've seen on TV, and even on Netflix, are slightly formulaic. And, actually, documentary is a really exciting, creative medium. I think documentary is just a really exciting place to be at the moment.
Do you think documentary is becoming more experimental?
Every film is a bit of an experiment, in my experience, no matter how you approach it. I prefer the term creative documentary making or cinematic documentary making – something that takes a chance and a few risks aesthetically. The beauty of documentary is, when you're making a drama, you have to create a world and if you get one little thing wrong, as simple as a prop or a costume or location, it can destroy the whole illusion very quickly. With a documentary, you're operating with a foundation of reality supporting you the whole time. It's actually easier to take chances, because reality is always there backing you up. If you walk the North Circular Road in Dublin, you might think, this doesn't look anything like it does in Luke's film. That's my version of it, it's highly subjective. It's a sort of aesthetically heightened version of it. It rests on the spine of the real road.
And having done both directing, and producing, which do you prefer?
At low budgets, which is where I work, every director is kind of a producer anyway – you have to be resourceful. There's a limit to how much stuff you can delegate. There are certain aspects of producing I really enjoy: what I'm about to do now, which is release the film and try to get it in front of people, try to create a bit of momentum, hype and energy around this. That's traditionally the producer's job but that's something I think I've got a bit of an aptitude for and I decided to embrace it. Directing is definitely the best job but if you need to do both, and if you look at the people who are at the absolute top of their profession, like Steven Spielberg and Peter Jackson, they do both all the time.