Sound + Vision Festival will be the first of its kind in Cambridge – Miriam Balanescu meets the local talent getting involved
Across the summer months, there is a cascade of music festivals coming, from the classical compilations of Cambridge Music Festival, to the soulful flows of the Cambridge Folk Festival. But it's rare to host a carnival of song in the heart of the city, let alone one that marries the best of regional and international pop and comedy. 
Sound + Vision does exactly that. Its earlier iteration was Norwich Sound and Vision, founded and directed by Adrian Cooke. Running for 11 years so far, it counts kick-starting the careers of Mercury Prize nominees Royal Blood and Let's Eat Grandma – both of whom were signed at the festival – among its successes. 
Sound + Vision hopes to do the same in Cambridge. "Norwich seemed to be underachieving with music in terms of marketing itself to the rest of the country," Adrian explains, adding that he has noticed the same of Cambridge. "The city is dwarfed by the university, but there's a lot of interesting little pockets of creative activity people aren't quite aware of. The festival celebrates what's already here, but gives the city more confidence in its own innovative identity."
Sound + Vision brings a battalion of comedy brilliance at the behest of co-founder Ruth Cousens, who is also a committee member running Cambridge Fringe Comedy Festival (the festival's partner). Since many of Sound + Vision's venues – Cambridge Junction, The Portland Arms, The Blue Moon, Storey's Field Centre, The Boathouse and Thirsty – double as comedy stages, the match made perfect sense. 
The plan is to stoke the passions of creatives
The event brings together established talent alongside industry newbies, all with fresh music to showcase. Liz Lawrence, Tim Burgess and Kristin Hersh will be joined by Peaness, Lemondaze and Mumble Tide. At the comedy end, Rosie Jones, Felicity Ward and Nick Helm will headline the Junction; while Micky Overman, Michael Akadiri and Isy Suttie's shows promise proper belly laughs. "We will be looking to get more new artists through over the next three to five years, whether musicians or comedians, because they will have the confidence to do it," says Adrian. The plan is to stoke the passions of potential creatives – the Sound + Vision conferences in music and comedy hope to drive a new generation of performers. "This is not your traditional festival. Most are all about entertainment, but this is also focused on inspiration and discovery."
Ruth adds that, while headlines are what reel people in, Sound + Vision will also be about catching local talent. "The closeness to London doesn't help Cambridge, because if you're a young band or up-and-coming comedian, you're going to want to head down to London and participate in that scene. Part of this is about giving people performance opportunities here, so they can stay at home and do their stuff." The festival is working with schools and universities such as Access Creative College and Anglia Ruskin University on the conferences, to help widen the net for young people to dive into creative industries. 
Planned during the pandemic, Adrian and Ruth's collaboration aims to get music and comedy back on their feet. With restrictions relaxed, the pair believe an event of this scale can boost struggling venues by drawing people back in. One festival wristband will unlock seats across the city, while tickets to individual events are also available – it's a jam-packed weekend, sure to see wristband-wearers whizzing around the city.
Big things are ahead for Sound + Vision. "It is slightly experimental at this stage, but there definitely will be a Sound + Vision 2023 – we'll take the best bits and work from there," says Ruth. The founding duo are listening to the needs of the community to shape how they go ahead. One thing's for certain: Sound + Vision is only just getting started.
Don't miss
Ali Warwood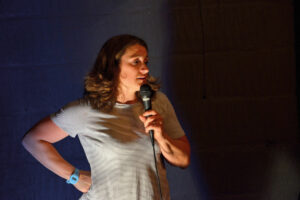 Founder of the Cambridge Fringe, this Walsall native is a mental health nurse by day, comedian by night. She started out in 2013 at Bad Kat Comedy Cambridge. "I was raised by a very funny family – we've always been silly and loved making people laugh," Ali explains. "Most people from the West Midlands are like that." After seeing Cambridge voted least-equal city two years in a row, she decided to start a free Fringe Festival. "It's like curating a music playlist, considering a good mix of styles and characters. We are so lucky in this country, there are so many brilliant comedians!" She will be part of a mixed-bill LGBTQIA+ stand-up in the show Can't Even Think Straight.
Death to slow music
This bright young band rallied together in 2018, having each played separately in other groups. Their wide-scoped music ranges from gentle pop to full-on screamers, and has since been played on BBC Radio 6. On the Cambridge music scene, they say: "It's had a few reinventions over the years, but it's surprising just how resilient it is. Every time a venue or practice space has been lost, another one seems primed to pop up. There's an enormous sense of pride when you see bands that we have played with across the city get some traction and go on to huge things. And it's always great to see the hometown crowd when they play here!" Catch them, along with Peaness and Lemondaze, at The Portland Arms on 21 April.
Goldblume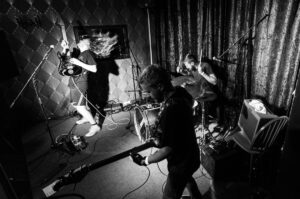 From Cambridgeshire and further afield, namely Essex and Dubai, this band is made up of promoters, performers and engineers. They've been going strong for nearly eight years, playing alongside personal legends Pulled Apart by Horses, Mallory Knox and Tall Ships. "Local festivals are great, in that they encourage people who play music to make a real fist of it and become musicians," says member Jethro. Those in attendance at their set can expect 'a truthful display of emotions, off-microphone banter that will be repeated by on-microphone members, and various footwear…'
Sound + Vision runs from 21-23 April. Check out our preview of Cambridge Ska Festival here.