Ruthie Collins, founder of Cambridge Art Salon, gives her arty picks of the month
It's June, the time of year many in the city barely sleep on account of the May Balls (whether partying, or being kept up by noise from the partying). Don't miss Dale Farm – the Eviction, co-curated by Phien O'Reachtigan of Traveller-Art-Performance and Cambridge's Beverley Carpenter, which appears at the Tate Modern between 5 and 9 June, in association with Associates 198 Contemporary Arts and Learning, a centre for visual arts, education and creative enterprise. 
Juxtaposed against a backdrop of negative media attacks in the press and on social media towards the Traveller community, this exhibition aims to be therapeutic for those impacted by the loss of their homes, plus Traveller artists, whose creative responses are also included in the show. Pieces include paintings inspired by previous evictions and a decorative round table, created by women, that invited dialogue rather than confrontation with the police.  
Many will remember these evictions of 2011, which impacted 80 Traveller families and sent shockwaves throughout the entire community. "I was an activist at Dale Farm in 2011 and Oblique Arts currently holds the archive of papers for the ten-year legal struggle prior to the eviction," explains Beverley, whose Cambridge-based arts charity holds much of the material for the show. "It was a huge human rights issue and brought people from all over the country and parts of Europe to stand alongside the 80 Traveller families who faced eviction from their own land.
"The project allows us to show much unseen video footage and other Traveller artists' material, alongside a large installation of the Dale Farm site," she continues. "There was much artwork produced over the course of time that the Travellers resisted eviction. Much of this art was a way of interacting with the wider society."  
This is where art can come into its own, giving voice to the marginalised, or helping us make sense of political upheaval or loss
Including artefacts from Dale Farm at the time of the eviction, visual art, music and video, you can also view unique footage from Grattan Puxon's archive. This sounds like an unmissable exhibition – heartbreaking and cataclysmic in equal measure.
This is where art can come into its own, giving voice to the marginalised, or helping us make sense of political upheaval or loss. Nothing does this quite like Oscar Murillo's Violent Amnesia at Kettle's Yard, which runs until 23 June. Exploring his own sense of displacement with visceral art ranging from large-scale paintings to recycled church pews, Oscar presents his art more as social practice. It is rare that those in a city like Cambridge feel the face-to-face impact of the fallout from globalisation.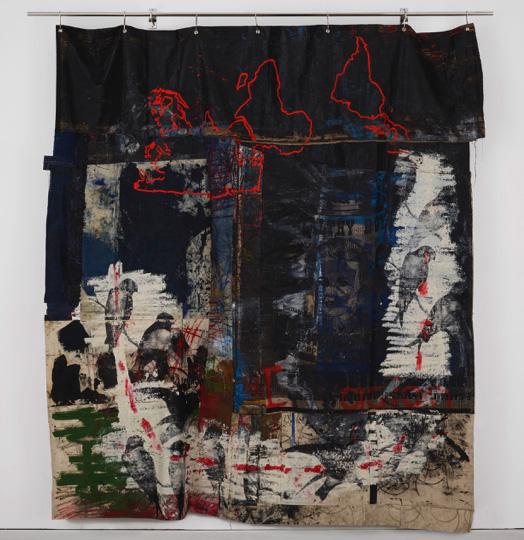 In a world where the labour behind goods is often disconnected from those who use them, this is what art can do: bring the forgotten closer. But not without something positive… "Even within seriousness, I want the audience to take with them a pleasure of curiosity," says Murillo, established as an art world hit in his 20s, and recently nominated for this year's Turner Prize for his boundary-pushing work.
As John Ruskin once said, "There is no wealth but life". This puts much into perspective, as closer and closer the reality of climate change begins to hit. Like Murillo's devastated pews, institutions are under pressure to change – or break down. It's been a bewildering time for millions across the world, with many of Cambridge's artists, as ever, pushing for the radical change that is needed. Whether you agree with Extinction Rebellion's techniques or not, the UK government have now officially declared a climate emergency – and art will continue to play a big part in raising awareness about the situation. Artist Hilary Cox and others have set up Extinction Rebellion Cambridge Art Rebellion – watch out for them at Arbury Carnival's parade on 8 June, or find them on Facebook to connect. 
Cambridge illustrator Jo Clark is now partnered with the Eden Reforestation Project, too: every ten cards sold through her website will help plant a tree! Every mug, art print and coaster will also plant a tree. Her work, snapped up by fans from all over the country, is gorgeous. 
Finally, those heading to Strawberry Fair – check out Cambridge Art Salon's community art café in the Eastern Bloco area, with food by Alex Collis raising money for Greenpeace and creative projects. The best place to start with any change, is yourself. Have a fantastic June.