Looking for ways to make the most of the outdoors over the coming months? Here's our guide to alfresco entertainment near you…
Movie Magic
Enchanted Cinema returns for another summer of inner-city cinema delights, hosting events throughout July at Shelford Rugby Club. Expect large screens, stretch tents, pre-theatre entertainment and plenty of enticing food and drink. In August, Enchanted Cinema will head to the award-winning pub in Bartlow, The Three Hills, where you can enjoy an unparalleled big-screen experience in a stunning alfresco setting at the end of a long summer's day. For a full listing of films, ranging from classic musicals to the latest blockbusters, check out Enchanted Cinema's Instagram @enchantedcinema.
Down the Rabbit Hole
KD Theatre Productions will bring Lewis Carroll's Alice in Wonderland to life, with magical outdoor performances set in the Dean's Garden at Ely Cathedral from 21-24 July. Meet friends and foes alike – from Mad Hatter to White Rabbit, Cheshire Cat and Queen of Hearts. This adaptation is packed full of energy, humour and catchy songs to delight the entire family. Ely Hampers will also provide bespoke picnic hampers as an extra option when booking your tickets. More information available through Ely Cathedral's website.
Music in the Parks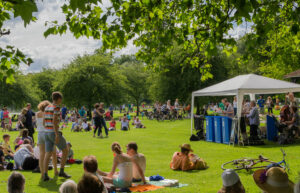 Throughout the summer, there will be a series of free afternoon concerts from 3pm to 5pm – in some of Cambridge's most beautiful green spaces. Music in the Parks is a well-established tradition, organised by Cambridge City Council and sponsored this year by Graduate Cambridge hotel. On 17 July, enjoy the unmistakable sound of summer as CSD Brass play at Dudley Road Recreation Ground. On 7 August, Cambridge Rock Choir will bring a dose of feel-good chart hits to Chesterton Recreation Ground. Then, on 21 August, enjoy a performance from Waterbeach Brass over at King's Hedges Recreation Ground. Later, on 18 September, head to Jesus Green to hear Cubafrobeat and Cambridgeshire Youth Jazz Orchestra in association with Cambridge Jazz Festival. The series concludes on 25 September at Graduate Cambridge, ending on a high thanks to City of Cambridge Brass Band.
Cambridge Shakespeare Festival
As one of the UK's best-loved Shakespeare celebrations, the Cambridge Shakespeare Festival offers the chance to see some of the Bard's iconic stories in spectacular settings, including the colleges of King's, Downing, Trinity and St John's. This year, it celebrates its 35th anniversary, with six plays performed over July and August – beginning with Twelfth Night, As You Like It and King Lear from 11-30 July.
"The festival has grown enormously over the past 35 years, not just in terms of the number of plays we present, but also its significance in the lives of regular attendees," says artistic director David Crilly. "We often get people telling us that the festival was their first encounter with Shakespeare, and they've been hooked ever since. Several people have contacted me to say they met their future partners here, and two men chose the festival as the occasion to propose to their respective girlfriends. They now come back every year to celebrate their wedding anniversaries. It's good to know we have a place in the hearts and lives of so many people."
Music for a Summer's Evening
The Fairhaven Singers return with one of the highlights of Cambridge's high season: Music for a Summer's Evening. Held in the majestic setting of Queens' College Chapel on 10 July at 7.30pm, the choir will sing a selection of works by Mozart, Schubert and Parry. The interval provides a chance to soak up the evening air, while enjoying fresh strawberries and a glass of fizz next to the River Cam. Earlier in the day, at 4.30pm, find a family-friendly version of the concert, featuring a condensed 30-minute programme. Children will be offered the chance to come and stand next to members of the choir, to hear their wonderful singing from within – inspiring the next generation of singers and listeners!
Local Festivals
Ely Folk Festival | 8-10 July
This brings together the best folk and roots acts, with morris dancing, ceilidhs and a real ale bar fuelling merriment throughout the weekend.
Cambridge Summer Music Festival | 15-31 July
Your local festival for large-scale orchestral arrangements, choral concerts, jazz, guitar, folk music and more – in some of the most idyllic locations that Cambridge has to offer.
We Out Here | 25-28 August
Based in Abbots Ripton, We Out Here runs the gamut of musical genres, with jazz, soul, hip-hop, house, afrobeat and electronica all on tap.
Hifields Festival | 27 August
Make some memories and dance the weekend away in the lush woods and meadows of Hifields, just a short distance away from Newmarket.
DSCNNCT | 17 September
Returning for its third year, this festival is the place to go for premier house and drum & bass, with music from Max Dean, Saffron Stone and Shadow Child, among others.