Just don't step in the wet bits!" comes a voice up ahead. It's just gone 2am and we've entered the alleyway linking Sidney Street with Hobson Street, music from Kuda dully pulsing through the walls. The passage is lined with bodies: some standing, smoking, some crouched, upset; others looking like they're spoiling for a fight.
Last time I was in Cambridge at this hour, amidst empty chip wrappers and puddles of spilled alcohol (I hope) I was in my own cocktail-induced haze, wincing on high heels as they took me to some late-night bar or other.
Now, I'm sober, dressed in a tabard, following four bobbing baseball caps.
These belong to Cambridge Street Pastors Ken, Jenny, Christine and Jon, who have given up their Saturday night to keep an eye on Cambridge as it parties. A volunteer-run Christian organisation (don't worry, they won't talk about God unless you ask), there are fully trained Street Pastors in all major cities.
The unsung heroes of the small hours, they're out every Friday and Saturday, 10pm- 4am, ready to help anyone who's got into difficulty or found themselves in a vulnerable situation.
"I've carried students back to their colleges," says Ken Hori, an economics lecturer at the University of London. "I helped one guy up three flights of stairs to his room, and he wasn't light!"
Passing two girls who've discarded their shoes, Ken whips out two pairs of pink flip-flops from his rucksack, which also contains wet wipes, water and a wind-up mobile phone charger. Street Pastors have been operating in Cambridge for five years and regularly contend with tears, violence and vomit (yep, they've all been chucked up on at least once). So why do it?
Ken tells me: "I've got children of my own, the eldest is 14. I guess I don't like to think of them getting into dangerous situations when they reach 18 or 19."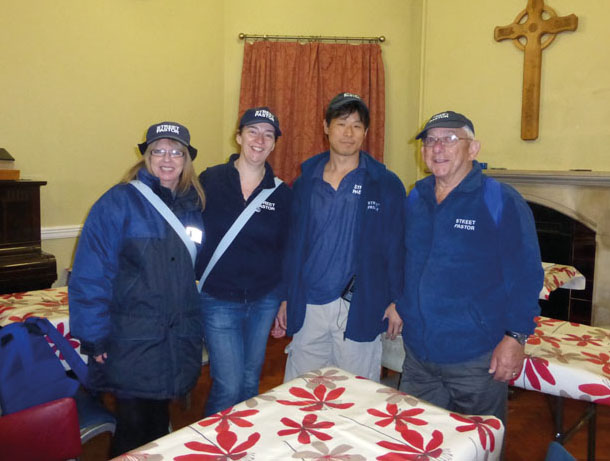 Leaving the crowds of Kuda behind, we head into the city centre. A hen party flirts with a van full of police, a busker plays to a dancing crowd, a fight breaks out and a stranger asks me where he can buy chips. People chat to us, heckle us, share their life stories. We also spend half an hour helping one girl, who has almost passed out, reach her mother, who's driven in from out of town to pick her up – and doesn't look pleased.
Though trained in first aid, the Street Pastors know when to hand over to the paramedics or the police, with whom they work closely. They also have a sister organisation, Nightlite: a drop-in café on Downing Street which opened last year as a safe place for people to recover or wait for a friend over a cup of tea. On the tables are crisps, biscuits and sweets; even hot soup is provided, and there's a piano in the corner if you're in the mood for a tune.
Says Margaret Edney, on duty tonight: "Sometimes all we can supply is a listening ear – or just the toilet!"
It's no surprise that the biggest hazards on a night out are broken glass, lost phones and getting separated from friends. But there are much darker dangers. "We once came across a dodgy-looking man trying to get a young girl into a car with him," says Ken, "so we intervened. That could have been a very dangerous situation."
There's clearly some risk to the Street Pastors themselves, though Jenny Patton admits she's never felt unsafe: "I think that's because of my faith. I feel that God's protecting me because I'm doing his work."
Whatever you believe, there's no doubt these guys do an admirable job. I drive home at 4am, the dawn in my rear-view mirror, with plenty to reflect on. And at least I won't have a hangover in the morning.
www.cambridgestreetpastors.org.uk