In honour of this month's Love Your Local Market initiative, Miriam Balanescu takes a tour of our region's finest
Stretching possibly as far back as Roman Britain, Cambridge's market is unquestionably crucial to the city's identity. Firstly on a waterfront – before the Fens were drained – it has long been at the epicentre of trade, turning the cogs of Cambridge's economy, while also operating as a social focal point. 
Kitted out with 100 stalls – among them 'The Bull Ring', a 'Butter Row' and a 'Peasmarket' – the market enticed those from across East Anglia, becoming a hotspot for exchange. Now, the market still bustles, although its stalls are a little more up to date: from Arepa's Station, serving Venezuelan culinary classics, to the body-positive casts of Naomi Elstow Ceramics, there is an abundance of curiosities and fresh discoveries to be enjoyed. 
Trade Secrets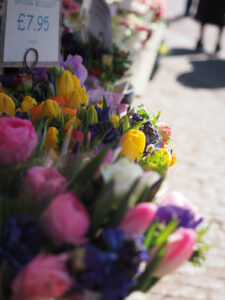 Many of the market's traders have stood firm for generations, such as Peter Graves Florist – founded in 1958 – which is now run by his son, Phil. "My grandparents before that were market gardeners," he says. "They were growing vegetables, fruit and flowers, especially during the war."
Streamlining to just flowers, "an easier way of life", Phil jokes, the stall has seen much change. "There's no footfall any more," he notes. "On a Saturday, if you weren't set up and ready to go by 8am, you'd never get set up properly. We'd come down at 5pm."
Phil recalls his tips, as a 16-year-old, being much higher. "It's not got any easier, that's for sure. But we've been here a long time – reputation keeps us going.
"It's in your blood," he continues. "I've been in it all my life and struggled to give it up. I'm almost at retirement age and have no succession plan. My boys are not interested in it. They've seen the long hours that you have to put in. You're heroes – you never expect to make a fortune and never will. Fortunes could have been made back in the day, but not any more."
Hands On
While gruelling, open-air trading brings many benefits that a shop never could. "I like to interact with people," says Phil. "Most of your customers are regulars and they appreciate you being here."
Victoria, fresh to the market from London, felt this as soon as she arrived as a new trader in April. She founded The Tea Apothecary, a business which draws on the medicinal, transformative elements of tea – coincidentally named in line with the market's medieval 'Apothecaries Row'. "Cambridge is such a such a traditional, quintessential English town in so many ways," Victoria says. "I wanted to do something alternative, bringing the pleasure and creativity of tea more into the mainstream."
Cambridge certainly suits Victoria. "It feels like a place where you can quite easily belong, without necessarily coming from here. That kind of conversation and openness doesn't happen in bigger places.
"On my very first day, I didn't know where I was going," Victoria says. "People came over, welcomed me and brought me a gift from their stalls – a waffle, some fruit or a bagel. It feels like you're not just setting up a stall, you're part of a community."
One of four bookstalls, Bookish Cambridge – run by two close friends – has been going for five years. Beginning in Ely, the stall hopped across to Cambridge and delivered books during the pandemic. 
"If people come to us asking for a book and we haven't got it, we send them over to Henry Hardinge, and vice versa," says Anne Phillips, one half of Bookish Cambridge. "It's one of the things I enjoy most, that people are all in it together."
With passing trade, it's easy to tempt passers-by for a rummage – and their plunder is often all the more special. "We have regulars who come because we've always got something different," says Anne. "People like that they know Kate and I. They'll say: 'Have you got anything new this week? Have you read this?' I don't think you get that in a big store."
Spice of Life 
Mal of The Science of Magic, selling fascinating rocks and crystals, frequented Cambridge's central and Sunday All Saints Market as a teen, after her artist mother took up a stall there. Following in her footsteps, working on the market in her twenties, she bought her current stall, fuelled by a passion for geology.
"The general market has had lots of changes in management, so there have been different drives and directions to it over the years," Mal says. "When my mum first came to market in 1997, there were a lot more fresh foods – it was about getting your local supply."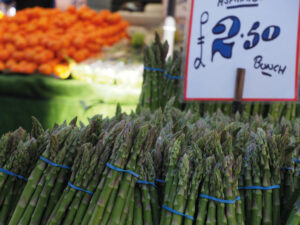 In recent years, hot food has flourished, with five stalls burgeoning into 27 since Neide Lopes De Melo opened her Brazilian food stall, Neides, in 2014. She says the pandemic merely deepened this divide: "Other owners suffered because they don't sell food – they left during Covid-19 and now there's a desire to bring everyone back again."
Neide first opened a cafe-deli on Mill Road, but moved to the market while that business declined – discovering the city centre and its community. "At the beginning it was fantastic because the price was much lower," she says. "You don't need to pay water, electricity and council tax to do business. But somehow it has become very expensive, almost like the shop."
Mal reinforces this: "As the market is quite cheap, it gives everybody access to start their own small business. It means the market itself will then represent things that are really in fashion. 
"No small businesses can afford rent in the town centre – and that means you end up with homogenised business spaces," Mal continues. "The market offers the only place in the centre of the town where anybody can do business."
Although prices are skyrocketing, the market is still ideal for those starting out with an idea. "It's a good push for the people who have the dream and never put food out," Neide says.
Apart from its economic importance, the market has historically been a social hub, putting craftspeople, suppliers and chefs in direct contact with customers. Many stall owners relay a wealth of specialised knowledge, while regulars – including a palaeontologist who stops by The Science of Magic – say hello when they're in need of a chat. 
"People are always passing by and I like that you can watch people and what they're up to," says Anne. "Every now and again you get a parade."
As opposed to indoor shopping, variety is key – with the market open seven days a week since the 90s, traders change day to day, along with the people passing through, the weather and its surrounds. On the brink of King's Parade, the open market community also provides welcome relief from the tucked-away life of the university.
Rough Trade
There has been an even more fundamental threat of change for decades, as planning proposals to transform the market have been tried and tested. "There's a lot of uncertainty," says Phil, who in his time at the market, saw it survive revamps in the 70s and 90s.  
Covid-19 hurled another obstacle in the way. "Food traders and people who didn't sell essential items weren't supposed to trade," says Mal. "I think that's made us all aware there's a certain amount of insecurity to our jobs."
Many market traders agree that their workplace needs refurbishment, while also being fond of its "shambolic" nature, among them Anne and Mal. "The traders are working hard to make it vibrant and relevant today," notes Victoria. The balance, it seems, is between respecting history as a focal point, while lessening the tough work of traders today. 
This year, Cambridge Market will be taking part in the Love Your Local Market national initiative, a festival run by the trade body for market organisers, NABMA, from 13 May to 5 June – another reason why things are starting to look up. Expect a jam-packed schedule of events.