Leading maker of bespoke jewellery, Harriet Kelsall to join the historic market town of St Albans in spring
Harriet Kelsall, bespoke jewellery specialists will set up shop on the cobbled corner of Chequer Street in early spring this year. The company was the first jewellers in the world to be both licensed to sell fairtrade gold and be audited by the Responsible Jewellery Council.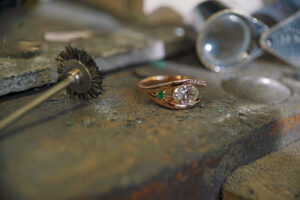 The St Albans Studio and Shop will be open six days a week, with a team of designers and expert goldsmiths on hand to create your dream one-of-a-kind piece. Crafted on-site by the specialist craftsmen, the ready to wear pieces are available online on via the design studio/shop. Alongside stunning jewellery Harriet Kelsall has interactive workshops for visitors in their newly refurbished events room.
HK Bespoke is a multi-award-winning company, including Professional Jeweller Awards' 'Independent Jewellery Retailer of the Year 2021', UK Jewellery Awards 'Bespoke Jewellery Retailer of the Year Highly Commended 2021' and Retail Jeweller's 'Inspiring Independents, Celebrating Retail Excellence in the Face of Adversity 2020'.
With expansion comes the need for more 'hands on deck', and Harriet's team are on the look-out for talented people. From design assistants to customer experience coordinators, you can find the role to suit you.
Head to hkjewellery.co.uk for more information.