This welcoming contemporary gallery offers a diverse range of artworks – and their admirers – a place to call home
Since 1998, Cambridge has been home to Byard Art, a bright and inviting art gallery with an ever-evolving exhibition programme. Showing an array of works from almost 200 contemporary artists, the gallery has become a cornerstone of the city's arts scene, offering a distinctly personal experience for visitors and collectors alike.
First opened in 1993 in Nottingham's Byard Lane, the gallery was originally situated on the top floor of a Victorian lace factory, where it began specialising in visual and applied arts. Five years later, the business relocated to a gallery space on St Mary's Passage in central Cambridge, which provided a permanent showcase of original artwork by gallery artists, and allowed for expansion in both the corporate and public sectors. In 2009, after more than two decades of commercial success, Byard Art moved into its current home on King's Parade, and now boasts over a thousand square feet of exhibition space, enabling the gallery to host a rolling exhibition programme alongside its permanent collection of gallery artists.
The gallery has become a cornerstone of the city's arts scene, offering a distinctly personal experience for visitors and collectors alike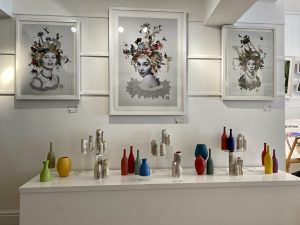 Displayed over two floors of calm, spacious gallery, Byard Art's dynamic exhibition programme showcases original paintings, sculpture, ceramics and craft work, as well as mixed media artwork and limited-edition prints. "It's not just the pictures on the walls that are worth looking at," says Jess White, gallery manager at Byard Art. "One of the highlights in the gallery is our sparkling array of innovative contemporary jewellery, which we have displayed over three floor-to-ceiling glass cabinets." Whether you're looking for a delicate handcrafted necklace, or a striking centrepiece for your living room wall, the gallery's extensive collection is always being altered and added to, so you can be sure to find a unique piece of artwork to suit your needs.
Byard Art hosts up to ten exhibitions a year, ranging from solo shows to mixed and themed exhibitions, and has slowly but surely established an international reputation for itself. The gallery is frequently chosen to participate in major art fairs all over the world, with its diverse and often unusual collections garnering fans across the globe. "We're really excited to be one of fifty hand-selected galleries to take part in the first ever Global Online Affordable Art Fair," Jess enthuses. Running until 29 November, the fair will see Byard Art showcase works from ten of its gallery artists in ten key marketplaces across four continents. Many of the gallery's artists have become wildly popular with clients as far afield as New York and Hong Kong, and its collections continue to attract art enthusiasts both home and away.
The gallery is frequently chosen to participate in major art fairs all over the world, with its diverse and often unusual collections garnering fans across the globe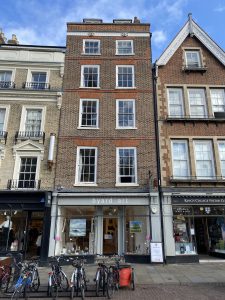 Like many independent businesses in the city, this year Byard Art was faced with the challenge of turning a dramatic drop in footfall into an opportunity for innovation. "Over the past six months, with less visitors to the city, we have worked hard behind the scenes thinking of ways to bring art collections to people in the safety of their own homes," says Jess. To ensure that nobody missed out on the fabulous works on display in the gallery, the team invested in an innovative new app called Art Visualiser, which utilises cutting-edge augmented reality technology so you can see how your favourite works would look hanging on your wall. "The app allows clients to see artwork in their own homes," Jess explains, "it's all true to scale and the artworks can be tried in any room."
The gallery also offers a bespoke framing service, fronted by long-established framer Andy Miller, so you can get your artworks professionally framed. "Our knowledgeable staff are committed to offering the finest range of traditional and contemporary bespoke handmade picture frames," explains Jess. "We can show you an extensive range of samples of the highest quality frames and mounts to select from."
Looking to the future, Byard Art hopes to continue bringing vibrant art collections to Cambridge, showcasing the work of local artists, and enriching the city's art scene. "We really enjoy having personal contact with our clients," adds Jess; "we're always happy to answer any questions, discuss our upcoming exhibitions and art fairs, and talk all things art related."
14 King's Parade