Frances McNaughton pays a visit to Saffron Grange, a lovely local vineyard that's famed for bottling bliss
Situated just a stone's throw from Saffron Walden, Saffron Grange is not so much a place, as a dream realised. The self-contained wine production powerhouse is spearheaded by father-and-son team, Paul and Nick Edwards, who – after eight years of behind-the-scenes graft – first brought their glorious wines to the public back in 2016.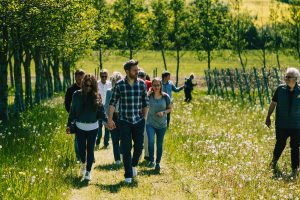 The ensuing years have led to exponential growth for the vineyard, with 2021 promising the largest yield yet. "We're expecting to produce 22,000 – or maybe 23,000 – bottles this year," Paul says, gesturing to the expansive rows of grapevines behind him. An exceptionally strong year for the brand was 2018, he explains; the scorching summer heatwaves provided prime conditions for grape growing. "Our winemakers are particularly excited about our 2018 wines – especially the Classic Cuvée," Nick adds. "We're keeping a select quantity of those bottles back, and ageing them for a further ten years to allow the flavours to develop." 
This process of maturing is integral to Saffron Grange's range of premium English sparkling wines. Each of its three flagship blends relies on time to reach its maximum potential. "Our Classic Cuvée and Seyval Blanc Reserve are aged for at least two years before they become available," Nick continues, pouring some of each into glasses for us to sample. "This gives the initial, fruitier flavours from the grapes a chance to evolve, becoming more complex over time." Even the youngest of the trio, the Sparkling Rosé, is aged for a year to ensure the perfect blend of depth and fruity freshness.
At Saffron Grange, the wine-tasting experience is split into five memorable steps
At Saffron Grange, the wine-tasting experience is split into five memorable steps: see, swirl, smell, sip and savour. First, you look at your wine – Nick advises we hold our glasses up to the backdrop of the white marquee – as its colour can indicate not just the contents, but also age and quality. Next, you swirl the wine around in your glass. The gentle eddy this creates encourages the bubbles to rise to the top; small, consistent streams are the sign of a quality sparkling wine. Then there's the smell test. Given that much of our taste comes from smell, this olfactory tactic allows for a more all-encompassing experience. And then, of course, you sip.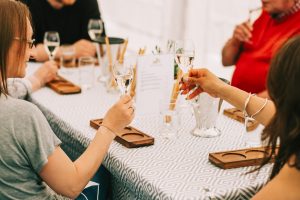 If you pay Saffron Grange a visit, you will notice that the sipping and savouring steps somewhat blend together. Each of the wines offer a nuanced palate of flavours: crisp, refreshing acidity from the Seyval Blanc Reserve; richer, baked brioche notes from the Classic Cuvée; and a more summery, berry-like charm from the Sparkling Rosé. There's also the option to order an accompanying cheese or charcuterie board to complete your journey, featuring a selection of delicious, hand-picked pairings to bring out the best of the wines. We try everything, guided by Nick's extensive knowledge and ever-present passion for the products.
At the end of our tour and tasting session, Paul asks us which of the wines impressed. With difficulty, we select the signature Classic Cuvée, noting its vaguely nostalgic, marmalade-on-toast flavour.
"That's the reason I started Saffron Grange," he smiles, a glint in his eye reflecting his singular vision. With that, we head off, wondering how we'll do this local gem justice in the space of a page.
Saffron Grange Vineyard
Rowley Hill Farm, Little Walden,
Essex CB10 1UZ