This weekend, Cambridge Refugee Convoy Action Group (CamCRAG) has organised a Big Sleepout. Thirty Cambridge locals will be sleeping rough in the churchyard at the bottom of Castle Hill, to raise money and awareness for rough sleepers both in Cambridge and in Calais.
There are currently between 100 and 200 homeless people in Cambridge, and nearly 1000 displaced people in the Calais-Dunkirk area. CamCRAG is working with the Cambridge Churches Homeless Project (CCHP) to provide food, shelter and support to homeless people in the city, as well as with charities such as Help Refugees in Northern France to alleviate stigma around refugees currently stuck in Calais and Dunkirk and provide them with much-needed services and care.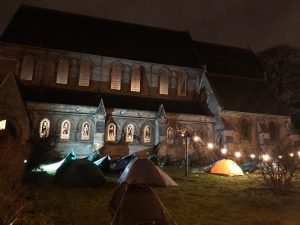 As well as the sleepout, there will also be a whole afternoon of events taking place on Saturday, with a winter fair at St Giles' Church on Castle Hill from 1pm. Enjoy some coffee and cake, check out the clothes and crafts stalls, and listen to some of the inspiring speakers from the charity, homeless and refugee community. You can even catch a talk from the former Archbishop of Canterbury Rowan Williams. The full programme of events for the weekend is available on CamCRAG's website, camcrag.org.uk/sleepout2020
Half of the money raised from the event goes towards supporting the homeless here in Cambridge, and the other half will go towards helping volunteers out in Calais, including the Refugee Community Kitchen (RCK), who serve hot meals to hundreds of rough sleepers in Calais and Dunkirk every day of the year.
To sponsor one of the thirty sleepers taking part in the Big Sleepout this weekend, click here, or text CAMCRAG to 70085 to donate £5 to the cause.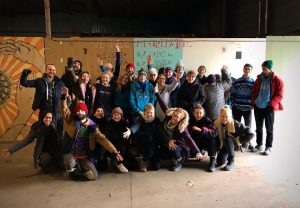 You can also go on a CamCRAG convoy to Calais and work at RCK or in the warehouse. Transport and accommodation is all arranged for you, and the team will be on hand to show you the ropes. Click here to sign up.
CamCRAG is always looking to get more people involved in their charity work. You can join them as a volunteer, member, committee member or trustee by clicking here.
More information on all of the charities involved can be found on their websites and social media accounts:
CamCRAG: 
Website: camcrag.org.uk
Facebook: facebook.com/camb4calais
Instagram: @camb4calais
Twitter: @Camb4Calais
CCHP:
Website: cchp.org.uk
Facebook: facebook.com/cchpnews
RCK:
Website: refugeecommunitykitchen.com
Facebook: facebook.com/refugeeCkitchen
Instagram: @refugeecommunitykitchen
Twitter: @RefugeeCKitchen
Help Refugees:
Website: helprefugees.org 
Facebook: facebook.com/HelpRefugeesUK
Instagram: @chooselove
Twitter: @chooselove