Who says you have to fly off to have a great trip? We show you the best hotels, spas and experiences within easy reach
Old Favourites
You can't go wrong with a stay at one of these Cambridge classics 
University Arms
Right in the heart of the city, overlooking Parker's Piece, the University Arms is something of a jewel in the crown of Cambridgeshire's staycation destinations. It's in prime position for anyone looking to explore the city during their visit – but even if your plan is to stay within the hotel's walls, you're in for a treat. The decadently decorated interiors offer an intoxicating blend of vintage glamour and contemporary luxury, encapsulating the kind of eclectic spirit only found in Cambridge. The fact that you've got Parker's Tavern on site doesn't hurt either, with a delicious, seasonally influenced menu, served in similarly exquisite surroundings.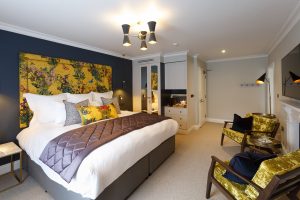 Gonville Hotel
Similarly close to home, the Gonville Hotel is a truly luxurious staycation destination. From the beautiful bedrooms and in-house spa to the fabulous food and gorgeous garden marquee, a minibreak here offers pure pampering and escapism. The hotel even has two Bentleys in the drive for guests to swan around town in. For those with additonal needs, a large number of rooms have enhanced accessibility features, all of which have been subtly adapted to allow for ease of movement without compromising on appearance. An absolute must is a visit to Gresham House Wellness, the day spa which sits in a Victorian villa within the hotel's walled garden. There, you can enjoy countless luxury spa treatments, and dive into some head-to-toe indulgence to complete your trip
New Discoveries
In search of minibreak bliss? Check out these recent Cambridge openings 
Turing Locke
With its serene, ice-cream parlour colour palettes and fresh, sunlit living spaces, Turing Locke has sprinted out of the gates to pitch itself as a future front-runner on the local staycation scene. The aparthotel presents you with plenty of options for your own personal comfort, whether a simple studio-style space with open-plan layout, or a larger, slightly more compartmentalised offering – for more of that 'home away from home' feeling. It's the perfect choice for a staycation that's as comfortable and relaxing as it is practical and stylish.

Graduate Cambridge
For a characteristically Cambridge escape, head to the Graduate Cambridge hotel. The spirit of the city is condensed into the decor throughout, creating a charmingly kitsch space full of surprises. It's designed to feel like an extension of the university, with nods to classic college architecture and crests, and features that celebrate local discoveries with global impact. The hotel is also home to the Garden House restaurant, which serves an approachable, seasonal menu, celebrating the best of East Anglian produce. It's a nod to the original Garden House hotel, which stood on the same site for much of the 20th century. For a taste of Cambridge, it's the place to go.
Tas Accommodations
For a more simplistic, communal style of staycation, Tas Accommodations offers the best of the basics. You'll have your own room, equipped with everything you may need to ensure an enjoyable stay, and benefit from a shared lounge space, where you can meet others who are seeking a similar experience to yourself. The location offers serviced apartments, short-term rentals, self-catered studios and long-term lets, meaning all types of travellers are accommodated for, and you're sure to feel welcome on arrival. Book through the website and you can nab 15% off your stay.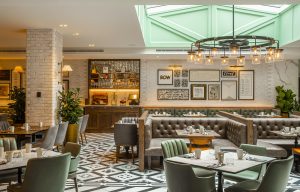 The Fellows House
A mere five minutes from Cambridge city centre, The Fellows House is a stunningly contemporary take on the classic city hotel, with luxurious interiors in a fresh, inviting style. The in-house restaurant is The Folio Kitchen, serving classic comfort food, and there's also an on-site coffee shop (The Sage of Cambridge), as well as a stylish mini spa, complete with indoor pool, sauna, steam room and state-of-the-art gym. The picturesque outdoor dining retreat at the heart of the hotel – The Fellows Garden – completes the package, and is an ideal place for dinner and drinks to top off your trip.
Out of Towners
If you're willing to go the extra mile, you can bet these destinations will, too
The White House, North Norfolk
Located between Burnham Market and Brancaster Beach, The White House is an immaculately restored country manor, offering guests a hotel/B&B hybrid. There's no in-house restaurant, but that gives you an opportunity to explore the many fabulous local eateries, such as The Hero in Burnham Overy and The Duck Inn, Stanhoe. Rooms are gorgeous, with
free-standing bathtubs, winged armchairs and sash windows. And breakfast – the one meal of the day served at the hotel – is a feast of delicious local produce.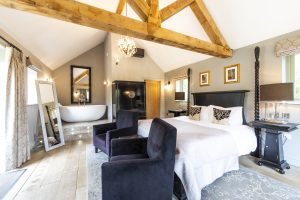 Eagle Mill, Huntingdon
Set within three acres of gorgeous gardens in Huntingdon, Eagle Mill offers a selection of self-contained outside rooms, so your stay there will feel as though you have the entire place to yourself. With thoughtful added touches – including breakfast baskets delivered at a time of your choice – Eagle Mill is very much based on the traditional bed and breakfast experience. However, it adds a unique, modern twist to its countryside feel, with contemporary-style rooms to relax in – and the space to enjoy some alone time. Visit the website for more info. 
Titchwell Manor, Brancaster
Chic, modern decor meets traditional values at Titchwell Manor, a hidden gem in the gorgeous Norfolk countryside. The glorious hideaway has earned a stellar reputation in recent years, in part because of its signature hot-tub rooms, but mostly due to its exceptional restaurant, which boasts three AA Rosettes. If you fancy turning your minibreak into a mini adventure, opt for the north Norfolk stand up paddle boarding package. Learn the basics during a two-hour taster session at Burnham Overy Staithe, just ten minutes' drive from Titchwell. All information is on the website.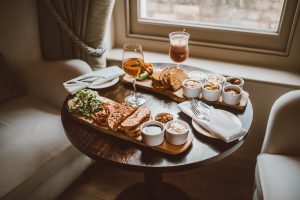 Bedford Lodge Hotel & Spa, Newmarket
Having recently launched an exclusive autumn getaway offer, Bedford Lodge Hotel & Spa is retaining its status as a top luxury escape for the region, offering a unique experience for every guest that walks through its doors. The hotel is packed with locally inspired artwork celebrating the county of Cambridgeshire, the restaurant is divine and the spa is the ideal retreat for those seeking a day (or weekend…) of pure pampering. Thanks to the new selection of spa packages, Bedford Lodge is the ideal destination for a spot of tranquility. The Recovery Ritual Experience Spa Break includes a journey through the luxurious heat and hydrotherapy areas, plus a 60-minute expert facial, while the Cheese and Wine Spa Evening combines wellbeing with cheese tasting for ultimate relaxation; enjoy the finest local artisan cheeses and freshly baked bread in the spa's stunning lounge. The Moonlight Bubbles package will have you set for a peaceful romantic getaway, with cocktails or classic champagne, plus a chance to switch off in the steam room and sauna. Or, opt for the Evening Bliss package: a full three hours in the facilities, topped off with a 35-minute massage or mini facial. Packages start from £50 per person. 
Quy Mill, Stow-cum-Quy
Not far from the centre of Cambridge, Quy Mill Hotel & Spa has an array of luxury accommodation options to choose from. Rooms range from cosy, smart nooks with en-suites, to more sprawling spaces with private patios, or four-poster bedrooms with views of the hotel's stunning landscaped gardens. There's also a selection of spa packages on offer, so if you're heading down, you can take the time to unwind, and seize the opportunity to rejuvenate your mind and body. And surrounded by the lovely Cambridgeshire countryside, you'll have no choice but to enjoy the moment for yourself.
---
No place like home
See the city through fresh eyes by ticking these local favourites off your to-do list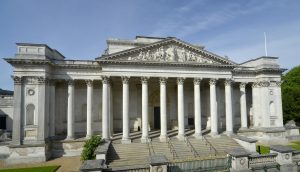 Fun at the Fitz
The Fitzwilliam Museum is a great shout for a dose of culture in Cambridge. The permanent collections alone are always worth a visit – but the ever-changing exhibitions will be sure to surprise you during your stay.
Taking a punt
Punting in Cambridge? Ground-breaking. It may be a stereotypical pastime for the city, but there's no doubt plenty of fun to be had on the River Cam, so why not get stuck in?
Give it a spin
Parker's piece is now home to its very own Ferris wheel, which you can hop on to take in some unique views of the city's stunning architecture.
Tour of the town
Local history hub Museum of Cambridge offers guided tours of Cambridge – running on the first day of every month – for those looking to learn a bit more about the city's streets.