Make your next conference the best yet – it's easy when there's a wonderful range of great facilities on your doorstep
The pressure is on when it comes to choosing the right venue for your conference – after all, the reputation of your entire brand is at stake. There are endless choices, and even more questions.
What do you require from your location? Perhaps you're searching for excellent travel links or access to great restaurants or nightspots in the evening so delegates can let off some steam? Or maybe you want to get employees out of the boardroom and into the fresh air and surrounded by woodland and clear blue sky? And then there's the techy facilities: do you need all-singing, all-dancing AV equipment teamed with Apple AirPlay or will a simple paper flip chart suffice? Whatever your requirements, says Rose McDonald from local conference venue par excellence, Robinson College, you ought to start off by thinking hard about your objectives.
"What's the event for, who's the audience and what are you trying to achieve?" she urges planners to consider. "Do you want anything to change when everyone goes back to their desks after the event? What's the 'feel' or atmosphere you are looking for to give your audience? If you choose a particular location then try and put into context why the event is being held there. From this select a number of venues to approach. Share your event objectives with them and see how they are going to rise to the challenge and help you so you maximise your return on event objectives."
Luckily for us, Cambridge has more than its fair share of top venues, from futuristic, purpose-built conference and training centres to lavish, historic mansions, right the way through to small scale, comfortable meeting rooms in the city centre with all mod cons. Don't start planning without reading our round-up
The Møller Centre
For state-of-the-art facilities, plenty of space and experienced staff that go the extra mile, this award-winning venue comes with a stellar reputation. Located at Churchill College on Storey's Way, the purpose-built Møller Centre offers exceptional conferencing facilities for both day and residential events. Established in 1992, the centre was funded by a donation from the A P Møller & Chastine Mc-Kinney Møller Foundation, a Danish institution established by shipping magnate A P Møller. His grand idea was to create a centre of excellence which would bring together business and academia, offering the highest standard of continuing education to international businesses wishing to develop their current and aspiring leaders.
Architecturally, it's seriously impressive, centering on a large octagonal tower (complete with spacious roof terrace) and featuring stylish Scandinavian design touches throughout the bright and airy interior. There are 19 purpose designed meeting and training rooms inside, including the 100-delegate capacity lecture theatre with tiered seating, all of which are decked out with the latest gadgets. Technology is fully integrated, with all rooms featuring a data projector or LED display, speakers and both wireless and wired Internet connections. Larger rooms offer Apple AirPlay, while the suites and lecture theatre also offer integrated microphones. A number of the meeting rooms also offer dual projection, which allows clients to display feeds from two different sources at the same time.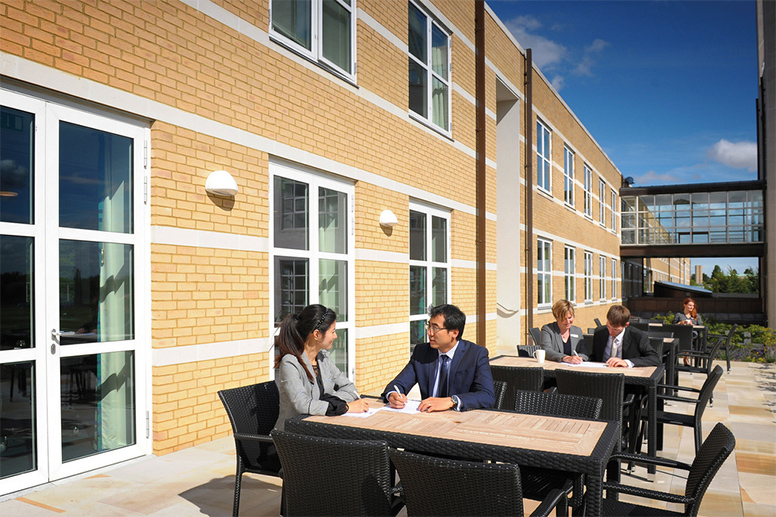 "We don't just offer complimentary Wi-Fi throughout," explains Thierry Hachin, conference and technical services manager at The Møller Centre. "We understand technology and we understand that technology can make or break an event. My experienced in-house technical services team are always available to clients. We love working in close partnership with event organisers and their IT colleagues before an event to get all the preparation finished so that on the day the client can relax in the knowledge that everything is taken care of. On the day of the meeting or conference, my team are as discreet or ever-present as the client wants them to be, but they will always be on-hand."
---
"19 meeting and training rooms and a 100-capacity lecture theatre"
---
The centre has even developed its own web app to provide delegates with a completely paperless solution, delivered via the Møller's stock of iPads.
For residential conferences, there are 92 en-suite bedrooms, all of which come with tea and coffee making facilities and study space. When it comes to refreshments for your delegates, you can choose between drinks in the second-floor Tower Lounge Bar or even pop up to the roof terrace, which boasts panoramic views of the city. There's also a rather cool circular restaurant on the ground floor, which serves up everything from fine dining to buffet fare.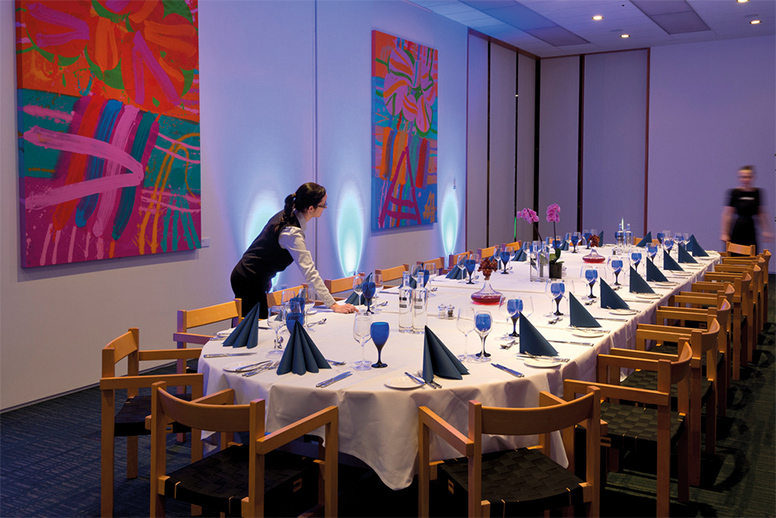 Great Hall at The Leys
Around two years ago, prestigious local independent school The Leys added state-of-the-art conference facilities to its 50-acre city centre campus. The impressive Great Hall, the school's new science and performing arts centre, boasts an auditorium which can seat up to 337 delegates, as well as five supporting venues that can accommodate between 18 and 100 guests. One of the largest conference venues in central Cambridge, it's a modern, versatile space perfect for conferences, seminars, networking and exhibitions.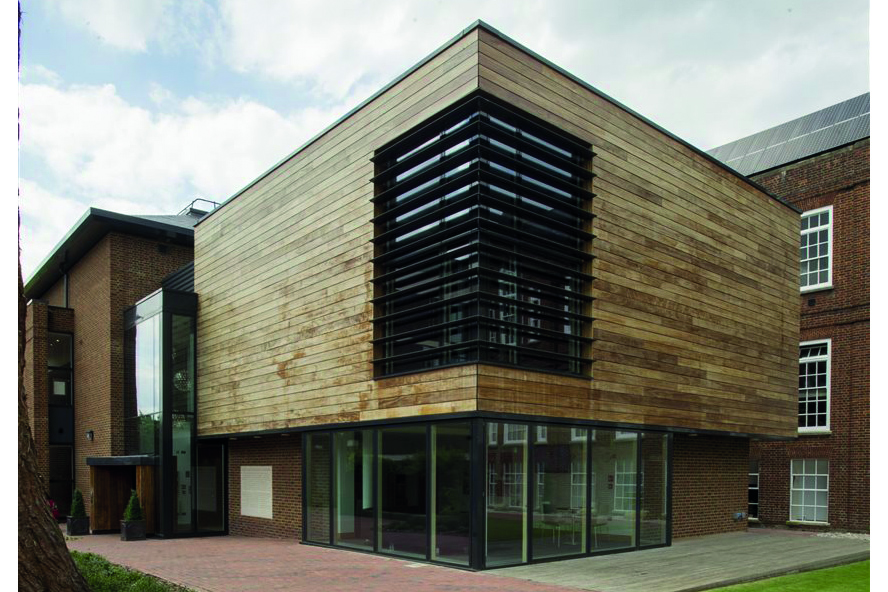 The Great Hall's team, who are experienced in theatrical and corporate events, work hard to ensure that everything runs smoothly, from the dedicated technician (on hand to assist with AV/IT equipment and all other technical aspects), to organising excursions to enhance your delegates stay in Cambridge, such as dinner at Cambridge University colleges and chauffeured punting tours.
---
"A modern, versatile space, perfect for conferences"
---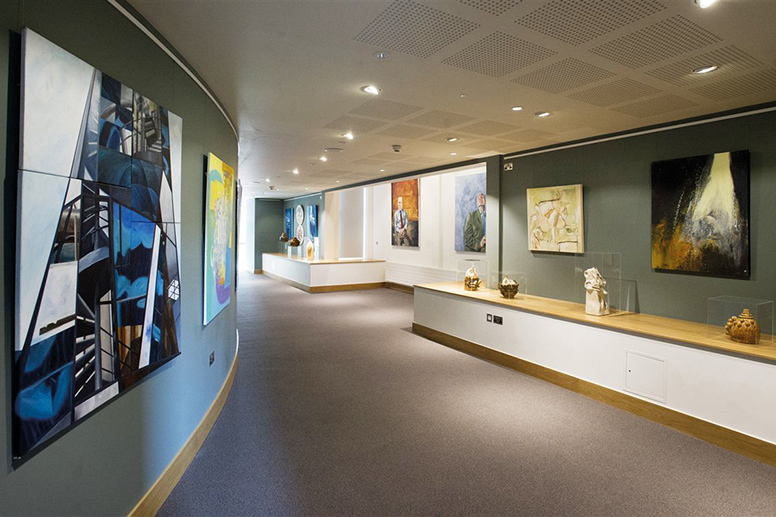 There's complimentary Wi-Fi throughout the facility, as well as a range of AV/IT equipment, and all the meeting rooms also come equipped with notepads, pens, tent cards, water, cordial and sweets, as well as a stationery toolbox and a guest information folder.
Food and drink options are supplied by the in-house catering team, and the rest of The Leys campus affords opportunities for a range of team building activities, as well as a gym and swimming pool. Whilst there is no residential accommodation, the staff will work in partnership with local hotels and colleges to provide overnight packages.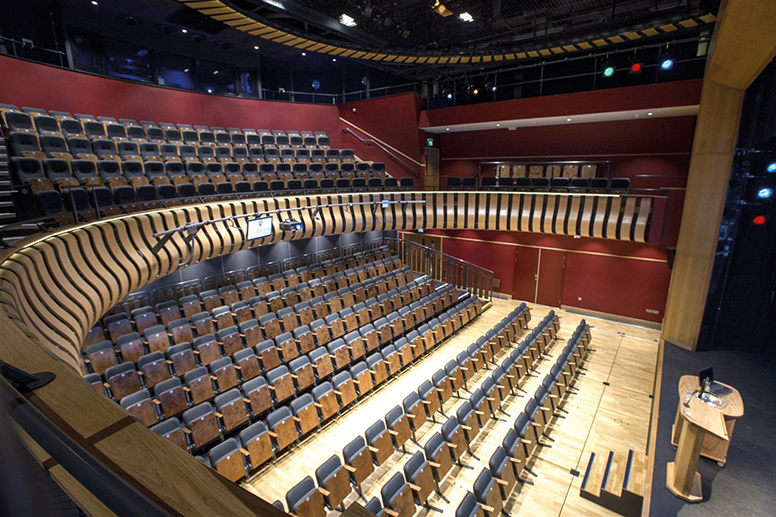 Hilton, Cambridge City Centre
Venues don't come much more central than the smart, modern Hilton Cambridge City Centre on Downing Street. Now managed by the Hilton group, the hotel offers a range of conference facilities in a stylish, comfortable setting. There are seven meeting rooms, the largest of which can hold up to 200 people, and all feed into a large, bright atrium which can be used as a breakout area.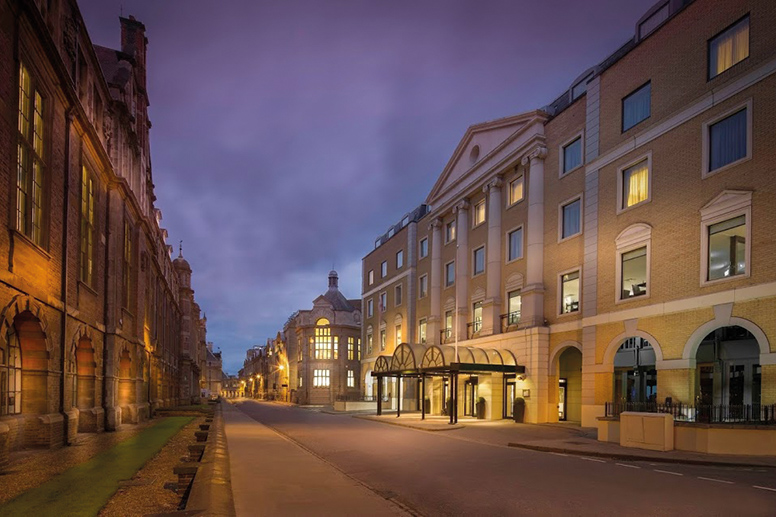 A dedicated event manager will ensure that everything goes smoothly on the day, and all your presentation needs will be covered by the meeting room facilities, which include fully integrated LCD projector, screen and flip chart, in addition to the free Wi-Fi. The hotel has a good reputation for dining too, and your guests will be well looked after when it comes to refuelling. Delegates can enjoy a working buffet lunch, as well as plenty of refreshments including fresh fruit, pastries, smoothies, cereal bars and more. Guests will also be able to take advantage of the on-site concierge valet parking.
If you're looking for a residential conference, the hotel has 198 bedrooms, as well as a fitness room and restaurant.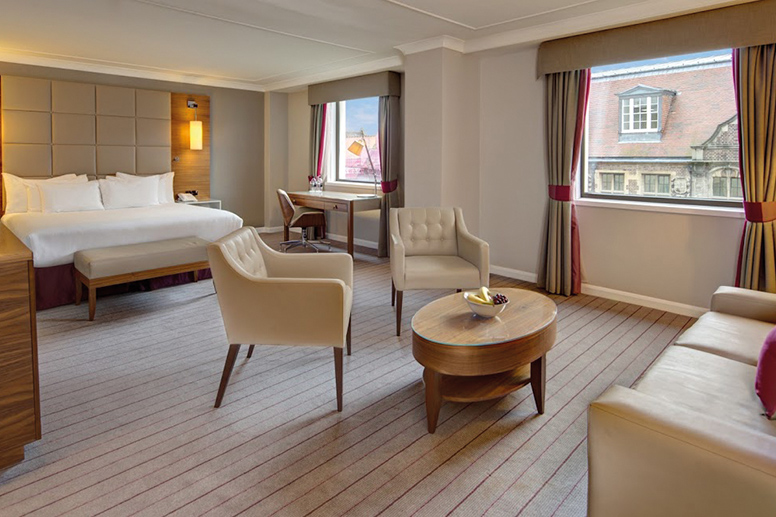 Anstey Hall
For a venue with true wow factor, check out the spectacular Anstey Hall in Trumpington. A Grade I mansion with opulent interiors, rich with history, the venue is bound to impress guests from the word go. Offering conference seating for up to 300 delegates, there's also state-of-the-art audiovisual equipment to ensure your meeting goes smoothly, as well as plenty of free parking. If you're after a residential business stay, Anstey Hall offers 22 charming bedrooms, whilst the experienced catering staff will work around your refreshment requirements, be it a formal sit-down meal, a business breakfast or a self-service buffet lunch.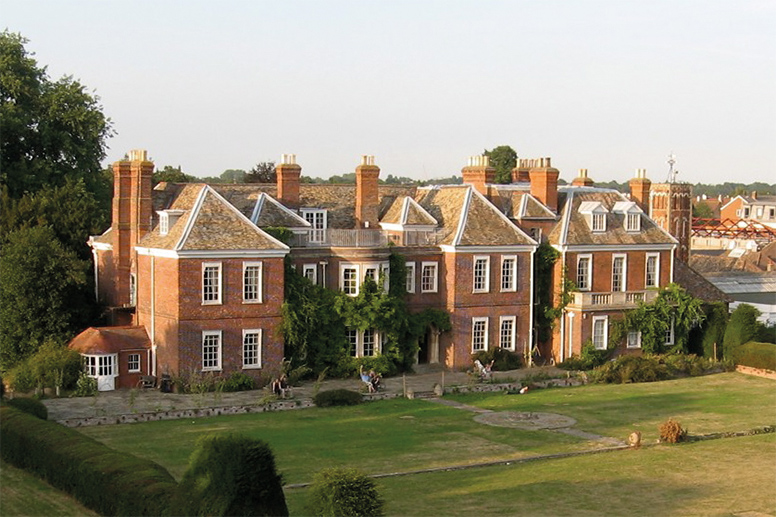 Wood Green
Wood Green Animal Shelter in Godmanchester offers a range of well-equipped venues, whether you're organising a large exhibition or a small, intimate meeting. The largest space is the Britten Arena, holding up to 3,000 people, which is one of the most popular indoor arenas in the Eastern region. Ideal for large-scale conferences and shows, the arena offers 1625 square metres with gallery seating for 420 people. Full PA facilities are also available, as well as a choice of flooring surface and special lighting options.
There are also a range of meeting rooms, suitable for small groups right up to conferences of 300 delegates.
The staff are committed to getting all the details right, priding themselves on their efficient, friendly service and providing the extra touches which make the difference on the day. There's an onsite catering team too, with a wide range of menu options that can be tailored for different dietary requirements.
Robinson College
A modern venue that prides itself on its traditional values, Robinson College has more than 30 years' experience in hosting successful conferences. It's a picturesque, peaceful setting, surrounded by eight acres of woodland gardens just a short distance from the city centre.
In total, Robinson College boasts 23 meeting rooms, suitable for between two and 390 delegates. The rooms range from purpose-built auditoriums complete with the latest audiovisual facilities, to smaller meeting rooms and breakout areas for larger conferences. The newest addition, opened in September 2015, is the sleek and modern Crausaz Wordsworth Building, which offers both cabaret and classroom style set ups. There is complimentary Wi-Fi throughout, and the dedicated events team and in-house AV experts will be on hand to make sure everything happens exactly as it should. The college also boasts excellent residential facilities, with 280 study bedrooms that come with free Wi‑Fi, en-suites and in many cases, private balconies.The college also has a great reputation for its quality culinary offerings, with an enthusiastic team of chefs creating exciting menus featuring lots of fresh and locally sourced ingredients, whether you're after a banquet or a buffet.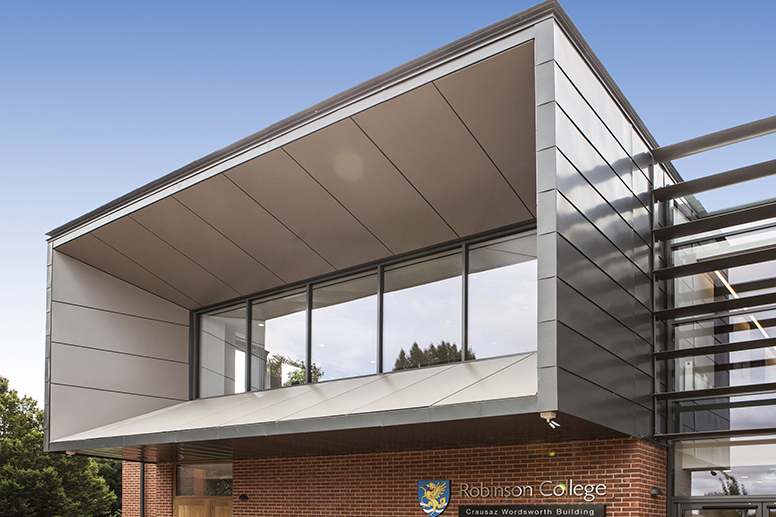 "Here at Robinson College, we start with a client's event objectives and build their event from there," says Rose McDonald, head of sales at the College. "That's how we can truly add value to the partnership and ultimately deliver an outstanding and memorable event as part of the same team. Pre-event meetings with the operational team here ensure constant and vital communication and the generation of ideas and content.
---
"More than 30 years' experience of hosting successful conferences"
---
"Cambridge is a world-renowned city," she continues. "A recent report from the International Congress and Convention Association states Cambridge is celebrating jumping into the top five city list in the UK in the new rankings for their events. We are passionate about Cambridge as a business destination and can draw upon a wider support network to help with organisational support outside of the venue, in addition to helping to build the content and programme if need be. We frequently work alongside other Cambridge colleges to offer an exciting mix of environments for learning for multisite events. Today's event planners want to offer so much more than straight presentations; Cambridge has the venues, the outside space, the ambience, the technical ability, the people, the culture, the imagination and 800 years of experience to bring any event to life."