Fight the Christmas pud-induced festive food sleep this year with lighter dessert ideas
Paper crowns sit on heads at odd angles and the guts of spent crackers litter the floor. Wine glasses sit half empty and the kitchen sink is heaving with used crockery, pots and roasting trays. The turkey is a bony carcass, barely hinting at its recent grandeur, and leftovers wait to be cling-filmed and refrigerated. A fog of lethargy has descended over the dining table as belts are loosened and eyelids droop uncontrollably. The diners are hungry no more and the exhausting process of digesting the feast has sucked the energy from the room like a fire consuming oxygen.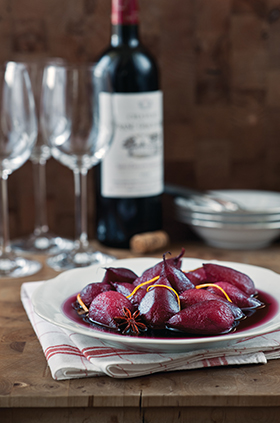 "Christmas pudding, anyone?"
The question is asked with enthusiasm and optimism. It is met with neither.
"I couldn't possibly…"
"You must be joking…"
"Maybe in a couple of hours…" is about as positive a response as you can expect and even that is far from a commitment to it.
Thankfully, Christmas puddings last a long time. I've known them to sit in a cupboard from year to year, make their annual appearance into the half-light of a late December afternoon and then be secreted away again for a further 12 months.
Why we insist on finishing the largest feast of the year with a dessert that has the subtlety of a cluster bomb, I have no idea. It sits in the belly like a lead weight, pressing down on all that was conquered before it, ready to induce a food coma within mere seconds of the final mouthful. It is the most effective over-the-counter sedative that I've ever consumed.
It doesn't have to be this way. Of course, a delicate strawberry vacherin or elderflower fool would be inappropriately unseasonal but there are a multitude of festive dessert options available on Christmas Day that won't leave you unconscious.
Poached fruit, especially pears, are a great make-ahead option. A level of seasonal grandeur can be obtained by using red wine and mulling spices as your poaching liquor or even using a decadent sweet wine like Sauternes if you really want to go all out.
Citrus fruits are also wonderful at this time of year and satsumas or clementines work really well with cinnamon, dates and pomegranate seeds in a brilliantly festive take on pavlova. The meringue can be baked ahead of time and then it is just a case of rapidly assembling the sweet centrepiece on the day. Flavour the whipped cream with orange blossom water instead of the usual vanilla for an even bigger citrus hit.
Frozen desserts are also a great option: they can be made days in advance and carry the traditional flavours of the season especially well. Ice creams flavoured with warming spices are always popular and make a great foil for warming winter puds. However, for something with a little more magnificence a frozen chestnut parfait fulfils the brief perfectly, especially if paired with dried figs and a drizzle of wild honey.
So, here's to delicacy, vibrancy and lightness; to fruit and freshness; to not falling asleep on the sofa. And most of all, here's to a thoroughly delicious Christmas.