Celebrating its 100th anniversary this year, the Gog Farm Shop is a local institution that only gets better with age. Charlotte Griffiths finds out more
If you love food and you live in Cambridge, then you know The Gog Farm Shop. And if you don't, immediately fold this under your arm, hop on a bike or bus and make your way south of the city, past Addenbrooke's, and start the long slow ascent up the rolling chalkland at the foot of the Gog Magog Hills.
Turn into the farm's driveway: crunch your way on the gravel past the railway sleeper beds of grasses, bee-loud flowers and the clutch of Big Green Eggs; smile at the collie sleeping in the shade, order a cheese scone and a flat white, find a space to sit and then carry on reading. Honestly – it's worth it. We'll wait.
This year marks 100 years since the first of the Bradford family set foot on the heath's chalky soil. "My great-grandfather, Fred, returned from the first world war in August 1919," says Charles Bradford, sat in his neat office at the back of the farm, drinking a flat white. (See! They're good.) "He came back and took over Heath Farm, and the Bradfords have been here ever since. That's really what we're celebrating this year. It's kind of the essence of what we're about. Then my grandfather, Charlie, who I'm named after, he took over farming here. And my dad, Colin, was actually born in the farmhouse."
It was the land that gave the Bradfords the unexpected opportunity to add to the farm's offering. "One day in the late 60s, my parents came out to check on the potato crop and as far as they could see were mushrooms – the whole field was literally covered with mushrooms. They ate them themselves, they gave them to friends and they started a little honesty box at the roadside by the gate – proper old-school farming," Charles laughs. "And from the proceeds of that, Mum bought some chickens – and they got started."
In the late 70s, Charles's father decided to start selling meat, and set about improving his own butchery skills. "My mum was particularly interested in making sausages: even back then, we were thinking the stuff that goes into sausages is absolutely awful," Charles recalls. Adapting a family recipe, Lesley began selling her creations, which proved extremely popular and led to The Gog's perma-famous scotch eggs – a recipe that hasn't changed since its first incarnation, and which is well worth trying if you've already finished your scone. Thanks to Colin and Lesley's hard work, supported by Colin's sister Jean, 'Bradford's Farm Shop' spent the next few decades building up a loyal base of customers from Cambridge and the surrounding villages. 
In 2004, Charles and his brother Marcus returned to the farm with the shared mission of helping their parents to retire, and seeing what they could accomplish with the space. Charles gave the project an arbitrary four-year deadline and set to work, with one of the main driving factors being his own personal journey with food. "I love going to restaurants, I love eating well – but I realised early on that there was a massive gap in my knowledge about food," he says. 
"When I lived in London, I lived around the corner from an incredible cheese shop, an amazing deli, a great grocer and wine shop and butcher – all brilliant – but I wouldn't go in any of them. I was terrified to have an interaction with somebody, to go and ask about wines, about meats and things – and I was a farmer's son. And I just realised there was a big knowledge gap there." For Charles, it was crucial the farm became a place where people could feel as comfortable as possible, and ask the sort of questions he'd been hesitant to ask in London.
It was a slow start: the barns required a lot of building work and – crucially – more customers and staff, which were both in short supply in the early days. "I remember we'd look out the window of the kitchen and say, 'Well, who's going to serve this customer?'" Charles laughs. 
I can see some really exciting stuff for the future now
Implementing change in a business that's so rich in family history and layered with stories would be a challenge for even the most deftly skilled CEO, but Charles and Marcus took on the task with relish – and the bravery to just experiment. Of course, it hasn't always gone to plan. "I could give you a long list of the things that haven't worked," Charles laughs, "but, with all of it comes learning." 
One of the best examples of this is the now much-loved cafe's arrival at the farm. Previously, the deli and shop were all that tempted visitors up the hill, but Charles had a vision. "I'd been to Italy, and seen how the Italians stand very close to the coffee machine as you extract the espresso – they have their quick coffee, they drink it and they go about their business. I thought – we could do that here: it'd be perfect," he grins. "But then, of course, customers turned round and said, 'That's great – but can we have it as a latte? And I'd like it with a sandwich. And we're going to get all our mates to come round. And we're going to take up car parking spaces for the day.' So suddenly we were thrust into hospitality. And that's been so challenging: it was a real experiment that took us down a different path."
Embracing hospitality and continuing to diversify the offering has seen the team grow in size to what's now around 45 individuals, and has put the farm in a fantastic place for the years to come. "This is the best position this business has been in for a long time. We've got the bedrock, and we've got the infrastructure right. Don't get me wrong: I can look around and see a million things I need to change – but now I can see how I'm going to do it," Charles says. "I'm a very visual person: I remember in the early days when we just had a couple of old barns. And people say to me now: 'Could you imagine it looking like this?' And actually, I could. Once you've got a visualisation, you go toward that – and I can see some really exciting stuff for the future now."
Charles is keen to continue focusing on events at the farm, merging retail opportunities with experiences that'll bring more visitors through the gates. "I'm trying not to use the word experiential, but…" he laughs. "We've been running cookery classes, which have been really popular – we had a cheese festival, which went down really well. You're bringing customers closer with producers – and I think there are great opportunities for more of that."
People have definitely become more considered about what they're eating
The Gog's annual cheese festival sees producers come from across the country to showcase their work and meet customers. The positive feedback Charles gets from the cheesemakers is testament to the quality of Cambridge consumers. "We have really well-informed customers who are very engaged – producers say they keep coming to this event year after year because the engagement of the customers is amazing: they're really interested, they're keen to understand, to learn more – it makes our jobs easier!" Charles enthuses. "We far from get everything right all the time – and our customers are very quick to feed back when we don't get it right – but I think because they can see we're honest, they can see it for what it is – they understand and forgive it."
One of Charles's areas to tackle is the perception of The Gog as being an expensive place to shop. "I wanted to create a really pleasant environment – but doing so sets you up for the idea that everything's going to be expensive," Charles points out. "We don't intentionally charge more, but you might find a product that's really incredible, from some small producer, which has cost her loads of money to create, so it does cost more. We don't stick a big margin on it, but we also don't work to tell the story of why it's so incredible as much as we should – and we've got to get better at that."
There's evidence of change throughout the farm: in the butchery, vegan items have found their way onto the shelves alongside The Gog's ever-popular sausages. "The vegan packs are selling really well," Charles nods. "What's been interesting for us about the whole vegan story is that people have definitely become more considered about what they're eating. I, as an individual, don't eat as much meat as I used to – I'm thinking about that a lot more – but what's worked well for us is that when people are eating meat, they're eating better quality meat. Here, you know where it's come from, you can have sensible conversations with the butchers – that's worked really well for us."
Creating a space where everyone can feel comfortable enough to ask questions about food means that consumers really trust The Gog. They trust the shop is selling the best product, and not just selling. Seasonality is at the heart of this, says Charles.
"We, as an industry, have been so consumer-driven, in that we're continually responding to the demands of consumers rather than… what's actually good to eat at that time." He concedes: "It's a challenge, it goes against the grain, but it's so important." 
Charles admits that they've made missteps on this front, but have already taken action to correct it back towards what you'd expect to see on the shelves at The Gog. "You used to be able to come here, and we would have had fruit and veg that was out of season. We would have had this in stock," he says. "We used to work with a very traditional greengrocer, and we didn't have the ability to flex the order in the same way that we do now. We haven't got it right yet, not by any stretch, but it's so much better. We're also reducing plastic – salads are tricky – but we're doing it."
This drive toward seasonality extends into the butchery, where certain products appear briefly before disappearing for a year – salt marsh lamb, for example, will have already been and gone by the time this interview is published. Charles says: "It's like – they understand that game's in season. 'Can I get this?' No, it's out of season. 'Oh, ok then.' And people understand that. The challenge is to explain that with other products." This shift from supplying what people want, whenever they want it, to only selling the best of what's available during the time it's at its peak requires effort and explanation – but The Gog's army of loyal customers are all too willing to listen, and new devotees are discovering the farm all the time.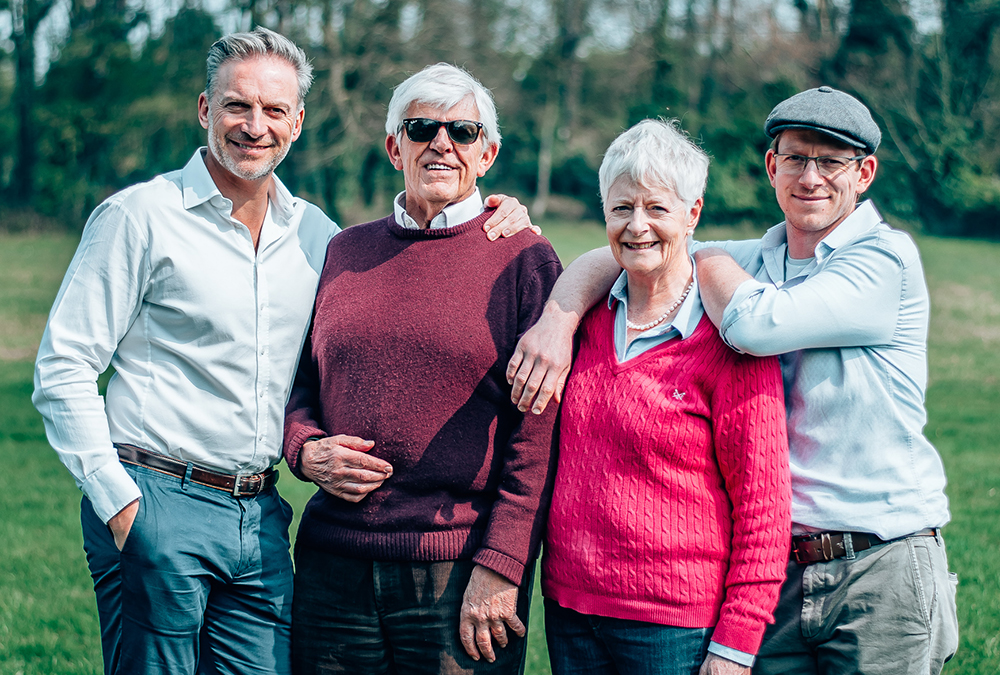 "Every day we get people coming down here saying, 'I had no idea this was here!'" Charles laughs. "I had to help someone out the shop the other day who had never been here before, but was coming out with bags of food, and was just so excited to have found us."
A summer of celebration lies ahead: The Gog's Sundowner Sessions, where the farm keeps its doors open for late-night food, drinks and music while guests enjoy the sunsets and rolling vistas, are returning for numerous weekends (check The Gog's social media for updates). A huge family picnic is also planned for Saturday 31 August, with the Bradfords inviting all of Cambridge to come raise a glass to 100 years of family history. 
And what's next on the horizon? Well, you'll have to find Charles and ask him yourself, but what's clear is that the entire team is raring to go for the next chapter in the life of the farm.
"We're a little family, just outside Cambridge. We set our sights on this goal and – it's good," Charles says. "And there's plenty for us to do next."