We catch up with the Cambridge couple bringing unforgettable Latin food to a bus near you
Words & Images by Charlotte Griffiths
Stepping up onto a bus is rarely a memorable moment: anyone familiar with public transport will reflexively turn right round the corner to hunt out a seat – but one of Cambridge's buses provides a different experience entirely. Instead of a brief nod from a driver and a wall of grey commuters clutching tickets, you're greeted by a riot of colour, diners carrying trays of piping-hot, flavour-packed Latin food, and beaming smiles from Catalina Uribe and Nelson Rodrigues, working the neat kitchen packed in the back half of the 'bustaurante' – AKA La Latina, one of the simplest yet also most exciting eateries that our city has to offer.
We didn't have the money for a proper restaurant
The double decker's winding stairs lead to the top floor, where every second seat has been flipped to make comfortable booths for four, smartly upholstered in hardwearing coffee sacks. Tables of varnished chipboard and strings of colourful bunting are illuminated by light from the bus's large windows, even on the greyest of days. And the bustaurant becomes even more impressive when you discover that the transformation was carried out by the duo standing behind the stove downstairs.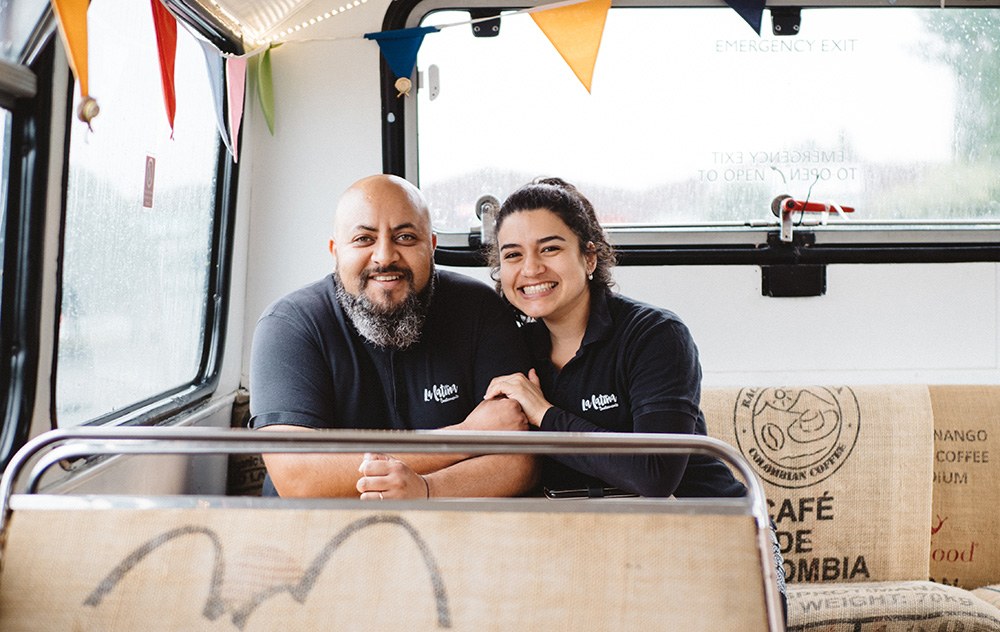 "We didn't have the money for a proper restaurant, so we had to start from somewhere," Catalina says. "I said 'Let's do a food truck,' and my mum said 'You know – the food you want to sell is different, so think out of the box: find a way to stand out.' The idea of the bus got into my head, as Nelson used to work for Stagecoach for many years, so he knew how to fix the bus, he had the bus driver licence: everything just… fit, you know?"
Catalina and Nelson have been together for ten years, meeting when Catalina arrived in Cambridge for postgraduate study. "I'm originally an environmental engineer – I came to Cambridge to do my Masters, and then I met Nelson and life just… got hold of me," she laughs. "The plan was to come here for two years, but then I met him…"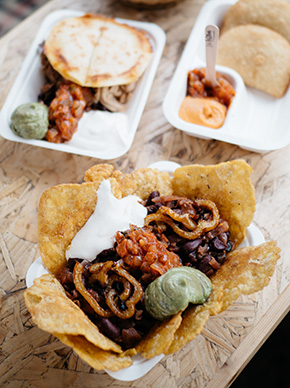 Prior to arriving in Cambridge, Catalina spent two years working for an engineering firm in Colombia – and though she enjoyed her work, something was missing. "Having a restaurant was definitely on my to-do list," she says.
"I grew up with my mum and my granny running businesses and restaurants, working for themselves. I always wanted to do that but they never allowed me to cook – they sent me to uni instead!"
The idea for La Latina was born after the arrival of Catalina and Nelson's second child: faced with the prospect of returning to her office job at the end of maternity leave, Catalina decided it was now or never to press go on the pair's long-held dream of running their own restaurant. "Let's start the business, let's give it a go!" she says of their conversations at the time.
"If it works, it works – if it doesn't, we can do other things." After long discussions with her entrepreneurial mother (who was visiting the UK at the time to help with her newest grandchild) Catalina and Nelson travelled all the way to Liverpool to pick the bus that would become La Latina back in September 2016. 
"It was a proper passenger bus," Catalina smiles. "When I did the business plan I planned in the conversion for three months: it actually took us eight months, because Nelson was working full time, and I had a six-month-old baby."
The bustaurant took up residency in a friend's space at Quy Waters while Nelson worked on the restoration and Catalina handled the paperwork and permissions, playing to their individual strengths to move the project forward. "He was in charge of the transformation of the bus, and I was in charge of all the documentation, the admin that he didn't want to know anything about. I don't have any clue how to do handy things – so it worked!" she says.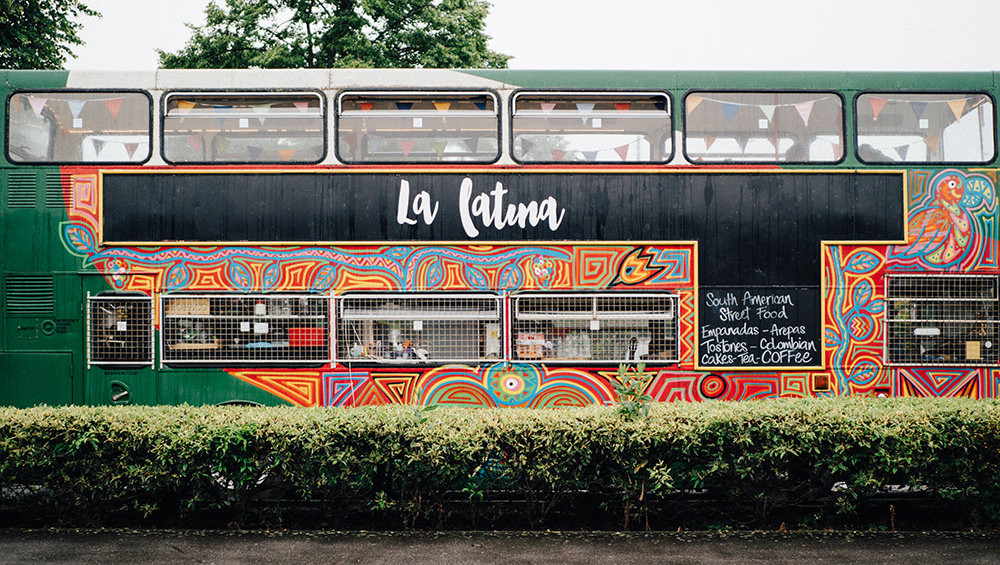 At the same time as the bus was taking shape, the menu was being whittled down from the world of possibilities presented by Catalina and Nelson's heritage to just three dishes: tostones, arepas and empanadas. The short menu was partly a necessity, caused by the shortage of space in the bus: "It's impossible to have a huge menu in a tiny kitchen and still make everything fresh every single day," Catalina says, "so we needed to focus on two or three things that we can do from scratch easily without wasting food. So we decided to do the empanadas, the arepas and the tostones: that's it." 
Even though the trio definitely deserves its place on the menu (and in many local diners' hearts), Catalina is constantly searching for ways to improve La Latina's offering. "I would always remember my mum and granny's words – you need something that makes you unique, but even if you have a good product, every time you have to think about how to improve. So our tostones are very good, but every day I'm thinking 'ok, this is good – but how can I make this better?'. I feel my granny saying this to me here, you know?" she grins, pointing at her shoulders. "The tostones have been a revelation: the empanadas and the arepas are popular: people know them – but the tostones are our bestseller, definitely."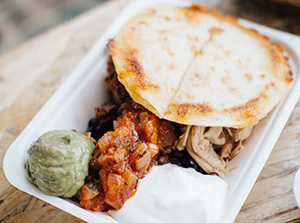 La Latina is also popular with diners with dietary requirements: Catalina explains that their vegetarian tostones are selling more and more every day, and as the bustaurant's food is entirely gluten free, Cambridge's residents with wheat intolerances are starting to make beelines for La Latina's fresh, vibrant cooking. "We only use corn flour for the arepas and empanadas, and the plantain is gluten free anyway – so we have coeliac people come in and say: 'This is paradise!'"
On its first outings the bustaurant moved around to different locations, with customers keeping up on social media, but Catalina wanted to find a permanent pitch for La Latina to call home. "I found a location with the Cambridge Retail Park: I approached them about the space, but it took four months – they had to ask the city council to change the licence – so we missed that first summer. We've now been trading here since October 2017 and it's getting better: people know where we are, we have free parking, it's close for us as well – obviously we pay rent, but the good thing is that the bus stays here, permanently."
Their bus, now the only independent business trading on the Retail Park, is nestled to the side of Homebase just off the Beehive roundabout, where its cheery top deck can easily be spotted through the trees that soften the superstores.
An average day for the couple begins at 6.30am, when Catalina wakes up for a few moments of time alone with her coffee. She takes her sister to the station, to commute to her studies in London – then returns to the house to wake and breakfast with their two children before the school run. "Between 9am and 10am I do the emails and admin, while Nelson is busy with his chili plants in our greenhouse. At ten o'clock we arrive at La Latina: we open at midday, and have two rush hours: one for lunch and then again for dinner, but we don't close between – we stay open from 12 until 9pm.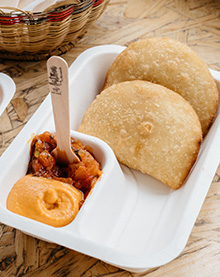 At 3pm I leave to get the kids; sometimes Nelson goes – I pick up the kids and at 4pm our other staff member arrives, and they'll work with Nelson or me here for the evening. We close at 9pm: if I'm with the kids at home, I put them to bed while my sister arrives back from London – she then stays with the kids, while I come back here to help Nelson close down the kitchen, getting everything ready. We go back home about 10pm, have a cup of tea, go to bed about 11pm… and then do it all over again the next day!" 
In between, Catalina strives to find time for her own interests. "I always want to have a book to read: I try to be a good daughter, sister, niece – life is getting very busy. Plus all my kids' after-school activities: swimming, piano lessons, birthday parties. We don't stop. I'm always thinking: what should I do next? Let's do a new event, let's do a supper club, let's contact that person… we're always on the move. Life is so short: you have to give thanks that for most of your days you are healthy, you work properly – it's now or never. Because you never know. I always thank God because we have our healthy family, we have a house, we have food on our table – but you never know what's going to happen." 
La Latina is a family business in all senses of the term: whether it's Catalina's mother providing business advice via Skype, Nelson's graffiti-artist cousin designing La Latina's exterior paintwork or his parents helping upholster the bus in coffee sacks, their family is what powers the bus forward – both in terms of physical backup but also emotional support. In its first year of trading La Latina suffered from two burglaries in quick succession which, though the couple philosophically say that they learned a great deal of lessons from the experience, was extremely hard – but it was family that pulled them through. "They're all so involved: they're so happy, and proud of us," Catalina says.
"I remember one day when I was so, so tired – around the time of the break-ins – I was just so down. I remember coming back home, and talking with my daughter who was six at the time – I said: 'You know what? I'm thinking about selling the bus.' And she was like: 'You can't DO THAT!'" Catalina puts her hands on her hips and widens her eyes in mock child outrage, smiling from ear to ear: "'I LOVE our bus! Where am I going to work?!' And I thought – she's already seeing a future: she's seeing herself working in La Latina. That was a lot to me: that pushed me to keep going.
It's the whole experience, it's not just the food
"We try to keep that balance: family first, but also keeping the business up and running. Being an entrepreneurial couple and having a business together is obviously testing us in all ways possible, but I say to Nelson, 'Probably I will get old with you: we survived kids, we survived the business, so we are child-proof and business-proof – we're a good pair!"
Though even a short visit to La Latina in the lunch rush – surrounded by happy families, office workers, shoppers seeking respite, all tucking into the three delicious dishes served up by this hardworking couple – would leave you in no doubt that it's quite definitely already a much-loved eatery, Catalina's dream is to have a 'proper' restaurant one day: a bricks and mortar establishment where they can expand their offering. "Fingers crossed," she says.
"Though I would like to take the bus with me: it's like another baby for us! We need the perfect location where I can place the bus and have a proper restaurant there too – I'm always on the lookout. Kids love coming to the bus, having a meal here: it's the whole experience, it's not just the food. So I don't want to leave it! We are Latin: I want to have a restaurant where people can have food, and nice cocktails, and maybe they can dance, with live music…" she grins. "That's the plan: fingers crossed."
For a fab recipe, go here