A monthly round-up of delicious happenings around Cambridgeshire
Image © Daisy Dickinson
Cuba Libre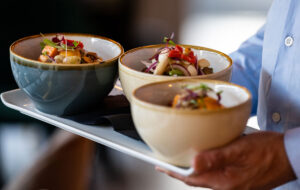 Adding a dash of Latin American spirit to Cambridge's culinary scene is Cuba Libre on Regent Street. Decked out in deep, lush greens, it's a cosy spot to grab a bite to eat and catch live music before an afternoon of shopping or night out. The menu boasts plenty to get the mouth watering, from Amazonian-style sea bream, grilled lobster and Peruvian paella, to crispy pork belly with chorizo and beans for sharing round the table. If you're feeling adventurous, try the anticuchos (marinated skewers) with marinade of beef heart or grilled Mexican cactus! For dessert, there's a tropical bounty of roasted pineapple or green plantain with passion fruit sauce.
Heart of the Platter
Now offering light bites and bar snacks throughout opening hours, The Wine Rooms on Hills Road is the perfect pit stop for post-work drinks, or after a leisurely visit to the Botanic Garden. Chef Liz Young (aka @the_modern_table) has designed the menu to complement the venue's extensive wine list. It features a smorgasbord of small plates, including arancini, paté, a meat platter, bresaola, rosemary potatoes and more. A vegan platter is also available, laden with vegan 'camembert', slow-roasted tomatoes, pickled courgette, green olive tapenade, red peppers, walnuts and sourdough.
Oktoberfest
See in autumn with a tankard of German beer and some hearty food at Oktoberfest! Pile onto long tables and feast on traditional delicacies – from brezel to bratwurst, schnitzel to schweinebraten – at Jesus Green on 30 September and 1 October. Wash it all down with beer from Bavarian Festbeer Brewery. Time to dust off the lederhosen!
The Wine Merchant of Oz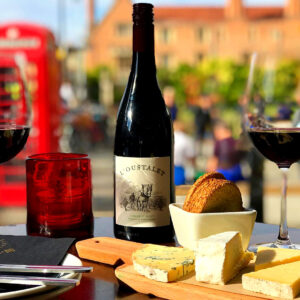 Cambridge Wine Merchants has a bunch of events this month, starting with a masterclass at Bridge Street by d'Arenberg's Chester Osborn. On 6 September, sit back with some of Australia's most revered vintages and listen to a legend. An Argentinian tasting follows at Cherry Hinton Road on 14 September, showcasing the fine Hispamerchants range. At the same venue on 27 September, sample Nyetimber's world-class English sparkling wines. Tickets range from £30 to £35. For £80, enjoy a three-course meal and five wines at The Senate on 21 September. Booking enquiries accepted via email.
Good news from The Gog
Local farm shop The Gog is thrilled to announce that it has won the highest accolade for Cambridge at the 2022 Great Taste Awards for its Beef & Bone Marrow Burger. Judges described it as "A great burger with lovely beefy flavour, juiciness without being fatty, and succulent, tender meat. Delicious!" If you enjoy eating meat, make sure to head over to The Gog on the outskirts of Cambridge and get these award-winning patties in your basket!
New Kids On the Block
Something exciting is coming to the Cambridge and Saffron Walden street food scene. Launching this month, Nomadough offers sourdough flat wraps loaded with tasty and nutritious fillings. Find flat iron steak strips with pomegranate salsa, pickled cabbage and sweet chilli chutney, or curried chicken with sliced cucumber, coriander chutney and shredded coconut dressing.
Owners Libby and Alex have long dreamed of owning a food truck, combining shared loves for nomadic lifestyles, good food and local produce. "Alex and I met when we were both working in the yachting industry on the same boat; I was head chef on board and knew I wanted to start my own business back home," says Libby. "I grew up on a farm just outside Saffron Walden, so I've always had a love of field-to-plate and supporting British farmers."
After attending an Off the Beaten Truck and Foodpark event, Libby was inspired to start her own venture with Alex. "I've been obsessed with bread since working on the boat, making fresh loaves for the crew every day. Our starter sourdough is now three years old and has travelled the world with me," she beams. "The idea for sourdough flat wraps came from hating how much starter gets thrown away during the baking process. I began to make something out of it and the flat wraps were born!
"All dough will be made by us – along with the sauces, pickles and garnishes," adds Alex. "We are making modern British food, taking influences from around the world and bringing them to our menu."
Follow @nomadough on Instagram to keep up to date with the latest.
A flam-cushy arrangement: Amélie announces residency at Cambridge Cookery School
Having established itself as a firm favourite for a light bite in the Grafton, Amélie is taking its signature flam-kuche to another part of town, with a residency at the Cambridge Cookery School cafe. 
"I've always admired Cambridge Cookery School," says co-founder Alex Crepy. "It's a beautiful building with a lovely terrace, catering to a completely different market to the Grafton. Not only does it allow us to expand our business, but also see if flam-kuche is popular outside the city centre."
Alex and his father Regis first discovered flam-kuche en route to Alex's university in Switzerland, where he studied hospitality management. Stopping for lunch in Alsace, they soon discovered a local delicacy – a light, crunchy flatbread, layered with fresh ingredients full of flavour. "We realised it was missing in the UK, and set up Amélie to introduce flam-kuche to as many people as possible," Alex explains. "In England, food quickly becomes mass-produced, losing its quality if repeated over and over again. We want to change that, offering something that's light, delicate and maintains excellence over time."
The cafe at Cambridge Cookery School provides an ideal platform for sharing this lesser-known cuisine with new audiences. Amélie will add to the existing menu, bringing its signature flatbreads alongside delicious quiches and salads inspired by Mediterranean and Middle Eastern flavours. For brunch, there's shakshuka, poached eggs on homemade brioche with bacon, smoked salmon or mushrooms – and all the usual viennoiserie. Plus, find a few extra treats from Alex's dad – an avid baker – such as strawberry tartlets made with almond pastry and tarte au citron. Bon appétit!
September Specials
Bespoke Brunch
Tuck into delicious food at The Orator, accompanied by mellow pop, modern jazz and foot-tapping funk from Bespoke Party Bands! Brunches run Sundays from 10.30am to 4pm. 
A Place In the Sun
Nestled in a quaint Tudor building in St Ives, The River Terrace is a gorgeous eatery. Small plates and cocktails are on offer on 9-10 and 23-24 September from 5.30pm. Walk-ins are welcome, but booking is encouraged.
Olé or Nothing
The Tickell Arms promises a night of fiesta and no siesta on 23 September, with a Spanish menu and live flamenco. Book online at cambscuisine.co.uk