As we enter the 'roaring twenties', Cambridge is welcoming a new wave of exciting eateries, finds local chef Alex Rushmer
When I was an undergraduate at Cambridge in the early noughties, aside from noodles from Dojo's and one truly life-altering meal at Midsummer House the day I received my results (marking the acquisition of a very average degree in a very above-average restaurant), the rest of my meals during term time were taken in my college's subsidised dining room or hastily assembled using a microwave, kettle and toaster. This is how students have eaten for decades – swap out the microwave and it's probably been this way for centuries. After all, change doesn't happen quickly in our city. Or does it?
I moved back to Cambridge a few years later, around the time it was derided for being the worst clone town in the country for its prevalence of carbon-copy chain shops and restaurants. Considering the grandiosity of the architecture, the uniqueness of the colleges and the beauty of the green spaces, this was quite a savage judgement, but – as those of us who lived through that time admit – it was probably fair. Aside from a few bold pioneers, many of whom are still in business, the city-centre restaurant scene was dominated by venture capitalists' fondness for casual dining, and the assumption the British public would accept mediocrity – so long as that mediocrity was the same as everywhere else (and could be discounted with a two-for-one voucher). But then a spirit of independence gripped our city's eateries: operators took chances on new ideas, kick-starting a vibrant food scene that was just shifting into another gear when the pandemic shuttered everything. 
The street food scene is a hotbed of activity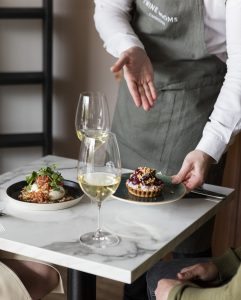 As we emerge, blinking, into the roaring twenties, our city might look the same at first glance, but peer a bit closer (or follow your nose) and it's clear the hospitality sector has been hard at work. The exponential growth of new opportunities to eat, and the verve, zeal and originality of the restaurants, cafes and bars is incredibly exciting, with many new businesses seemingly popping up out of nowhere. Despite lockdown, we've seen the arrival of a new bar offering brilliantly fresh and modern food from Liz Young to accompany the several hundred bottles available at The Wine Rooms; the opening of The Orator, headed by firm local favourite Ben Pope; and a dedicated fish restaurant with Fin Boys on Mill Road. Also joining the thriving community on Mill Road are Dan and Holly Fancett, who are relocating their highly regarded bistro in Burnham Market to the Petersfield area and will be opening soon. 
The street food scene remains a hotbed of activity, with rotisserie chicken and porchetta entering the fray (Rotisseroll) and the much-anticipated arrival of a Dot's Hot Chicken van. There's also the opening of the Garden House, where former Perilla head chef, Adam Wood, will be cooking the best seasonal and locally sourced ingredients over a live fire grill. How times have changed. This success is not only down to the entrepreneurial spirit shown by keen individuals, but the enthusiasm with which they have all been embraced by the likes of you, the hungry folk of Cambridge. It's your support of existing businesses that turned this sleepy Fenland city into a bona fide eating destination, and convinced these newcomers we're worth a shot. Let's not let them down.